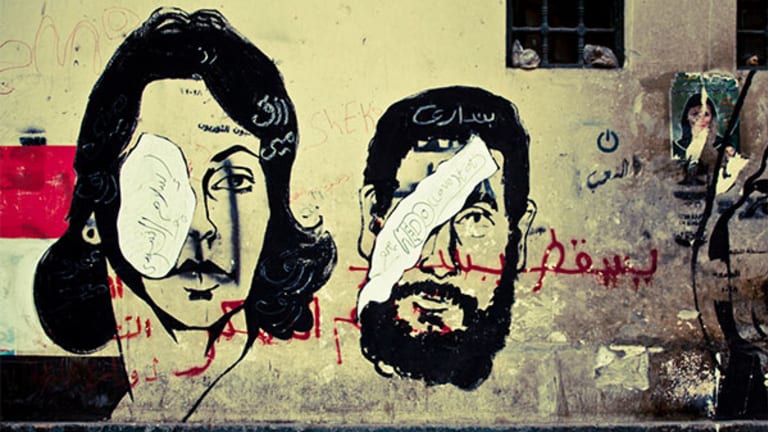 Are Documentaries More at Home on Streaming?
With theater numbers and movie ticket sales shrinking, even Oscar-nominated documentaries are going door-to-door to tell their stories.
PORTLAND, Ore. (TheStreet) -- You didn't have to buy a ticket to see any of the feature-length documentaries nominated for Academy Awards this year. You just had to have a decent Internet connection, a few bucks and some time on your hands.
Four of this year's five nominees for Best Documentary Feature -- The Act Of Killing, The Square, Cutie and the Boxer and Dirty Wars -- were either already on Netflix or headed there by the time they were nominated. The fifth, 20 Feet From Stardom, was available as a pay-per-view stream through Amazon, Apple's iTunes, Google Play and YouTube when the nominations were doled out.
There's a strong chance that, with few exceptions, this is how the U.S. public is going to see documentary films from now on. It's not to the credit or fault of documentary filmmakers or production companies, mind you. It's the U.S. moviegoer that's increasingly gravitating toward his or her couch and taking this genre with it.
According to BoxOfficeMojo, the 10 top-grossing documentaries of all time in the U.S. -- An Inconvenient Truth ($24.1 million), Sicko ($24.5 million), Katy Perry: Part Of Me ($25.3 million), One Direction: This Is Us ($28.9 million), Chimpanzee ($30 million), Earth ($32 million), 2016 Obama's America ($33.4 million), Justin Bieber: Never Say Never ($73 million), March Of The Penguins ($77.4 million) and Farenheit 9/11 ($119 million) -- were all released within the past decade. With few exceptions -- like 1994's Hoop Dreams ($7.8 million) or 2005's Mad Hot Ballroom ($8.1 million) and The Aristocrats ($6.4 million) -- only polarizing U.S. political polemics, behind-the-scenes pop music tour diaries or cute animals seem to bring out moviegoers in any large numbers.
Last year's top grossing documentary was the One Direction film named above. The next highest-grossing documentary after it, 20 Feet From Stardom, took in roughly one-sixth of One Direction's take ($4.9 million) despite being in theaters since June. Overall, only 133 of the 1,165 documentaries BoxOfficeMojo has documented since 1982 have made more than $1 million.
Generating loads of box-office income isn't really the point of a documentary. By its name, it's supposed to serve as a historic or cultural document and a dispatch from a particular time and place. It's the subject that is all important, not the receipts.
Unfortunately, that doesn't exactly fit the agenda of the modern film industry's costly digital upgrades, vanishing theaters and shrinking audiences. After a brief uptick in movie ticket sales in 2012, movie audiences retreated again in 2013. The number of tickets bought fell 1.3%, to 1.34 billion. That's the seventh downturn in ticket sales within the past decade and only moderately better than the post-recession low of 1.28 million tickets sold in 2011. It's also well below the industry's peak of 1.58 billion tickets sold in 2002 and roughly the same amount of tickets the industry moved in 1996.
In that climate, if your documentary isn't in 3-D or IMAX, larger studios will be loath to touch it. That's just fine by documentarians, who now take to Kickstarter and use other online fundraising approaches to bring projects to life. The 2011 short-form documentary Sun Come Up and the 2012 short Incident In New Baghdad were made with Kickstarter funding, and both were nominated for Academy Awards.
The end game for those documentaries has shifted as well. Where documentarians could once only hope the festival circuit would land them in enough independent theaters to get the message out -- or in any theaters at all -- even that avenue is getting crowded. The 506 films released in 2003 swelled to 683 last year while the number of total theaters in the U.S. dove from 6,100 in 2003 to 5,683 in 2012, according to the latest numbers from the National Association of Theater Owners. The number of screens has jumped to 39,000 from 35,000 during that time, but they're largely in the hands of megaplex chains such as Regal Entertainment Group, Cinemark, Carmike and AMC.
That leaves the distant hope that your documentary will fill one of their small rooms but, otherwise, you're back to the crowded indie circuit again. Unless you get some help in the form of a 44-million-subscriber home streaming service that's not only willing to promote your film, but will distribute it to indie houses as well. That's just the tactic Netflix employed with The Square, which streamed on Netflix and ran in theaters concurrently.
If the intended purpose of a documentary is to document history and culture for posterity, it makes sense to make that document as widely available to its intended viewership as possible. While small theaters and arthouses still go to impressive lengths to bring these films to the public, their very venue narrows the potential. With theater numbers dwindling, not every town will have an arthouse within striking distance of the multiplex showing Frozen on three screens. There's also a slight measure of discomfort that comes with stepping into a small house of cinephiles for the first time to watch 20 Feet From Stardom when you're accustomed to a big room, stadium seats and more familiar content in the previews -- and dealing with the conundrum of whether or not to buy popcorn during such a film (a debate that gets much tougher during films about covert operations, government atrocities and revolution on the streets of Cairo).
Streaming services offer that audience and cut out an imposing middle man. Just as bands that may draw 15 people to shows can now be heard by millions on Pandora, Spotify and other streaming services, a documentary such as Our Nixon, which appeared in exactly five theaters in the U.S. during its run last year, can pop up in the New Releases queues of millions of streaming customers.
Before this year's Oscars, audiences have the chance to see every nominated documentary in the comfort of their own homes before the winners are announced. With Netflix, Amazon and others looking for inexpensive and engaging content to fill their expanding libraries, this nearly two-decade halcyon era of documentary filmmaking make get its biggest audience yet. Especially if streaming services and viewers increasingly get the message.
-- Written by Jason Notte in Portland, Ore.
>To contact the writer of this article, click here: Jason Notte.
>To follow the writer on Twitter, go to http://twitter.com/notteham.
>To submit a news tip, send an email to: tips@thestreet.com.
RELATED STORIES:
>>Don't Bother Going To The Movies In Winter
>>10 Best Christmas Movies That Aren't About Christmas
>>No, Christmas Isn't The New Summer Movie Season
Jason Notte is a reporter for TheStreet. His writing has appeared in The New York Times, The Huffington Post, Esquire.com, Time Out New York, the Boston Herald, the Boston Phoenix, the Metro newspaper and the Colorado Springs Independent. He previously served as the political and global affairs editor for Metro U.S., layout editor for Boston Now, assistant news editor for the Herald News of West Paterson, N.J., editor of Go Out! Magazine in Hoboken, N.J., and copy editor and lifestyle editor at the Jersey Journal in Jersey City, N.J.