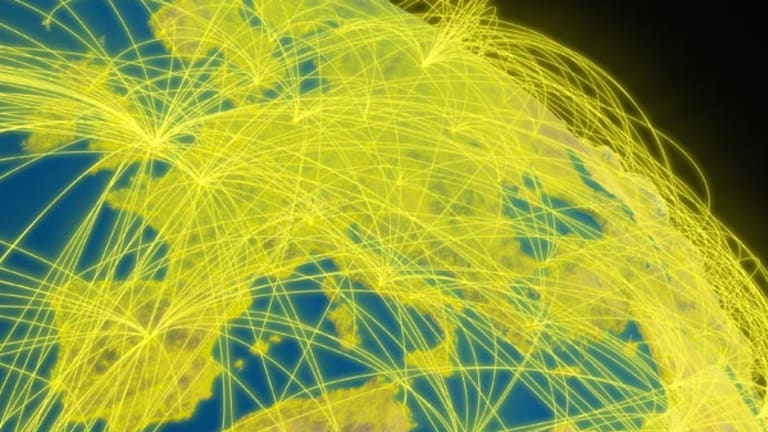 AppSense: We Could Be The Next VMware
Backed by a substantial investment from Goldman Sachs, user virtualization start-up AppSense is eyeing a bright future.
NEW YORK (
) -- Virtualization specialist
AppSense
may not be as well known as
VMware
(VMW) - Get Free Report
, but the
Goldman Sachs
(GS) - Get Free Report
-backed company says it could become equally successful.
"Could we be the next
VMware
(VMW) - Get Free Report
? The next
Citrix
(CTXS) - Get Free Report
? Absolutely, we believe we could," said
AppSense
CEO Darron Antill in an interview with
The Street
. "Our ambition is to remain independent and be a leading independent software company of the decade in the user virtualization space."
This may seem like a bold claim, but AppSense has already garnered plenty of positive attention. Last year, the company received $70 million from
Goldman Sachs
(GS) - Get Free Report
-- Goldman's largest technology investment other than
Facebook
undefined
, which raised $450 million from the bank.
"Someone told me they
Goldman Sachs only invested in number ones, and I think they're absolutely right," said Antill.
The CEO said that while the likes of VMware,
Microsoft
(MSFT) - Get Free Report
and Citrix virtualize servers, applications and desktops, AppSense is taking a new approach to virtualization.
"AppSense classically hasn't fitted into any of the other existing software infrastructure categories," explained the CEO. "We have spent the last three or four years developing this whole 'user virtualization' category."
According to the executive, AppSense's software lets users securely access content, applications and data, both personal and corporate, across devices such as desktops, laptops, tablets and mobile phones. "The BYOD initiatives going on in the enterprise are also opening up a whole new opportunity for AppSense," he added.
BYOD, or
, refers to the growing trend of employees deploying corporate apps and content on their own personal gadgets such as smartphones and tablets.
AppSense has already earned an impressive reputation helping businesses get their arms around their Microsoft Windows infrastructures, according to Rachel Chalmers, vice president at
451 Research
.
"AppSense gives companies a way to control costs around managing desktops," she explained. "I have liked the company for a long time - they have defined the market for user virtualization."
Set against this backdop, AppSense has grown its business 40% to 50% year-on-year for the last four years, generating cash and profits since day one. "We're growing fast because there's demand for our products," said Antill. "We've built out our proposition; therefore we've got more technology to sell to our existing clients and new clients and we've globalized."
Based in the U.K., with a U.S. headquarters in downtown Manhattan, AppSense has racked up more than 3,000
worldwide since its founding in 1999, including 18 of the top 20 banks.
With its customer list expanding, AppSense has also grown its total workforce from 180 to 450 employees in the last two and a half years. A third of these employees are in the U.S., which now makes up half of the company's business.
"We're just about to move into Latin America and into Canada," noted Antill, adding that the firm is also expanding its presence in areas such as Scandinavia and Eastern Europe.
AppSense is also racking up an impresssive list of partners, which includes
HP
(HPQ) - Get Free Report
,
IBM
(IBM) - Get Free Report
,
Cisco
(CSCO) - Get Free Report
and Microsoft, along with VMware and Citrix.
"We work within the ecosystem of VMware, or Citrix and Microsoft," explained Antill. "We've worked with them for years - we sit on top of their stack."
With the tech IPO market getting back into gear after a brief
Facebook
(FB) - Get Free Report
-induced hiatus,
TheStreet
asked Antill whether AppSense will take eventually take the public plunge.
"Raising money on the capital markets is one option," he replied, but noted that AppSense hasn't "ruled anything out or anything in."
"We will look at all options to enable us to continue to grow, to make ourselves more relevant, and to build out our proposition," he added. "It's important to us that we continue to look at making further acquisitions."
Earlier this year, for example, AppSense acquired
RAPsphere
, which develops mobile information management solutions, for an undisclosed fee.
451 Research
analyst Chalmers would not rule out the possibility of AppSense becoming a public company one day.
"If they execute, they can have a crack at an IPO," she said, but warns that AppSense is in a competitive market. "Citrix and VMware have some products in this space," she added, noting that desktop management specialist
Res Software
is another rival.
AppSense's technology is "really interesting and well-engineered," according to Dan Kusnetzky, founder of technology research and consulting firm
Kusnetzky Group
. The analyst, however, warns that the startup has a marketing challenge on its hands.
Virtual Computer
, which is now part of Citrix, and
Moka 5
, seem "vaguely similar" to AppSense, he said, but noted the products' technical underpinnings are different.
"
AppSense's challenge is making what they're doing distinguishable from what the others are doing," he told
TheStreet
. "And proving that what they're doing is better, cheaper, faster, smarter."
--Written by Nathalie Pierrepont and James Rogers in New York.
Follow @nrpierrepont
>Contact by
.
>To submit a news tip, send an email to:
.
Check out our new tech blog,
Tech Trends
. Follow TheStreet Tech
.