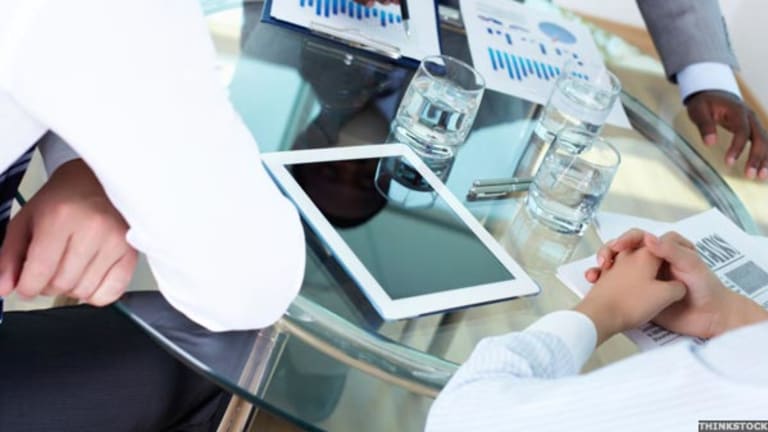 Applied Materials vs. Rest of World
It's no secret in the semiconductor-equipment industry that Applied Materials and Novellus don't have a warm, fuzzy feeling about each other.
The semiconductor-equipment industry didn't do too well last year, and compared to the semiconductor industry, it hasn't done too well since 2000.
In the chart below, the semiconductor industry, represented by the line, has diverged from the equipment industry since the downturn of 2001. The solid trendlines are telling.
Depending on whom you talk to, the semiconductor-equipment industry dropped between 40% and 50% in 2009. The top 10 chip-equipment companies are listed in the table below along with their change in revenue between 2008 and 2009.
The revenues are shown in dollars, and the change in revenue is somewhat deceiving because currency exchange rates are a factor.
It's no secret in the semiconductor-equipment industry that
Applied Materials
(AMAT) - Get Applied Materials, Inc. Report
and
Novellus
(NVLS)
don't have a warm, fuzzy feeling about each other. Back in 2004, a patent-infringement lawsuit was settled that ended seven years of litigation between the two companies. Problems actually started in 1984 when Novellus was founded by ex-Applied Materials employees.
In reality, Applied and Novellus only compete against each other in a handful of sectors. Overall, from the chart below, Novellus' revenue dropped 37.4% while Applied's dropped 38%. Essentially the difference is in the noise level when you factor in, or more precisely take out, revenue components such as service and spare parts.
What about individual sectors? We give the edge in the largest sector, PVD (physical vapor deposition), to Novellus, but only marginally as revenue decreased 37% vs. 41% for Applied.
Comparing the two companies, Novellus increased market share in 2009 in four of the six categories.
Specific details of revenue for Novellus and other companies can be found in our report
Applied Materials: Competing for World Dominance
.
Robert N. Castellano, Ph.D, is President of The Information Network, a leading consulting and market-research firm for the semiconductor, LCD, HDD and solar industries. Castellano is internationally recognized as one of the leading experts in these areas. He has nearly 25 years of expertise as an industry analyst. Castellano has provided insight on emerging technologies to many business and technical publications, including Business 2.0, BusinessWeek, The Economist, Forbes, Investor's Business Daily, Los Angeles Times Magazine, The New York Times, USA Today and The Wall Street Journal. He is a frequent speaker at conferences and corporate events. He has over 10 years' experience in the field of wafer fabrication at AT&T Bell Laboratories and Stanford University before founding The Information Network in 1985. He has been editor of the peer-reviewed Journal of Active and Passive Electronic Devices since 1985. He is author of the book "Technology Trends in VLSI Manufacturing," published by Gordon and Breach. His book "Solar Cell Processing" was published in 2009 by Old City Publishing. He received his Ph.D. in solid state chemistry from Oxford University.