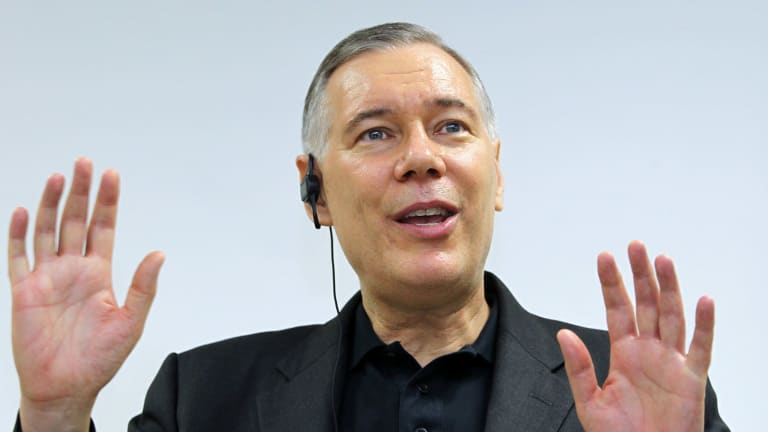 Applied Materials CEO: Chip Industry Being 'Transformed,' But Timing Uncertain
A gigantic shift in chip demand away from smartphones and toward artificial intelligence is playing havoc with timing of the business cycle. But Gary Dickerson is confident that only means lots of business for Applied's materials expertise in years to come.
Shares of Applied Materials (AMAT) - Get Applied Materials Inc. Report  closed down nearly 4% Friday to close at $39.10, after the company offered a lower-than-expected outlook on Thursday as it navigates a 2019 shaping up to be weaker than what the company indicated just three months prior. 
In an interview with TheStreet following the report, Gary Dickerson, Applied Materials' CEO, looked past the uncertainty of timing of purchases of chip equipment. Instead, he emphasized a future where more of everyday life is "transformed" by semiconductors for AI and other "workload-specific" uses, chips that in turn require more complex means of manufacturing than used in past.
"Near term, everyone can see the downturn in the memory market," said Dickerson. "As that inventory gets worked out -- we're not calling the bottom in this call -- but at some point, the inventory is worked off, and you will see the economic value in big data."
It's not as simple as just slowing of memory-chip sales by Micron Technology (MU) - Get Micron Technology Inc. Report and others, or the fall-off in crypto-related GPU sales by Nvidia (NVDA) - Get NVIDIA Corporation Report , or any of those well-publicized disappointments of recent weeks, said Dickerson. Rather, he said the chip industry is in a "period of diversification" as it moves past previous sources of demand. As a result, "the exact timing of all those different demand drivers isn't exactly clear; you can't dial it into a quarter or a half-year."
Dickerson said what's happening now to the chip industry is analogous to when things transitioned from PCs as the largest source of demand to smartphones. 
"I don't know that anyone understood the implications to the industry when that happened," he says of the move to the smartphone era. Similarly, "this is the first big inning to this new inflection in a data-centric economy."
Applied's revenue for the January-ending fiscal Q1 beat expectations, coming in at $3.75 billion in revenue versus the $3.71 billion consensus, though that was down 10.7% from the prior-year quarter. Earnings per share of 81 cents beat by two cents.
But the outlook for the present quarter calls for revenue in a range of $3.33 billion to $3.63 billion, below consensus for $3.66 billion. EPS is seen in a range of 62 cents to 70 cents, also below the average estimate of 77 cents.
On the call, Applied's CFO Daniel Durn said the company is "not ready to call the bottom of the current cycle" in chip sales. Durn predicted 2019's total industry sales of wafer fab equipment (WFE) will be somewhat less than 2018's total. He told analysts the company will need to see increasing utilization of equipment customers already have, along with other indicators, before calling any turnaround. 
In his comments to TheStreet, Dickerson said the shape of demand is still in flux, with things such as the tech giants' cloud data centers -- primarily, Amazon's (AMZN) - Get Amazon.com Inc. Report AWS cloud service and Microsoft's (MSFT) - Get Microsoft Corporation Report Azure -- among the new drivers of demand whose patterns of buying chips are still evolving.
"This is not like in cycles past, when the PC dominated, or when smartphones dominated," Dickerson said. "In the last five years, the annual WFE demand, over half of it was coming from smartphones. This year, for the first time ever, over half of that demand is coming from other categories, such as cloud data centers, IOT devices and chips for AI."
While all that plays havoc with visibility, Dickerson was upbeat about the fact that "The two biggest drivers [of chip demand] of our lifetime are Big Data and AI." 
"The foundation of all that are semiconductors," he said. To serve new kinds of applications such as AI, Dickerson said "you need a 1,000-times improvement in performance per watt" of energy, using a heuristic for chip performance. To bring such vast improvements, Dickerson said companies will increasingly need to turn to Applied's expertise in new kinds of materials used for semiconductors.
"We have the broadest set of materials of any company," he said. "We can integrate these materials together in any number of ways."
"I spend a tremendous amount of time with all the R&D leaders throughout the ecosystem" to find where that materials expertise can be used, said Dickerson. 
"That's the biggest opportunity for us throughout the industry going forward."
Despite the fall in Applied's stock, there was little action up or down in ratings or price targets Friday among sell-side analysts, the vast majority of whom still rate the stock a Buy. Applied shares are down almost 40% from their 52-week high of $62.40.
In a note out just after the results, long-time chip equipment observer Robert Maire of Semiconductor Advisors wrote that it "doesn't sound like a recovery any time in 2019" is likely.
"Given the combination of not 'calling a bottom,'" wrote Maire, "plus reduced memory spend throughout the year, and on top of that a weakening display sector in the second half, we would be very, very hard pressed to come up with a second-half recovery scenario that many analysts are pushing based on nothing more than wishes and hope."
Amazon and Alphabet are holdings in Jim Cramer'sAction Alerts PLUS Charitable Trust Portfolio. Want to be alerted before Cramer buys or sells AMZN or GOOGL? Learn more now.
Tiernan Ray neither owns nor trades shares of any companies mentioned in this article.