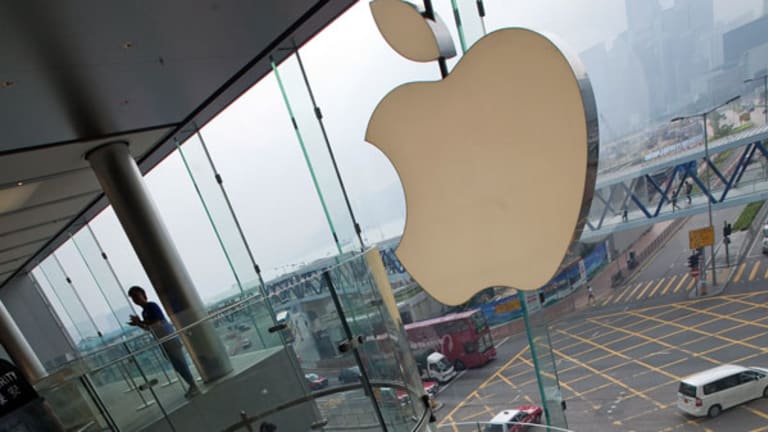 Apple's Share Storm is Brewing
In the mobile tech revolution, Apple is in the pole position for the next 10 years.
In the mobile tech revolution, Apple is in the pole position for the next 10 years.
NEW YORK (TheStreet) -- When David Tepper speaks it moves markets. His ability to mesh common sense with numeric proof resonates with the herd.
In Tuesday's interview on
CNBC
, Tepper commented that
Apple
(AAPL) - Get Report
would perform with the market until it resumed an uptrend resulting from an evolutionary or revolutionary upgrade to its product portfolio.
Skeptics immediately jumped all over Tepper's statement, they disagreed that Apple stock can rise if the next round of innovation is merely evolutionary. How could the mighty David Tepper say such a thing? Doesn't he know that Apple can't survive unless its next revolution is right around the corner? Hasn't he heard how much better Google Maps is compared to Apple Maps? What about the market share reports in Android's favor? Doesn't he read financial media? If this guy knew anything he would understand that no uptrend can occur with Tim Cook at the helm; Tim's not Steve and without Steve the Apple story is over.
Despite these headwinds David Tepper still said what he said. Perhaps his numbers are telling him a different story.
So what do the numbers look like? Before I give you the data just know that Apple management's decision to unleash the largest share repurchase program in the history of Wall Street is no small thing. Any company that is able to grow earnings and simultaneously reduce its share count will find itself in a golden age of earnings per share appreciation.
When all is said and done, year over year EPS appreciation or depreciation is what moves a stock. EPS is Wall Street's fall back metric. It never fails. Apple's current rate of negative EPS growth (caused by year over year gross margin compression) is the leading cause behind the $300 correction of the last eight months.
Also see: Diversifying Your Portfolio For Beginners: The Stockpick Whiz Kid >>
Apparently the law of large numbers has caught up to Apple, unless Apple does something to remedy the reality. Let's dig into the overall effect of Apple's buyback and its influence on future EPS.
If we assume only an evolutionary upgrade to Apple's product portfolio it provides us with the following assumptions to build a forecast model: 20% annual revenue growth, 36% gross margins, a steady stock rise of $25/quarter, and 29% of profits re-allocated back into a stock buyback over the next ten years. If these four assumptions hold constant, the EPS projections look something like this...
2013: $45/share
2014: $57/share
2015: $72/share
2016: $91/share
2017: $117/share
2018: $150/share
2019: $196/share
2020: $261/share
2021: $355/share
2022: $501/share
If Apple continues to fund a similar buyback program over the next 10 years it will reduce the current float from 934 million shares to 419 million shares. As you can see, earnings growth combined with share reduction produces mind blowing results.
In 2022, Apple projects to earn $501/share. With a P/E of 10 that puts the stock at $5,000. We've all been warned about the law of large numbers but we haven't been alerted to its remedy. A massive buyback like the one Apple recently announced is that remedy. Settling into an annual revenue growth rate of 20% works out just fine if it's accompanied by such a program.
Also see: The Steve Carell of Football Walks >>
These are the kinds of numbers that tell a hedge fund manager like David Tepper that it's okay to own Apple even if its product upgrade cycle is evolutionary. Both the media and the market are infatuated with Apple's short term market share battle against Samsung but the big picture perspective illustrates that this commoditized market share battle is meaningless.
In the real world Apple enjoys a brand loyalty and customer satisfaction rate beyond compare. Its share of industry profits is what matters most and that share in the smartphone space is at 57%.
Its share of industry profits in the tablet space is beyond compare.
Its free cash flow generation is beyond compare. Competitors would give anything to be in Apple's position and yet Wall Street acts as if it's the other way around.
It's Apple that is perfectly positioned for the long run in terms of organic sales growth from its installed user base of 200-plus million.
It's Apple that is positioned to profit from new product categories because of its pre-existing ecosystem. When Apple unveils a television app store with complimentary hardware the people will come. When Apple unveils an iWatch/iWallet people will come. When Apple unveils multiple models of the iPhone people will come.
No other company is in a like position.
Amazon.com
(AMZN) - Get Report
can't give tablets away. The
Facebook
(FB) - Get Report
phone is doomed.
Google
(GOOG) - Get Report
glass looks like the second coming of the Segway.
Microsoft
(MSFT) - Get Report
can't get anything right.
In an era defined as the mobile tech revolution, Apple is in the pole position for the next 10 years. The numbers tell a remarkable story. A 20% annual revenue growth rate combined with 36% gross margins is all Apple needs and investors like David Tepper know it.
Also see: Fox, Disney Talk Entertainment But Rely on Sports >>
Consider this brief selloff ahead of Tim Cook's June 10 WWDC keynote the calm before the storm for Apple stock. Yes, an EPS storm is brewing.
At the time of publication, the author was long AAPL.
Follow Jason Schwartz @applesummit
This article is commentary by an independent contributor, separate from TheStreet's regular news coverage.
This commentary comes from an independent investor or market observer as part of TheStreet guest contributor program. The views expressed are those of the author and do not necessarily represent the views of TheStreet or its management.
Jason Schwarz is an option strategist for Lone Peak Asset Management in Westlake Village, Calif. He is also the founder of the popular investment newsletter available at www.economictiming.com. Over the past few years, Schwarz has gained acclaim for his market calls on the price of oil, Bank of America, Apple, E*Trade, and his precision investing in S&P 500 option LEAPS. His book, The Alpha Hunter, is set to be released by McGraw Hill in December 2009.