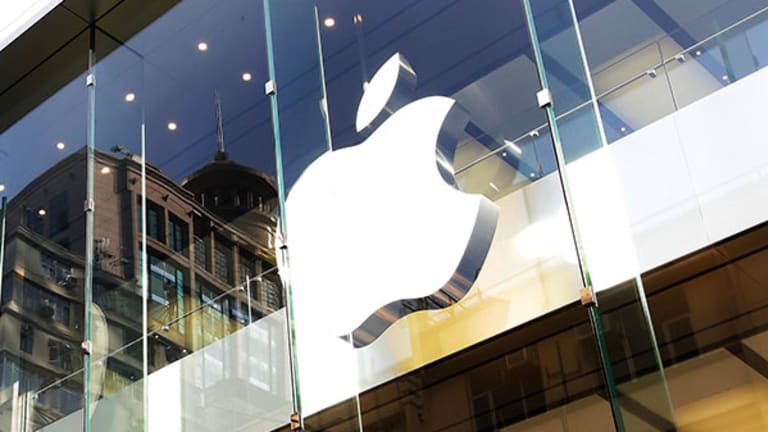 Apple's Quarterly Earnings Report: Top 4 Things to Watch
If analysts are right, the company's first quarter will be all about its supersized iPhones and expanded margins.
Updated from Jan. 26 to include additional information from research firm Canalys.
SAN DIEGO, CALIF. (TheStreet) -- Thanks to unprecedented demand for its larger iPhones during the holiday season, Apple (AAPL) - Get Apple Inc. (AAPL) Report is expected to supersize sales when it reports results for its quarter ended on December on Tuesday. 
For Apple's fiscal 2015 first quarter, Wall Street estimates earnings per share of $2.59 on revenue of $67.7 billion, according to analysts polled by Thomson Reuters. Should the company meet expectations, its revenue would have increased by 17.5% from the same period a year earlier.
Besides earnings and revenue, here are the top things that analysts and investors will be paying extra attention to:
1. iPhone sales and ASP. Apple's first quarter will be all about its supersized iPhones. Analysts have said repeatedly in the run-up to the Tuesday report that they expect the Cupertino, Calif.-based company to post monster iPhone sales for the quarter with help from sales in Asian markets. High demand for pricier, larger memory iPhone 6 and iPhone 6 Plus models are expected to expand profit margins, as well.
Most analysts are looking for iPhone sales in the mid 60 million-unit range. On Monday, Cantor Fitzgerald increased its sales estimate to 67 million iPhones from 64.7 million, which would represent 70.6% growth over the previous quarter and 31.3% growth from the year-earlier quarter. The firm is estimating around $45 billion in revenue from iPhones for the quarter, with the average selling price coming at close to $672 per phone. The revenue figure would mean that Apple brought in 38% more revenue from iPhone sales in the recent quarter than it did in the same quarter a year earlier.
Wells Fargo Equity Research, which has an earnings estimate of $2.77 per share for the quarter, also expects sales of 67 million iPhones. Credit Suisse is looking for unit sales of 71 million devices sold during the first quarter.
Oppenheimer, meanwhile, is projecting sales of 65 million iPhones, but is modeling more revenue from the category ($45.8 billion) than Cantor as it expects an ASP of $705 per iPhone. 
In the fourth quarter, Apple took first place in the Chinese smartphone market in terms of units shipped thanks to the popularity of the iPhone 6 and 6 Plus, according to a Tuesday press release issued by analyst first Canalys. The firm did not provide shipment or market share specifics but said it would release more information next week. "The top four vendors in Q4 in China by units shipped were Apple, Xiaomi, Samsung and Huawei, respectively," Canalys said.
2. Gross margin and foreign exchange. During its fiscal fourth-quarter earnings conference call with analysts, Apple executives told Wall Street to expect a gross margin of 37.5% to 38.5% for the first quarter. Many analysts, however, are looking for a gross margin closer to 40% because of the continued success of the iPhone and its higher average selling prices. Credit Suisse and Wells Fargo, for instance, are both estimating a gross margin of 39.6%.
Should Apple produce higher-than-estimated margins, its earnings for the quarter could beat the mean estimate of $2.59 per share by a healthy amount. On Monday, Wells Fargo boosted its EPS estimate to $2.77 and Credit Suisse's estimate is $2.97, or almost 15% above analysts' average estimate.
BMO Capital Markets, however, wrote in a note on Sunday that while it believes Apple's gross margin could increase to 39% from 38% in the prior quarter thanks to the iPhone 6 and iPhone 6 Plus, margins could alternatively be hurt by warranty expenses and foreign exchange. The firm noted that warranty expense, or the cost associated with handling warranty claims, as a percentage of revenue increased in Apple's past three fiscal first quarters. It also assumes that foreign-exchange movements will hurt Apple's prices by 3.3 percentage points compared with the previous quarter. BMO's first-quarter earnings estimate is very conservative at $2.51 per share.
3. iPad weakness. Apple's tablet category is expected to be a pockmark on an otherwise unblemished report. Though the company is expected to report shipments of between 18 million and 21 million iPads for its first quarter, which is much greater than the 12.3 million in sold in the prior quarter, the product category will show a substantial decline in year-over-year unit sales and revenue for the fourth quarter in a row. Cantor estimates sales of 21 million iPads totaling revenue of $9.2 billion, which would translate to 19.3% fewer unit sales and 19.6% less revenue than in the same quarter a year earlier.
4. Attack of the Mac? Strong Mac sales of 5.5 million units in Apple's fourth quarter were a welcome surprise, and this time around, many analysts are expecting another solid quarter for Apple's desktop lineup. Oppenheimer is projecting sales of 5.9 million Mac computers for the first quarter, which would represent 6% growth from the fourth quarter and 21% growth from a year earlier.
Third-party reports suggest that Mac sales surged during the last three months of the year. Apple took home 7.1% share of the PC market in the fourth quarter, with shipments of 5.75 million Macs, up 19% over the year-earlier quarter, according to research firm IDC. 
--Written by Jennifer Van Grove in San Diego.
Contact by Email.