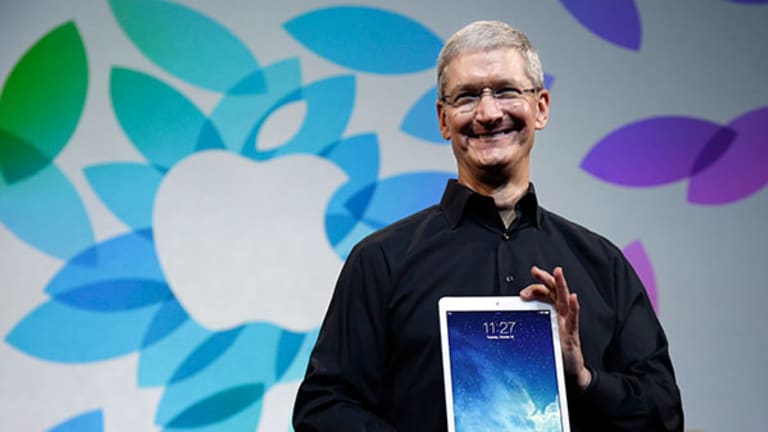 Apple's 'PrimeSense' Directive (Update 1)
Slow down, Apple fans. A deal for PrimeSense isn't done just yet.
Updated from 8:39 a.m. EST to provide comments from PrimeSense regarding acquisition in the fifth paragraph.
NEW YORK (TheStreet) -- Slow down, Apple (AAPL) - Get Apple Inc. Report fans. A deal for PrimeSense, the company that made the Kinect for Microsoft's (MSFT) - Get Microsoft Corporation Report Xbox 360, isn't done just yet.
In the middle of the summer, it was rumored that Apple had bought the company behind the technology for the Xbox Kinect for a purchase price of around $280 million to $300 million.  Now, news comes from AllThingsD that a deal is likely but still not done yet, following a report from Israeli Web site Calcalist, which reported the news back in July. Apparently the hang up is over price, and which investors will get paid first given the outcome.
The original Kinect was a revolutionary product when Microsoft launched it in 2010, but the Redmond, Wash.-based company has since gone on to replace the technology PrimeSense provided for it. At the reported purchase price of around $280 million, PrimeSense would be a drop in the bucket for Apple, which at the end of the last quarter had $146.76 billion in cash, with the vast majority of it being held internationally.
Apple hasn't issued its generic "from time to time, we make acquisitions of smaller companies" statement yet when I asked the IPad maker for comment, so it's highly possible the deal is still being finalized. 
PrimeSense responded to a request for comment regarding the rumors. "PrimeSense is the leading 3D technology in the market," a company spokesman said in an email to TheStreet. "We are focused on building a prosperous company while bringing 3D sensing and Natural Interaction to the mass market in a variety of markets such as interactive living room and mobile devices. We do not comment on what any of our partners, customers or potential customers are doing and we do not relate to rumors or re-cycled rumors."
Calcalist has had a pretty good track record of Apple acquisitions, going back to Apple's purchase of Anobit, the flash memory maker in early 2012.  A purchase of PrimeSense could potentially be used for motion sensor help, given that that is PrimeSense's area of expertise.
PrimeSense 3D Capri sensor has already been demonstrated on a Nexus tablet already, so it's possible that Apple could bring that technology not only to its long-awaited and oft-rumored television set, but an iPad, and perhaps, an iPhone as well.
Apple recently launched two new iPads, the iPad Air and the iPad mini with Retina Display.  The iPad Air has received rave reviews, and potentially adding PrimeSense's Capri sensor to the iPad or perhaps an iWatch would keep Apple ahead of the competition with added features to its iDevices.
Shares of Apple were slightly higher in premarket trading, up 0.12% to $525.60.
--Written by Chris Ciaccia in New York
>Contact by Email.