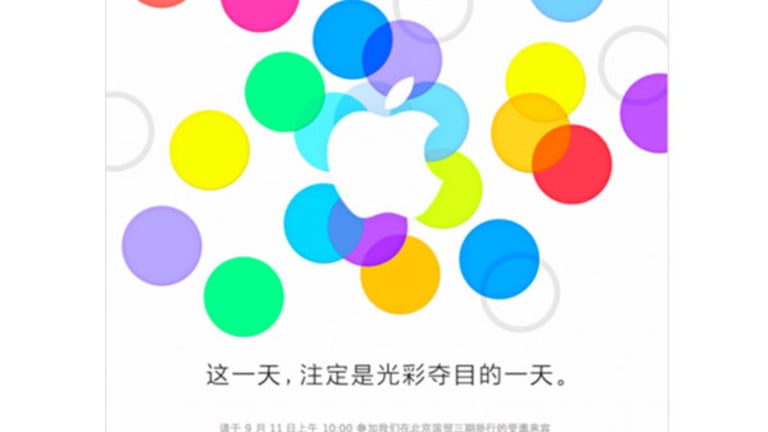 Apple's 'Other' iPhone Event
Apple sends out invites for an event in California on Sept. 10, presumably to announce the iPhone 5S. Now, it's sent out an invite for another event the day after, in China.
NEW YORK (
) --
Apple
(AAPL) - Get Report
sent invites for an event in California on Sept. 10, presumably to announce the
. Now, it's sent out an invite for the day after, in China.
The event in China is scheduled to take place at Beijing's World Trade Center, and it's important since this is the first time Apple has ever held an event specifically for the Chinese media. Presumably, the event is to announce either the
, dubbed the iPhone 5C, a deal with
China Mobile
(CHL) - Get Report
, or perhaps both. My bet is on the latter, as Apple has increasingly made China a focus.
It's interesting to note that the event at Apple's headquarters in Cupertino, Calif., takes place on Sept. 10 at 1 p.m. EDT, whereas the event in China takes place Sept. 11 at 10 a.m. local time, leaving not much time between events.
The last time Apple was part of an event that wasn't specifically related to a product was when
Verizon
(VZ) - Get Report
announced it was bringing the iPhone to its network, so it's worth noting there is precedent there, though it was a partner doing the announcement and not Apple.
Apple has increasingly focused on China, with CEO Tim Cook having made
to the country to talk with carriers, including China Mobile, which it currently does not have a deal with.
A deal with China Mobile (presuming that's what the announcement is about) would be a huge boon not only for the world's largest carrier, but Apple as well. When discussing first-half results of 2013, China Mobile said it had 740 million customers at the end of the first half of 2013, up 8.4% from a year earlier. At the end of June, it had 137.9 million 3G users, which is the segment Apple is targeting.
Given the increasing talks between Cook and China Mobile Chairman Xi Guohua, as well as the advent of a global chip from
Qualcomm
(QCOM) - Get Report
, the RF360, a deal appears to be imminent between the two companies.
In February, Qualcomm released the RF360, which supports all networks around the world. The RF360 supports the following networks: LTE-FDD, LTE-TDD, WCDMA, EV-DO, CDMA 1x, TD-SCDMA and GSM/EDGE, which would allow Apple to make a "global iPhone," which supports LTE connectivity.
Cantor Fitzgerald analyst Brian White, who rates Apple shares "buy" with a $777 price target, said he believes that both the iPhone 5C and a deal with China Mobile will help propel Apple's earnings higher. He believes the iPhone 5C could cost around $399 to $429, significantly lower than the cost of an unlocked 16GB iPhone 5.
"With a lower price point and multiple color options available (we expect five colors), we believe the introduction of the plastic-encased iPhone 5C will accelerate iPhone growth and drive share gains for Apple," White wrote in a note. "Additionally, we believe a deal with China Mobile is imminent over the next year, providing Apple with access to a wireless subscriber base of 745 million, or 7x larger than both AT&T and Verizon."
Apple shares, which have lagged the
S&P 500
and
Nasdaq
this year by a wide margin, need a boost. There may be nothing bigger for Apple and its shareholders than a deal with China Mobile, given the enormity of its subscriber base. While Apple will not capture all 137.9 million 3G users (there are reported to be about 10 million iPhones already in use on China Mobile's network despite Apple not having a deal with the company), it may capture a significant chunk of them, especially if the iPhone 5C is part of Apple's plan in China.
data by
--
Written by Chris Ciaccia in New York
>Contact by
.