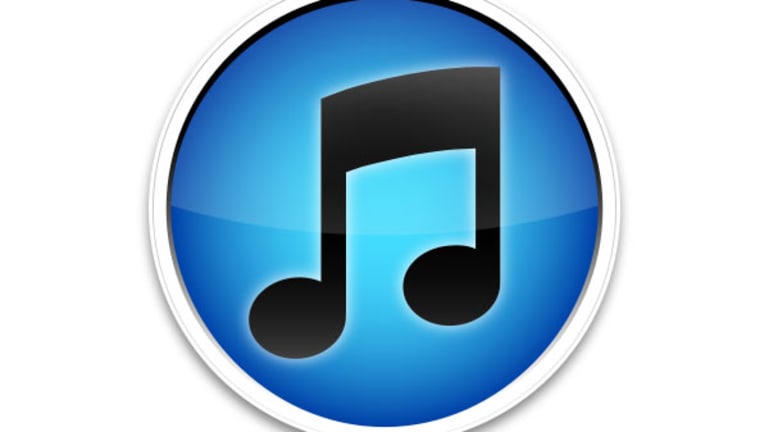 Apple's Next Product Is Here (Update 1)
There's been a lot of talk about where Apple innovates next. After last night's earnings call, it's likely it's your iTunes account.
Updated from 10:03 a.m. to include thoughts from portfolio managers in the seventh and twentieth paragraphs.
NEW YORK (TheStreet) -- If you want to know what Apple's (AAPL) - Get Apple Inc. Report next big product is, you found out last night on the call.
After ruffling through all the iPhone, iPad and Mac sales numbers, Apple still managed to earn $14.50 per share on $57.5 billion in revenue, as revenue rose 6% year over year. Analysts surveyed by Thomson Reuters expected Apple to earn $14.07 per share on $57.45 billion in revenue.
However, it was a major feature on the iPhone 5s, TouchID, which has set in place Apple's latest entry: mobile payments.
When TouchID was introduced as part of the iPhone 5s, speculation around immediately began to think of alternate uses, not just for unlocking phones without the use of a password. Apple CEO Timothy D. Cook confirmed that last night on Apple's earnings call.
"The mobile payments area in general is one that we've been intrigued with, and that was one of the thoughts behind Touch ID," Cook said on the earnings call. "But we're not limiting ourselves just to that. So I don't have anything specific to announce today, but you can tell by looking at the demographics of our customers and the amount of commerce that goes through iOS devices versus the competition that it's a big opportunity on the platform."
Last week, The Wall Street Journalreported Apple was looking to get into the mobile-payments business, leveraging its near 600 million iTunes accounts and credit cards, with the massive number of iOS devices it sells.
Apple could not be reached for comment for this story.
Speculation surrounding this as Apple's "next big thing" has been around for some time, going back as far as to WWDC 2012, when Apple unveiled Passbook, and the hype surrounding the digital wallet was in full "go mode."
Capital Advisors Growth Fund portfolio manager Channing Smith, who owns Apple shares, believes we could see something as soon as the next WWDC later this year. "At Capital Advisors we expect news might be coming in June on the mobile payment front paced by iBeacon and the fingerprint scanner which are the first steps into what could be a robust mobile payments platform," Smith said in an email.
Mobile payments is clearly the next area of opportunity for Apple, and rightfully so. Companies such as eBay's (EBAY) - Get eBay Inc. ReportPayPal, Square, Stripe, and others dominate the mobile payments market, with PayPal being the industry giant. In the fourth-quarter of 2013, PayPal generated $1.84 billion in revenue, handling over $50 billion in total payments volume (TPV) during the quarter and nearly $180 billion for the full year on 142.6 million accounts.
Conversely, Square reportedly is handling around $20 billion in TPV, up from a confirmed $15 billion in May 2013. Figures for Stripe are not publicly available.
Apple's iTunes dwarfs PayPal's accounts figure, so it stands to reason that if Apple wanted to get into this high-margin business (PayPal had a 63.5% transaction margin in the fourth quarter), it could do so, and profitably. Gross margins at Apple have been a concern for the company, as Apple is able to charge luxury prices for its iDevices, and consumers will pay them. Last quarter, Apple's gross margins were 37.9% for the quarter, so a foray into the mobile payments would only help, not hurt, Apple's industry leading margins.
Mobile payments is expected to be a huge business, with Forrester Research estimating consumers will spend $90 billion in mobile payments by 2017, up from $12.8 billion in 2012.
Right now, consumers purchase content, be it movies, TV shows, songs or apps using their Apple ID, and that's proven to be a big business for Apple. Last quarter, Apple generated $4.4 billion in iTunes/Software/Services related revenue, up 19% year over year.
Morgan Stanley analyst Katy Huberty notes cloud-based services are helping Apple's strong iOS ecosystem. "iPhone and iPad benefit as they help enable the shift to
cloud, which more than offsets the impact to Macs," Huberty wrote in a note following Apple's report. "Cloud-based services are key opportunities given Apple's market-leading account base of 575M+."
However, Apple does not handle payments outside of its core products, as does PayPal, Square, or Google (GOOG) - Get Alphabet Inc. Class C Report, with its Google Wallet initiative. By doing so, Apple could use new technologies, such as iBeacon, to further this initiative. "We expect to see many innovative uses of iBeacon technology from other businesses and developers in the coming months, including retailers and professional sports," Apple CFO Peter Oppenheimer said during last night's earnings call.
Investors have been clamoring for Apple to move into new products and services. Recently, activist investor Carl Icahn, who owns a $3.6 billion stake in Apple, suggested Apple could move into mobile payments in a filing with the Securities and Exchange Commission. "...Apple could introduce a next generation payments solution. In terms of whether the marketplace is well addressed by mobile payments solutions, Tim Cook has said 'I think it is in its infancy... I think it is just getting started and just of out of the starting block.' With the fingerprint sensor, iBeacon, 575+ million credit card numbers stored in iTunes, and Apple's homogeneous iOS installed base with 79% of devices using iOS 7, we believe a revolutionary payments solution is now a very real opportunity that the company could choose to pursue."
Icahn is also pushing eBay to spin off its PayPal unit, calling it a "gem," noting it should be unburdened away from eBay's legacy Marketplaces business.
Analysts have picked on on Apple's recent bump in capital expenditures in the second-quarter. Coupled with Cook's comments that new products are coming in 2014 is a sign of optimism for Apple, as it pertains to software and services.
UBS analyst Steve Milunovich, who rates Apple a "buy" with a $625 price target, picked up on this. "Spending supports more offerings-R&D almost doubled the last two years and F2Q expenses should be unseasonably strong at flat sequentially," Milunovich wrote in his note. He went on to say, "Cook said Apple has plenty of disruptive ideas but needs to concentrate resources on the best opportunities. This approach has worked historically and fits with our belief in focus-we are willing to give Apple the benefit of the doubt."
Though mobile payments are expected to be a huge hit, as consumers seek easier ways to pay for physical goods and services, consumer adaption is still ongoing. Infrastructure is still being rolled out to merchants, including new point-of-sale systems, and changes in phones. Currently, the iPhone does not support Near Field Communications (NFC) chips, which is one way to support mobile payments, but Samsung's flagship phone, the Galaxy S4, does.
Apple's innovation engine isn't stalling from a product standpoint, but software and services does need a boost. An updated version of iTunes, teamed up with Passbook, could be the innovation and drive Apple needs to deliver on its message that it's not just a hardware company, that's it more than that.
With Apple moving into new product categories potentially including wearable technology, Belus Capital Advisors portfolio manager and RealMoney contributor Brian Sozzi believes it's time for Apple to step up its game in mobile payments. "By being 'The Man' in mobile payments, and then rolling out wearables every fall (and eventually something to serve as the home hub), Apple will control the next generation of how goods and services are consumed," Sozzi said in an email. "Think of it this way: Apple is selling the devices that serve as hubs in our hands and others have built mobile wallets and payments off their hard work, it's time for Apple to push them all aside."
--Written by Chris Ciaccia in New York
>Contact by Email.