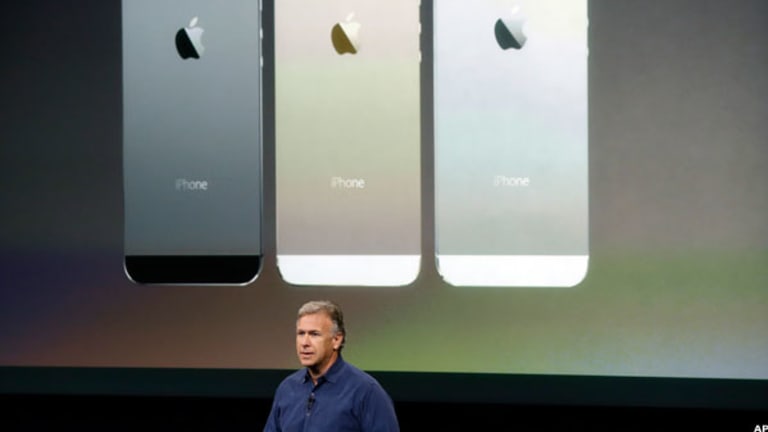 Apple's Next Catalyst: Santa Claus
Apple's fourth-quarter earnings are set for after the closing bell on Monday. With Apple announcing new iPhones and iPads, the next catalyst for the company is the holiday season.
NEW YORK (
) --
Apple's
(AAPL)
earnings are set for after the closing bell Monday, and with the iPhone and iPad refreshes out of the way the next catalyst for Apple is the holiday shopping season.
Apple increasingly has become a one-quarter company, generating nearly 35% of its fiscal 2013 earnings in its fiscal first quarter, which is the holiday shopping quarter. When Apple reports fourth-quarter earnings, analysts will be looking to see how far off their estimates for the upcoming quarter are, given the tremendous demand seen for the
and with reviews of the
coming in glowingly.
Analysts surveyed by
Thomson Reuters
are looking for Apple to generate $13.81 a share in earnings on $55.7 billion in revenue for its fiscal first quarter.
Even though the guidance for the upcoming quarter will likely trump Monday's results, that doesn't mean investors aren't paying attention to fourth-quarter earnings. Cantor Fitzgerald analyst Brian White, who rates shares "buy" with a $777 price target, raised his estimates for the fourth quarter, led by an increase in iPhone and iPad estimates.
He now expects 32.96 million iPhones and 14 million iPads to be sold during the quarter, helping Apple to earn $8.06 a share on $37.49 billion in revenue. "After a year to forget in FY:13 with our forecast for EPS to fall for the first time since FY:03, we expect EPS growth to return in FY:14 for a year that we believe will prove to be one of innovation," White wrote in a report. "Already, we believe the iPhone 5S is off to a strong start, and we were inspired by the recently unveiled iPad Air that we view as a game changer in the tablet market with availability beginning this Friday."
Analysts surveyed by
Thomson Reuters
are looking for Apple to earn $7.96 a share on $36.93 billion in revenue for the fourth quarter.
Of particular concern this quarter will be the iPhone average selling price (ASP). There's been criticism that Apple priced the iPhone 5c too high compared to the 5s. The thought process was that Apple would release a lower-end iPhone to help win back market share from
Google's
(GOOG)
Android operating system. Android had 75.3% of the smartphone market as of a
September survey
from research firm
IDC
, compared to 16.9% for iOS.
The iPhone is still the big profit driver for Apple, as Morgan Stanley analyst Katy Huberty noted. "At over 50% of revenue and 65% of gross profit dollars, the iPhone remains the key upside driver after a successful 5s/iOS7 launch," Huberty wrote in a research note last week. Huberty rates shares "overweight" with a $540 price target.
Given the increased focus on the iPhone over the years, iPhone ASP is important because not only does it help protect Apple's famously high gross margins but it shows that Apple can continue to sell a premium product in an increasingly "premium-less" smartphone world.
If Apple is able to keep the iPhone 5c, which has seen some price cuts at retailers such as
Wal-Mart
and
Target
at a higher price, and win market share, then the company's strategy will be vindicated.
The recent iPad refresh is also of importance, given sales have been trending down for the past two quarters. Goldman Sachs analyst Bill Shope believes that while iPad ASPs may increase over time, thanks to a higher-priced iPad mini with Retina Display, they will also boost Apple's tablet business. "Overall, we believe Apple's recent iPhone refresh is trending better than expected (with a greater mix shift towards the 5s as well), and we believe the new iPads can reinvigorate Apple's tablet revenue and profit momentum in coming quarters," Shope penned in a note. He rates shares "buy" with a price target of $560.
Outside of earnings, there will be increased attention on Apple's cash position, now north of $140 billion. Activist investor Carl Icahn appears to be digging into Apple's board of directors, of which CEO Timothy Cook is on, calling for Apple to do a $150 billion buyback to help boost the company's lagging share price.
Icahn sent a
letter
to Cook and Apple's board, and recently went on
CNBC
noting he could "test the waters" regarding a proxy fight with the company, saying he "will not be going away." Icahn also said that he and Cook would be speaking again after the company's earnings report.
Apple's actual results will be garnering less attention than usual, with more focus on the guidance and the company's cash position. With the holidays fast approaching, Apple's increasing reliance on wish lists for the latest iDevice will be shining bright, front and center.
--
Written by Chris Ciaccia in New York
>Contact by
.