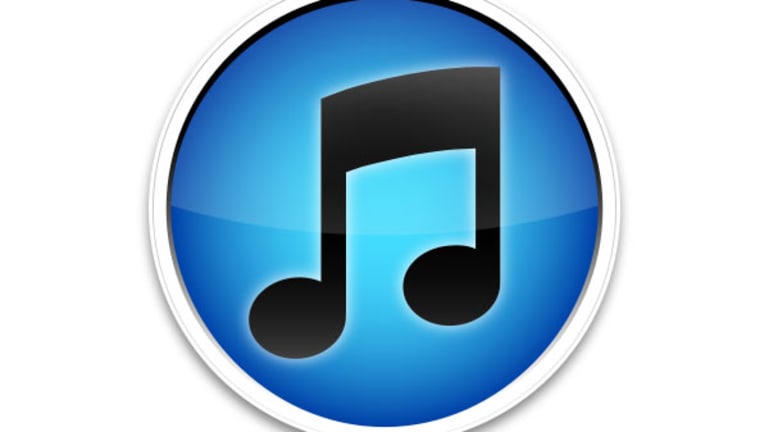 Apple's Next Big Thing: iTunes
There's been a lot of talk about where Apple innovates next. It very well could be your iTunes account, which could be worth billions to the technology giant.
NEW YORK (
) -- There's been a lot of talk about where
Apple
(AAPL) - Get Apple Inc. Report
innovates next. A new iPhone? An iWatch? An Apple TV? It very well could be something you already have and don't think twice about.
Apple holds more than 500 million credit card accounts and valuable personal information -- consumer habits, preferences -- through its iTunes software. That's a veritable treasure trove that has been little more than an after-thought among Wall Street investors perpetually focused on iPhone and iPad sales.
In Apple's most
both of those product segments accounted for 72.7% of Apple's $43.6 billion in revenue. It's clear that the iPhone and iPad butter Apple's proverbial bread but there's been a subtle shift in recent months about how CEO Tim Cook talks about Apple.
At a
Goldman Sachs
in February, Cook said Apple is not a hardware company despite the fact that it generates the vast majority of its revenue from hardware sales. "Because we're not a hardware company, we have other ways to make money and reward shareholders," Cook said at the conference.
On Apple's most recent earnings call, Cook talked about the great hardware, software, and services that Apple has forthcoming. "Our teams are hard at work on some amazing new hardware, software, and services that we can't wait to introduce this fall and throughout 2014," Cook said.
Perhaps part of those "amazing" software and services that Apple has coming could be its entry into the mobile payments market, which is currently being dominated by
Square
,
eBay's
PayPal
, and very few others.
Google's
(GOOG) - Get Alphabet Inc. Class C Report
had little, if any, commercial success with Google Wallet, and
Isis,
, a service from
AT&T
,
T-Mobile
(TMUS) - Get T-Mobile US, Inc. Report
and
Verizon
(VZ) - Get Verizon Communications Inc. Report
draws more inquisitive looks than those company's would like.
Apple is one of the most well-known and respected brands in the world, and as the mobile payments industry continues to take shape, it may be poised to dominate, like it did with the MP3 and tablet markets, and smartphones, until very recently.
Citi
research estimates that mobile payments "could see atransaction value of $1
trillion by 2016," though there are various wide-ranging estimates on how big it could ultimately be.
In a recent research note,
Morgan Stanley
analyst Katy Huberty noted that mobile payments could be the next killer service for Apple. "Most interesting to us is the potential for a killer service, like mobile payments, to better monetize the 500M+ account base and drive further differentiation and share gains in mobile devices," Huberty wrote in her investor report. She rates Apple "overweight" with a $540 price target.
Cook's comments on the mobile payments industry from the conference call may continue to add fuel to the Apple fire. He emphasized that the industry is "just getting started and just out of the starting block," saying it's in its "infancy."
Channing Smith, portfolio manager at
Capital Advisors Growth Fund
says the 500 million iTunes accounts continue to make it harder for customers to move outside the Apple ecosystem. "The more content Apple users acquire, the higher the switching costs and the higher the likelihood that Apple users upgrading their existing products," Smith said in a recent email with
TheStreet
.
Combined with Passbook, Apple's app for holding movie tickets, gift cards, and coupons, iTunes could be a mobile payments power house. Huberty noted that Apple's content, software and services revenue is now on an annual $16 billion run rate, up 30% year-over-year, and it's clear that Apple is looking to expand that number.
Ironfire Capital's
Eric Jackson said that of the biggest revenue stream to come from the new focus on software and services, payments is it. "I think that's an interesting area," Jackson said in a recent email.
The mobile payments industry is likely to be different in developed markets, than it is for merging markets, given more competition in developed markets, Citi notes. "Relatively high levels of bank penetration as well as smartphone penetration in Developed Markets means the evolution of Mobile Payments will be different than in Emerging Markets," Citi wrote in its research report. It noted that Japan, with 55%% penetration rate, is considered a success. "Transit and retail applications are typically important in Developed Markets and are likely to be the "killer app'," and that's where Passbook could be Apple's key.
Passbook is app-based, and consumers with smartphones are much more accustomed towards apps, than they are NFC chips. There are still hardware challenges for a cloud-based solution, such as Passbook Citi wrote in its research. These include POS hardware and software upgrades, ecosystem partnerships, systems integration and marketing, but a cloud-based solutions seems to be the easiest way to solve the problem.
Though mobile payments are expected to be a huge hit, consumer adaption is still ongoing, as infrastructure gets rolled out to merchants, including new point-of-sale systems, and changes in the phone. Currently, the iPhone does not support Near Field Communications (NFC) chips, which is one way to support mobile payments.
Aside from mobile payments, iTunes could be paired with a service like
Twitter
(remember Apple's failed social network, Ping?), to make its software and services divisions that much more important.
Twitter
is increasingly becoming the go-to place where people get their news, and it would have strategic importance, Jackson notes, even if Twitter's annual revenue wouldn't move the needle for Apple. He noted that by bringing in the Twitter team and giving them autonomy, Apple could "build the area up and make it an area of strength, not a weakness."
Apple's innovation engine isn't stalling from a product standpoint, but software and services does need a boost. An updated version of iTunes, teamed up with Passbook, could be the innovation and drive Apple needs to deliver on its message that it's not just a hardware company, that's it more than that.
--
Written by Chris Ciaccia in New York
>Contact by
.