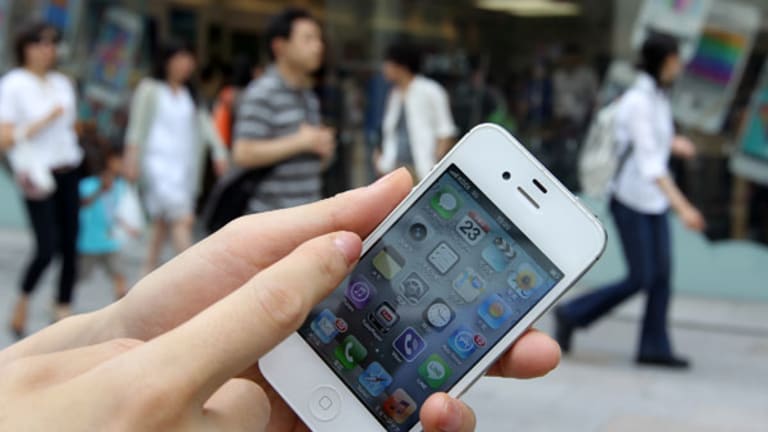 Apple's iPhone: The Tech Titan's Secret Weapon for TV
An Apple patent that was finally granted shows the iPhone may be more than Apple's chief revenue driver -- it could be Apple's secret weapon as it relates to TV.
NEW YORK (
) --
Apple's
(AAPL) - Get Apple Inc. Report
iPhone is a lot of things: the tech giant's chief revenue driver; an iconic smartphone; a device that revolutionized an industry. Now, it may be poised to revolutionize another industry and be Apple's secret weapon in the television market.
An Apple
published by the U.S. Patent and Trademark Office will allow the iPhone to essentially work as a television and smart home remote, allowing users to manage and recall entertainment.
"Systems and methods for saving and restoring scenes in a multimedia system with minimal configuration are provided," the patent filing stated. "The techniques of the present invention can allow the states of the components in the multimedia system to be captured in a scene. Once the scene has been saved, the scene can be restored at a later time. A remote control system for recommending scenes by comparing states of components in the current scene with states of components in saved scenes is also provided. The remote control system can also recommend scenes based on usage patterns. Moreover, the remote control system can allow users to designate one or more saved scenes as favorite scenes."
The patent was first filed five years ago, but was only granted Tuesday, as the company continues to figure out its living room strategy. The inventor on the patent, Alan Cannistraro, is the developer who is responsible for coding the first iTunes Remote app as well.
This patent allows the iPhone to not only control a television, change a scene or play a game, but it can also be a home theater remote. In his biography, Steve Jobs told biographer Walter Isaacson that there should be no need for several remotes, that one could do the job. "There's no reason you should have all these complicated remote controls," Jobs said to Isaacson.
Apple has long hinted that its plans for the television market are grander than what we see currently. The Apple TV device, which sells for $99, has recently been
by getting access to the HBO Go and WatchESPN apps on its platform.
Apple CEO Tim Cook has said in previous interviews that television is an
. "When I go into my living room and turn on the TV, I feel like I have gone backwards in time by 20 to 30 years," Cook told
NBC's
Brian Williams in an interview late in 2012. "It's an area of intense interest. I can't say more than that."
There have long been rumors that Apple would create its own television set, as it looks to compete with the likes of
Google
(GOOG) - Get Alphabet Inc. Report
,
Microsoft
(MSFT) - Get Microsoft Corporation Report
and others for the living room battle.
There have even been
that Jonny Ive has a working prototype of the television in his lab, and that the device has been sent to potential partners.
Using the iPhone as a universal remote for a potential Apple television or even without it shows that Apple is doing what it can to protect its biggest business by giving it more functionality. In Apple's most recent quarter, the company generated $35.323 billion in revenue, with 56.2% of that coming from the iPhone.
Apple files an incredible amount of patents, many of which never see the light of day for one reason or another. As Cook and Apple continue to talk up Apple's ecosystem, turning the iPhone into a universal remote and allowing it to work with iDevices makes a lot of sense.
It could finally bring to light Apple's grand plans for television to the market, and wind up being the tech titan's secret weapon in the battle for living room entertainment.
--
Written by Chris Ciaccia in New York
>Contact by
.