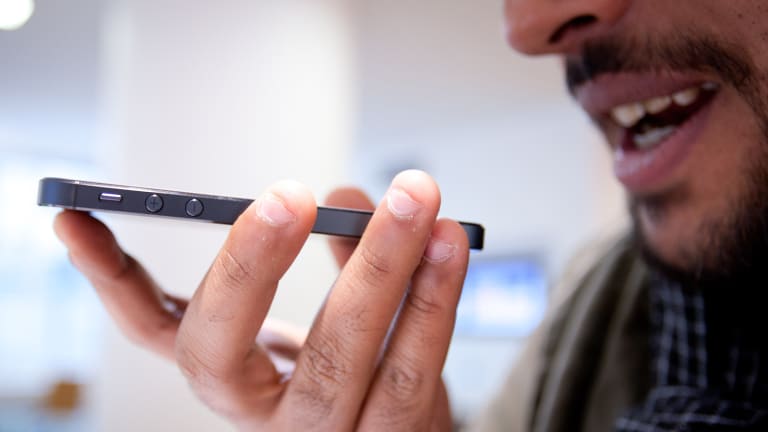 Apple's iPhone 6 Is More Dominant Than Anyone Thought
Apple's iPhone sales won't be slowing down anytime soon. Here's what analysts have to say about Apple as a company and a stock.
NEW YORK (TheStreet) -- If there were any expectations that Apple's (AAPL) - Get Apple Inc. (AAPL) ReportiPhone sales would be slowing down anytime soon, they can be put firmly on hold.
Morgan Stanley analyst Katy Huberty said that iPhone demand is ahead of expectations, indicating there's demand for 53 million units this quarter. She cited data from Morgan Stanley's AlphaWise Smartphone Tracker.
Jim Cramer's charitable trust Action Alerts PLUS is long Apple. Get full analysis on the stock with a free trial subscription.
Huberty raised her estimate of iPhone sales numbers for the quarter to 50 million, up from 46 million, while boosting fiscal 2015 and 2016 shipment estimates to 240 million and 249 million, respectively.
"We expect slight iPhone unit growth of 4% in FY16 (next iPhone cycle) as our survey earlier in the year indicates strong demand from existing iPhone users, with nearly half of the installed base planning to upgrade in FY16," Huberty wrote in a note.
Apple released both the iPhone 6 and 6 Plus in September 2014. The life cycle for these phones is approaching an endpoint. Apple is widely expected to refresh its iPhone lineup later this year, as it has done previously. The strong demand late in the life of the 4.7- and 5.5-inch smartphones affirms comments from CEO Tim Cook regarding untapped opportunities for Apple.
"Our current estimate is that about 20% of the active installed base has upgraded to a 6 or 6 Plus," Cook said on an April 27 earnings call. "And so as I look at that number, that suggests there's plenty of upgrade headroom in addition to we want to keep inviting over as many switchers as we can. So between both of those and the first time buyers as well, it seems really, really good right now."
Analysts surveyed by Thomson Reuters expect Apple to earn $1.74 a share on revenue of $48.29 billion in its fiscal third quarter.
Much of the iPhone's strength appears to be coming from China, which saw its 3G and 4G smartphone subscribers rise 39% year over year, according to Cantor Fitzgerald analyst Brian White.
"Given this 4G expansion, we continue to believe that Apple's iPhone portfolio is better positioned than ever to benefit from a major upgrade cycle across the country with larger iPhones (i.e., iPhone 6, iPhone 6 Plus) and a growing relationship with China Mobile (CHL) - Get China Mobile Limited Sponsored ADR Report," White wrote in a note.
Apple officially became a partner with China Mobile -- the world's largest telecom carrier, with more than 815 million subscribers -- in January 2014.
China is increasingly becoming Apple's most important market, and may soon surpass the Americas as the company's largest revenue generator.
In the fiscal second quarter, Apple generated $16.82 billion in revenue from greater China, compared to $9.83 billion in the same period in 2014. By contrast, Apple's Americas revenue in the quarter was $21.31 billion, up from $17.98 billion in the year-ago period.
In addition, Cupertino, Calif.-based Apple also surpassed Xiaomi as the leading smartphone maker in China, according to research firm IDC. Xiaomi is a Chinese consumer electronics company that has been compared to Apple in the past and is considered one of China's most important technology companies. Apple's main competition at the high-end of the smartphone market, Samsung (SSNLF) , finished third.
In addition to boosting iPhone estimates, Huberty noted that demand for the Apple Watch has risen about 60% since March. She now sees estimates for the first 12 months at 36 million, up from 30 million.
"We believe this remains a conservative estimate of demand given 1) it implies only 'definitely' buy responses convert to purchases as opposed to those that said 'probably' which we include in the bull case, 2) it assumes 50% U.S. mix despite current iPhone installed base mix closer to 30%, and 3) it doesn't consider the increasing iPhone installed base since the beginning of the year," Huberty wrote in a note.
There is still a lot of debate on Wall Street about demand for the Watch.
On Wednesday, KGI Research analyst Ming-Chi Kuo lowered his Apple Watch estimates for 2015 to around 15 million, with expectations Apple will sell between 5 million and 6 million this quarter. The report was first spotted by Apple-focused Web site 9to5Mac.