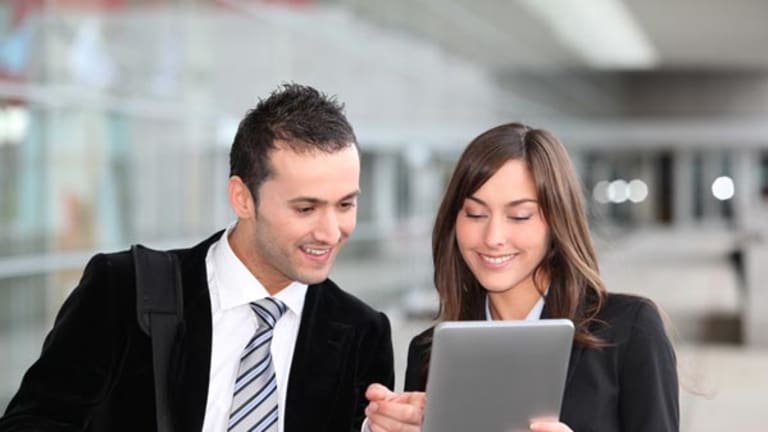 Apple's iPhone 3G: Losing Its Luster?
RIM's BlackBerry Bold is an initial hit while Apple's iPhone 3G is running into production problems, analysts say.
Are the tables turning on
Apple
(AAPL) - Get Apple Inc. Report
and its iPhone 3G?
Analysts say
Research In Motion's
(RIMM)
new BlackBerry Bold has been a hit this week at AT&T stores.
Sales of the BlackBerry Bold by
AT&T
, which started Tuesday, is drawing BlackBerry fans to its retail outlets, according to a report from Citibank analysts.
var config = new Array(); config<BRACKET>"videoId"</BRACKET> = 1894263662; config<BRACKET>"playerTag"</BRACKET> = "TSCM Embedded Video Player"; config<BRACKET>"autoStart"</BRACKET> = false; config<BRACKET>"preloadBackColor"</BRACKET> = "#FFFFFF"; config<BRACKET>"useOverlayMenu"</BRACKET> = "false"; config<BRACKET>"width"</BRACKET> = 265; config<BRACKET>"height"</BRACKET> = 255; config<BRACKET>"playerId"</BRACKET> = 1243645856; createExperience(config, 8);
The report says that store checks indicate strong initial demand with a number of stores saying they were sold out before noon.
That's very good news for RIM, the Bold and AT&T. The same handset had been having problems elsewhere.
Orange UK
stopped selling the Bold nearly a month ago citing 3G problems. Orange and RIM have not disclosed any information on the cause or when the problem will be resolved.
On the other hand, there are signs that production of Apple's blockbuster iPhone 3G could be slowing because of the economic slowdown.
USB says recent checks indicate various iPhone supply chain cuts. It believes recent data points suggest unit volumes are weaker than its current estimate. It has a neutral rating on Apple with a target price of $115.
Friedman Billings believes iPhone production could fall more than 40% in the fourth quarter compared to Apple's prior estimate of about 10%. It says a number of associated companies could see a negative revenue impact due to the reduced production.
But Sanford Bernstein thinks that despite slower earning growth Apple shares are significantly undervalued. It sees a target of $135 per share.
What hasn't been discussed is the impact another hit Blackberry phone might have on the situation. Sometime this month, RIM/Verizon should be releasing the Storm, a "clickable" touch-screen smartphone.
After playing with a pre-production model, I predict very good things for this phone.
The British version of the Storm is slated to go on sale very soon.
Vodafone
(VOD) - Get Vodafone Group Plc Report
, the British carrier, will be offering the Storm free - with a two-year contract.
In addition, the service contract includes 600 minutes of talk time and unlimited texts, email and Internet for 35 pounds (currently $56 U.S.) per month. There's no word yet on what kind of deals Verizon might offer in this country.
Finally, here's a shameless plug for our own cellular news services. TheStreet.com's new "push" business news application, built just for Blackberry smartphones, is now available at
.
I can tell you that it looks great on both the Pearl Flip and the Bold. Just wait until you see what we're building for the Storm, the iPhone and T-Mobile's G-1. I encourage you to download it to your phone and let me know what you think.
Gary Krakow is TheStreet.com's senior technology correspondent.