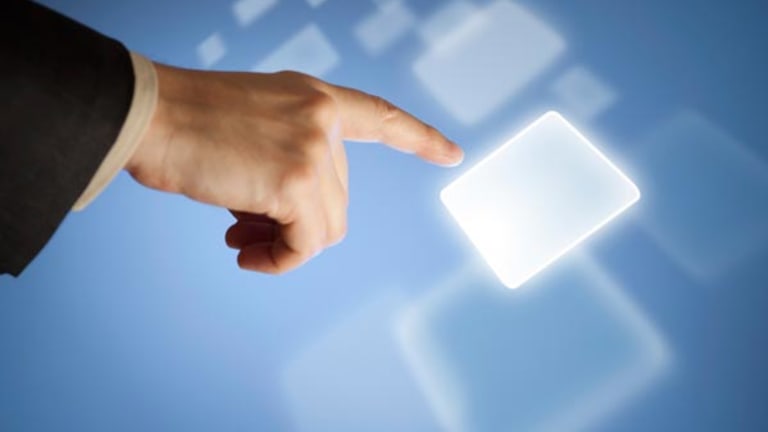 Apple's iPad Slips, and the Culprit May Be Price
Apple says there's still a future for iPads. The lure of cheaper Android devices could be a problem.
Apple says there's still a future for iPads. The lure of cheaper Android devices could be a problem.
NEW YORK (
) - The unexplained drop in
Apple
(AAPL) - Get Report
's tablet sales announced yesterday could be a sign of an over-saturated marketplace. Or it could be because Apple tablets are just too expensive.
Yesterday, Apple announced that it had sold fewer tablets in the past three months than it had in the same quarter last year -- from 17 million down to 14.6 million. Mac laptops sales declined in Apple's third quarter as well. Worldwide iPhone sales were the bright spot in the announcement with a 60% boost in year-over-year sales in Japan. Overall, Apple's reported revenues went from $43.6 billion to $35.3 billion.
Apple shares were advancing 4.6% to $438.21 in mid-morning trading in New York.
During Tuesday's earning call, Apple CEO Tim Cook said that despite the iPad's recent sluggishness he's optimistic about the future for tablets. Cook said there's still a lot of life left in the iPad concept and was especially heartened by the product's double-digit growth in certain foreign markets including Canada, China and Japan. CFO Peter Oppenheimer chimed-in to say iPads still command a big lead over both Android and Windows tablets in enterprise use.
Historically tablet computers have been a hard sell. Look at what
Microsoft
(MSFT) - Get Report
and the rest of the PC industry are suffering through with first-generation Windows 8 tablets.
Hewlett Packard
(HPQ) - Get Report
didn't have much success with their recent Palm OS-based tablets either. Same for
BlackBerry's
Playbook. Overall, Apple has done a remarkable job of creating a market for modern-day tablet computing.
Apple has always been ahead of the industry curve when it comes to innovative products like the iPod, iPhone and iPad. Time and time again competitors have been forced to follow Apple's formidable lead. But, in addition to innovation, retail pricing also plays a big part in today's high-tech marketplace. And that's where Android devices have the edge.
While the iPad mini ($329 and up) is less expensive than the original model it is still more expensive than a growing number of similar Android devices. Many of those Androids sell for less than $200. I just noticed one of the TV home shopping channels hawking a small Android tablet for few pennies less than $100 (in "three easy payments"). While I can't vouch for that device's quality as compared to an iPad, many buyers will be attracted to a $100 price tag faster than products costing $329.
It will be interesting to see what Apple is planning next. There's an iPad-mini 2 rumored to be in the works as well as a new, larger-than-the-original-sized iPad. That model might even turn into a two-piece tablet/keyboard laptop replacement device. Retail prices will surely continue to be a factor in any device's long-term success.
Apple hasn't said when either of those products may reach retail but Cook and other executive have dropped a number of hints that they'll have some new items to discuss later this year. With the recently announced overhaul to iOS coming this fall, Apple customers should expect new tablet designs to be a large part of the company's future.
--Written by Gary Krakow in New York.
>To submit a news tip, send an email to:
.
Gary Krakow is TheStreet's senior technology correspondent.