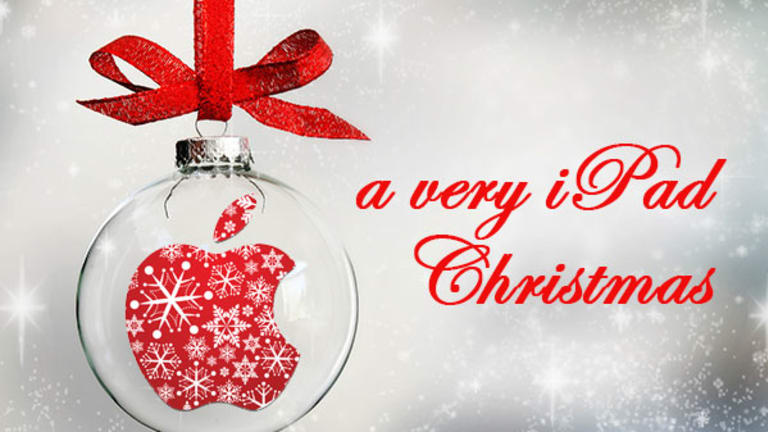 Apple's 'iPad Christmas' Holds the Key (Update 2)
Apple expected this quarter to be an "iPad Christmas." After the close, we'll find whether that was true or not.
Updated from 10:47 a.m. EST to include more outlook on the iPad in the eighth paragraph.
NEW YORK (TheStreet) -- Apple (AAPL) - Get Apple Inc. ReportAAPL is set to report firscal first-quarter earnings after the bell Monday, and all eyes will be on the iPhone with particular attention paid to how many tens of millions of units Apple sold in the quarter. However, the tech heavyweight's other flagship product, the iPad, may hold the key to the quarter.
On Apple's fiscal fourth-quarter earnings call, CEO Timothy D. Cook said he expected it to be an "iPad Christmas," following the company's announcements of the iPad Air and the iPad mini with Retina Display in that quarter. "I think it's going to be an iPad Christmas and -- but we will see," Cook said during the conference call. "We will report the numbers back to you in January how we did, but we are pretty confident."
For Cook to make a public statement about the opportunity ahead of Apple regarding the iPad is pretty bold. It's an indication that not only does Apple feel it's made the best tablet on the market, despite the plethora of tablets running on Google's (GOOG) - Get Alphabet Inc. Class C Report Android operating system in the market place, but an indication the company had its supply chain in order as well.
Goldman Sachs analyst Bill Shope significantly raised his iPad unit sales and iPad revenue last week, noting that the larger form factor iPad (iPad Air) helped. "The far more substantial increase in our December quarter revenue estimate is due to our view that demand was far less tilted towards the iPad mini relative to the larger form factor iPad than we saw in 2013 and relative to our initial expectations, which drove our ASPs higher," Shope said in a note last week, raising Apple's price target to $635 from $620.
Morgan Stanley analyst Katy Huberty also believes the iPad could help drive upside for the quarter. "iPad shipments as high as 26M could drive potential revenue upside vs.
our model and consensus of 23M," Huberty wrote in her note.
Though Wall Street does not break down estimates by product sales, there are several on Wall Street who are expecting north of 25 million units sold. Fortune's Philip Elmer-Dewitt was kind enough to compile consensus, with a bunch of analysts expecting more than 25 million units sold, with the high being 28 million units from two analysts.
Apple sold 14.1 million iPads last quarter, compared to 14.6 million in the fiscal third-quarter, and slightly more than 14 million iPads in the year ago quarter. With a massive redesign of the larger iPad, and the iPad mini getting Retina Display, it's likely to be a strong holiday season.
Though it's expected that Apple will have sold more than 20 million iPads during the quarter, its market share continues to drop due to Apple's high pricing. Credit Suisse analyst Kulbiner Garcha says he expects Apple's market share to fall to 22% in 2014, down from 41% in 2012. "While we see the tablet market growing to 447mn units by 2017 (nearly twice CY13 estimates) we see most of the incremental growth in the sub $200 ASP segment where Apple is not currently exposed," Garcha wrote in his note.
Cantor Fitzgerald analyst Brian White explains that the iPad Air really helped drive results this quarter, given the enormous amount of positive praise from tech reviewers, media, analysts and consumers alike. "For the iPad, we believe Apple could exceed our 24.5 million unit forecast for 1Q:FY14 driven by strong demand for the higher-margin, higher-ASP iPad Air," White wrote in his note. "We believe the first-generation iPad mini outsold the recently introduced Retina Display version in 1Q:FY14."
For the full quarter, analysts surveyed by Thomson Reuters expected Apple to earn $14.07 per share on $57.45 billion in revenue.
Even though much attention will be paid to the iPad numbers when the results come out, Apple's primary revenue and profit driver is still the iPhone.
Apple introduced two new iPhones in September, the iPhone 5s and the iPhone 5c. The December quarter is the first full quarter in which both phones were available to consumers. Though Verizon (VZ) - Get Verizon Communications Inc. ReportVZ stopped breaking down iPhone activations, the company did note it activated 8.8 million smartphones during the quarter. The iPhone has kept around 60% of smartphone market share at Verizon in the past, so it's probable that Verizon activated around 5.2 million iPhones during the quarter, but take that number with a grain of salt.
The other major announcement to come from an Apple partner during the quarter was the deal with China Mobile (CHL) - Get China Mobile Ltd. ReportCHL. Though the deal did not officially start until Jan. 17, it helped boost sentiment surrounding Apple for this quarter, and future quarters to come.
Goldman's Shope expects Apple to sell 56.67 million iPhones, with the iPhone accounting for $32.53 billion in revenue during the December quarter. For the March quarter, he expects 45.81 million iPhones shipped, with a good chunk of that being driven from the China Mobile deal. 
Analysts will be looking to see whether the average selling price (ASP) on the iPhone continues to be pressured, due in large part to cheap Android-based smartphones. In the last quarter, Apple's iPhone ASP was $577, but Piper Jaffray analyst Gene Munster notes that unlocked iPhone pricing has been pretty steady, suggesting healthy demand. "We have been
monitoring the price of unlocked iPhones in 6 countries at Apple stores on a weekly basis since September," Munster wrote in a note. "Since that time pricing has been stable, suggesting that iPhone demand has been healthy and Apple has not resorted to lower prices to drive demand."
Aside from the usual focus on revenue, earnings and product sales, Apple's gross margin is likely to come in to play. During Apple's fiscal fourth-quarter earnings, there was some confusion about Apple's gross margins, which the company said would be between 36.5% and 37.5%. The company later said it would defer $900 million in revenue due to the change in the way it hands out software, which accounted for 150 basis points worth of margin.
Wells Fargo analyst Maynard Um, who rates Apple "market perform," notes gross margins should be strong due to the iPhone 5s, but the product mix of the iPad mini might have cut into margins a bit. "We forecast total gross margin (GM) of 37.9%, above management's 36.5-37.5% guidance, up 90bps sequentially," Um wrote in his note. "While we believe Apple's guide could be below our revenue/EPS of $46.9B/$11.36, we note that gross margins could benefit from the reversal of the cost of warranty claims (which were higher last quarter) and deferred margin on component sales (which were flat last quarter)."
One thing to watch will be iPhone and iPad channel inventory, noted Pacific Crest analyst Andy Hargreaves. If inventories rise more than 1 million and 200,000 units, respectively, "... it could indicate weaker-than-expected demand in existing markets and signal the potential for a larger-than-expected decline in sales." Hargreaves rates Apple shares "sector perform."
After everyone gets a good look at the numbers and digests them, then the guidance comes into play. With the addition of China Mobile, iPhone numbers have started to come up around Wall Street. China Mobile even noted 1.2 million iPhones were pre-ordered, which should cause some optimism for Apple's March quarter guidance. Analysts on Wall Street expect Apple's guidance to be $46.04 billion in revenue, earning $10.93 per share, with gross margins around 37%. However, Morgan Stanley's Huberty notes there could be margin upside, due to cost reductions, better iPhone and iPad mix, and lower warranty costs.
The iPhone may continue to be the primary revenue driver for some time to come for Apple, but the iPad is increasingly becoming more important, as tablet sales eat into PC sales. Cook has repeatedly hammered home his point that the tablet market is ultimately going to be bigger than the PC market. As long as Apple keeps innovating in the tablet market, staying ahead of its competition, it should get more than its share of the market.
By the looks of it, it seems that Santa Claus helped Apple deliver.
--Written by Chris Ciaccia in New York
>Contact by Email.