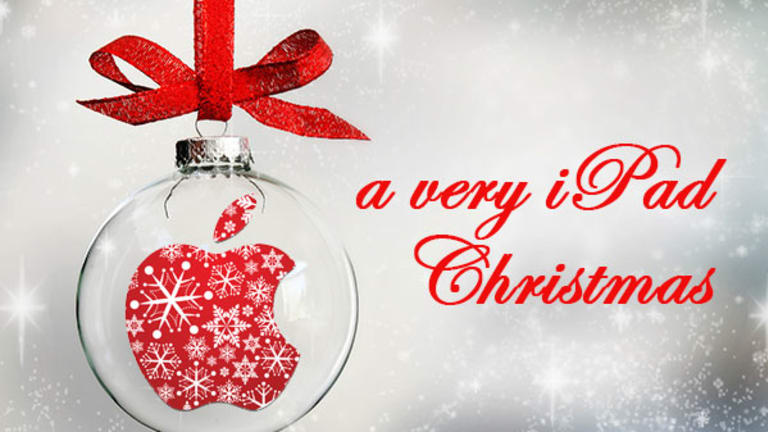 Apple's 'iPad Christmas' Promises Share Upside
After a few quarters of declining iPad sales, Apple is expecting an "iPad Christmas."
Updated from 10:09 a.m. EST to provide executive comments regarding iPad mini sales in the tenth paragraph.
NEW YORK (TheStreet) -- Corporate executives are usually bullish on their company's prospects for the upcoming quarter. However, when Apple (AAPL) - Get Apple Inc. Report CEO Timothy D. Cook talks about the holiday shopping season, all eyes and ears perk up. Especially when his comments relate to iPads.
Speaking on Apple's earnings call, Cook talked about the prospects for the iPad business.
"I think it's going to be an iPad Christmas and -- but we will see, we will report the numbers back to you in January how we did, but we are pretty confident," he said. That's a bold statement to make, as the state of Apple's iPad business starts to reignite after the unveiling of the new iPad Air and iPad mini with Retina Display.
Apple sold 14.1 million iPads last quarter, compared to 14.6 million in the fiscal third-quarter, and slightly more than 14 million iPads in the year ago quarter. With a massive redesign of the larger iPad, and the iPad mini getting Retina Display, it's likely to be a strong holiday season.
Both the iPad Air and the iPad mini with Retina Display received massive internal overhauls, with each tablet getting the A7 64-bit processor. The iPad Air also received an external overhaul, as seen in this commercial.
Morgan Stanley analyst Katy Huberty, who rates shares "overweight" and raised her price target to $585 from $540, noted management's positive tone on the conference call with regard to the upcoming holiday season. "Management's tone turned bullish," Huberty wrote in the note. "Whereas two quarters ago Apple CEO, Tim Cook, set the tone by acknowledging Apple had not delivered on everyone's expectations, yesterday's call focused on confidence in the future including a strong holiday season."
Huberty also raised her iPad estimates for the quarter, noting Apple's bullish tone "suggests C4Q unit growth is even stronger than we previously modeled (raising our iPad + Mac unit estimates) and that revenue guidance would have been 1-point higher and gross margin guidance 85 bps higher if not for this change." Huberty now expects Apple to generate $10.69 billion in iPad revenue and $57.2 billion in total revenue for the quarter.
Given the size of the tablet market, Cook's bullishness comes as no surprise. "We continue to view the tablet market as huge," he said on the call. "We see it as a large opportunity for us."
Apple now has four tablets available for sale, starting in price at $299 with the iPad mini. Conversely, Google (GOOG) - Get Alphabet Inc. Report and Amazon (AMZN) - Get Amazon.com Inc. Report can both compete with Apple on price, but only Google can compete on app ecosystem. However, Apple has more than 450,000 apps solely dedicated to the iPad, whereas Google has never broken down the amount of apps for Android smartphones and tablets.
Research firm IDC notes that the tablet market will top the PC market and that while Apple's iOS tablets still had 32.4% of the market as of the end of the second-quarter, Android devices will surpass that in volume. However, Cook, as he has stated previously, said he doesn't care as much about market share as he does usage share. "We are not solely focused on unit share as I've said many times, but we're focused on usage in customer's side, the loyalty and other things that are very important to us."
One caveat investors and consumers should note is the availability of the iPad mini with Retina Display.  On the earnings call, Cook noted he wasn't sure if Apple would have enough units to meet demand. "It's unclear whether we will have enough [iPad mini with Retina Display] for the quarter or not," Cook said. "We now have mini - we will have but you really don't know the demand until after you start shipping and so we'll see how that goes." Any potential shortfall in supply could hamper Apple's chances for an "iPad Christmas," but given Cook's reiterated bullishness on iPad sales, that may wind up being a small issue.
The Apple CEO has repeatedly hammered home his point that the tablet market is ultimately going to be bigger than the PC market. As long as Apple keeps innovating in the tablet market, staying ahead of its competition, it should get more than its share of the market.
By the looks of it, it seems that Santa Claus will help Apple deliver that.
--Written by Chris Ciaccia in New York
>Contact by Email.