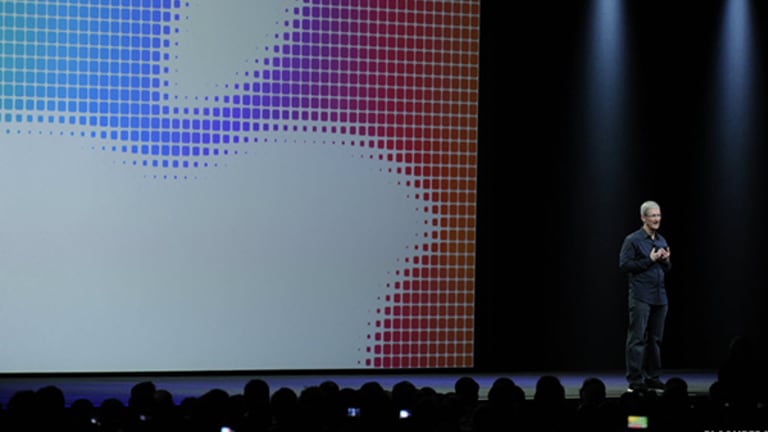 Apple's Ho-Hum Quarter Is a Set-Up to Its Biggest Product Launch Ever
Apple shares have surged since it reported fiscal second-quarter earnings, and investors will be looking to see whether the iPhone units continue to be strong ahead of a refresh.
Updated from July 21 to include research from Consumer Intelligence Research Partners in the seventh paragraph.
NEW YORK (TheStreet) –– Apple (AAPL) - Get Apple Inc. Report shares have surged since the maker of the iPad reported its fiscal second-quarter earnings in April. Investors will be looking to see whether iPhone sales remain strong ahead of the company's much-anticipated and perhaps, biggest product ever, coming in the fall: a larger iPhone.
For the quarter ended March 30, Apple shipped 43.7 million iPhones, on its way to earning $11.62 a share and $45.6 billion in sales. The company also shipped 16.4 million iPads, and shipped 4.1 million Macs during the quarter. Gross margin, a highly watched level for Apple, came in at 39.3%.
Following the report, Apple shares have gained 23.7%, compared to a 5% gain in the S&P 500 and a 6.3% gain in the Nasdaq.
How Apple's iWatch Can Help Wearables
How Apple's iPhone Ad Hints at Its Next Big Thing
How Apple's Big Deal With IBM Hurts BlackBerry and Microsoft
For the fiscal third quarter, Apple said it expects between $36 billion and $38 billion, but Pacific Crest Securities analyst Andy Hargreaves says the company can continue the iPhone momentum in this quarter, leading to a substantial revenue surprise.
"We expect Apple to sell 36.1 million iPhones and 14.3 million iPads in FQ3, which should drive revenue and EPS to $39.0 billion and $1.31, respectively," Hargreaves wrote in the note. "We believe results should act as a positive indicator of iPhone demand in front of the anticipated iPhone 6 launch, while iPad expectations could take another slight leg down. Although our revenue and EPS estimates are well ahead of the consensus sell-side estimates of $37.9 billion and $1.23, respectively, we believe they are roughly in line with buy-side consensus."
Cantor Fitzgerald analyst Brian White has noted several times that his Apple Barometer has been strong, leading him to bump up his revenue estimates to $38.2 billion, citing "healthy trends," though the tablet market has been a little soft.
Consumers are still clamoring for Apple's latest offerings, despite an iPhone and iPad refresh coming in the next few months. Research firm Consumer Intelligence Research Partners found that the iPhone 5s and iPad Air outperformed the other models, noting the iPhone 5S accounted for 62% of total iPhone sales in the quarter, and the iPad Air accounted for 52% of all iPad sales in the quarter.
Even still, it's all about guidance, ahead of what White calls the "Fab Fall" launch (e.g., iPhone 6, "iWatch", etc.), as well as how the deal with China Mobile (CHL) - Get China Mobile Ltd. Report is going, and the company's recent deal with IBM (IBM) - Get International Business Machines Corporation Report. Analysts surveyed by Thomson Reuters expect Apple to earn $1.23 a share on $37.93 billion in revenue.
As Apple transitions into a product refresh cycle later in the year, with the next iPhone, iPad and potentially an entry into the wearable technology market, gross margins are going to be a concern. Apple guided gross margins to be between 37% and 38% for the fiscal third-quarter, while operating expenses are expected between $4.4 billion and $4.5 billion.
BMO Capital Markets Keith Bachman, who rates Apple "outperform", argues that there's a chance gross margins for this quarter come in low, and that'll help Apple. "On the positive side, we think consensus gross margin estimates for the June Q may be low, helping q/q Sept compares," Bachman wrote.
Bachman, however cautions that with the likely introduction of not one, but two phones (a 4.7-inch and 5.5-inch screen), margins could contract by 90 basis points, but it's important for Apple to get the larger iPhone, dubbed by some to be the iPhone Air in the Sept. quarter to mitigate margin compression.
"Therefore, if Apple ships 5.5-inch phones in the Sept Q, the negative impact to margins will be less. If we assume that Apple ships 7 million 5.5-inch phones and 15 million 4.7-inch phones, versus our total Sept Q estimate of about 35 million phones, then the negative impact to margins would be around 60 basis points."
This quarter is unlikely to drive investors expectations materially different one way or the other, as Goldman Sachs analyst Bill Shope noted.
"This quarter is likely to be seen as a minor event by investors, as it is the last full quarter before the iOS product refreshes in September and October," Shope wrote in a research note. However, he cautions the guidance is more important than the results, as "investors will be looking closely at the September quarter guidance for any hints of iPhone 6 launch timing and margins."
That is of course unless the iPhone has a major blowout, like it did last quarter.
--Written by Chris Ciaccia in New York
>Contact by Email.