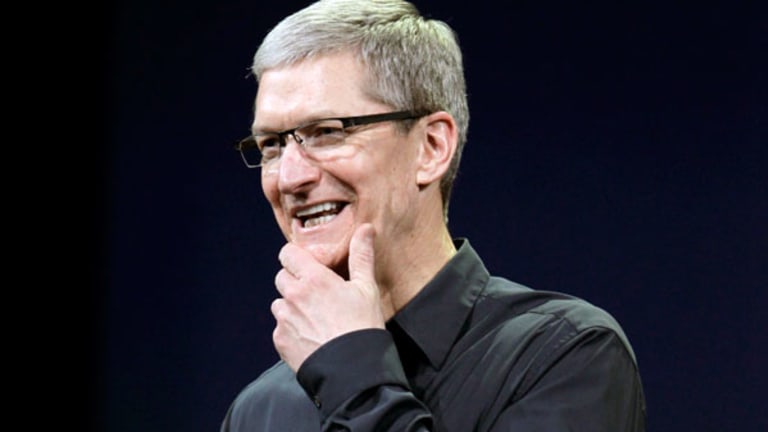 Apple's Cook Touts Software, Apps at Goldman Conference
'Because we're not a hardware company, we have other ways to make money and reward shareholders,' the CEO says.
NEW YORK (
) -- Despite the phenomenal success of its iPhones and iPads,
Apple
(AAPL) - Get Free Report
isn't a mere hardware company, according to CEO Tim Cook.
Speaking at the
Goldman Sachs Technology and Internet Conference
in San Francisco on Tuesday, Cook said that "because we're not a hardware company, we have other ways to make money and reward shareholders," adding that Apple generated $3.7 billion in software and services revenue last quarter. "If you look at that compared to software and services companies, it's an incredible amount of revenue."
Cook pointed out that the purchase of an Apple device opens the door to additional revenue for the company. "We don't look at the sale of a product as the last part of our relationship with a customer," he said. "It's the first."
From iTunes to the company's ever-growing App store, Apple has a host of highly lucrative non-hardware products in its arsenal. In 2011, the company also
iCloud, touting
such as cloud-based document storage and iTunes in the cloud.
There have already been a mind-boggling 40 billion downloads from the company's App Store, which boasts over 800,000 apps. Underlining the sheer scale of the ecosystem, Cook explained that Apple has paid $8 billion to developers. "That's an unbelievable number," he added.
Cook also took a swipe at PC giants such as
HP
(HPQ) - Get Free Report
during his presentation, explaining that the tablet market still represents a huge opportunity for Apple.
Apple, he noted, sold 23 million iPads during its recent fiscal first quarter. "To put the 23 million in some context -- HP, which is the world's largest PC seller, in that quarter sold 15 million PCs," he said. "Last year there were more iPads sold than HP sold of its entire PC lineup."
Although tablets have traditionally been perceived as a different breed of device, tech research firm
Canalys
recently counted tablet computers among PC sales, noting that Apple's the
in the space. By Canalys' definition, one-in-six PCs shipped in the fourth quarter of 2012 was an iPad.
Cook spoke for 59 minutes during his eagerly anticipated appearance at the conference, answering a series of questions from Goldman analyst Bill Shope.
Inevitably, the Apple CEO was quizzed on hedge fund manager David Einhorn's decision to
Apple. The
Greenlight Capital
president wants his fellow shareholders to vote against Apple's proposal to do away with preferred stock, which he says restricts "the board's ability to unlock the value on Apple's balance sheet."
Last week, Apple
responding to Einhorn's letter, saying it will "thoroughly evaluate Greenlight Capital's current proposal to issue some form of preferred stock. We welcome Greenlight's views and the views of all of our shareholders."
Cook, however, described the lawsuit as "a silly sidehow" and a "distraction" during his presentation at the Goldman Sachs conference.
"My preference is that both parties would take the money they are spending on this and donate it to a worthy cause," he added.
Nonetheless, the CEO reiterated Apple's prior commitment to "thoroughly" evaluate and consider the Einhorn proposal.
Apple shares dipped 1.4% to $473.13 on Tuesday.
-- Written by James Rogers in New York.
>To submit a news tip, send an email to:
.