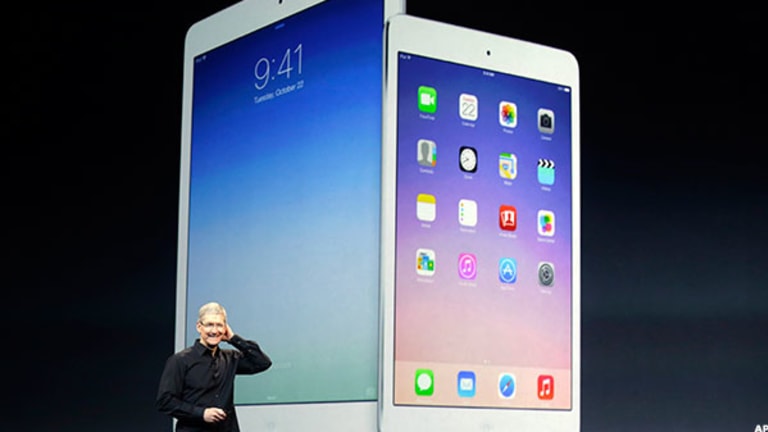 Apple's Black Friday: All About the Gift Cards
Apple is touting gift cards on a range of products for its annual Black Friday promotion.
NEW YORK (TheStreet) -- Apple (AAPL) - Get Apple Inc. (AAPL) Report is touting gift cards on a range of products for its annual Black Friday promotion.
Apple posted earlier this week an ad on its Web site highlighting the "one-day shopping event." The ad teased an iPad, but not much else, prompting speculation that the popular tablet would feature prominently in the promotion.
Customers purchasing an iPad on Black Friday will receive an Apple Store gift card up to $75. As part of the promotion, purchasers of Apple's iPad Air will receive a $75 gift card, while the iPad mini and the iPad 2 come with a $50 gift card.
The Cupertino, Calif.-based company also is offering gift cards of $150 on its MacBook Air, iMac and MacBook Pro. For the iPod, customers purchasing an iPod touch and iPod nano receive gift cards of $50 and $25, respectively. A number of accessories are also being sold with gift cards as part of the Black Friday promotion.
Last year, Apple pushed Black Friday discounts, with $100 off MacBooks, for example. The consumer tech giant also offered small discounts on iPads, iPods and other accessories.
Research firm Canalys recently predicted that in 2014 almost half of all PC shipments will be tablets. Although Apple's losing PC market share to rivals using the free Android operating system, it is one of the few companies making money from the tablet boom, according to Canalys.
Apple CEO Tim Cook highlighted the iPad's importance during the company's recent fourth-quarter conference call. "I think it's going to be an iPad Christmas," he said. "We will report the numbers back to you in January how we did, but we are pretty confident."
Apple sold 14.1 million iPads during its fiscal fourth quarter, which ended before the launch of the new iPad Air last month. This number was up slightly from 14 million in the same period last year.
In total, the company sold 71 million iPads during fiscal 2013, compared to 58 million in the prior year.
Apple shares, which closed up 2.35% to $545.96 during the last trading session prior to the Thanksgiving holiday, gained 0.95% to $551.15 in premarket trading on Friday. 
-- Written by James Rogers in New York.
>Contact by Email.