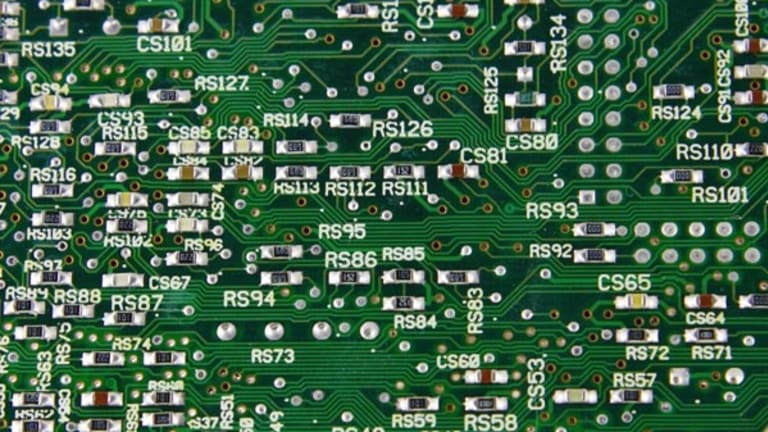 Apple's Big Week: Tech Weekly
From stellar earnings to a potential dividend and controversy about how its products are made, Apple grabbed the most headlines this week.
NEW YORK (
) --
Apple
(AAPL) - Get Report
stole the show this week with
first-quarter results, released on Tuesday.
There were also calls for the iPhone maker to
, and its
came under scrutiny.
Apple sold more than 37 million iPhones in the quarter, 5 million Macs, and 15 million iPads and iPods, respectively. Earnings came in at $13.06 billion, or $13.87 per share, on revenue of $46.33 billion for its quarter ended Dec. 31. Analysts polled by
Thomson Reuters
expected a profit of $10.15 per share on slightly more than $39 billion in revenue in the period.
In the wake of its earnings release, Apple shares surged, pushing its market cap past
Exxon Mobil
(XOM) - Get Report
to become the biggest company in the
S&P 500
.
Apple shares finished Friday at $447.28, up more than 6% for the week.
With Apple approaching $100 billion in cash on its balance sheet, analysts on Tuesday's conference call asked whether the tech giant plans to pay a dividend. Apple said that it is "actively discussing uses of its cash balance," but that it had
.
CEO
has previously said that he's
"not religious" about holding cash
, leading to speculation that Apple could carve off some of its hoard.
Readers polled by
TheStreet
this week were
overwhelmingly in favor of a dividend
with 70% of respondents saying Apple should hand some of its cash to shareholders.
Labor practices at some of Apple's suppliers in China were also in the spotlight this week following a
New York Times
article. The alleged misconduct included knowingly hiring underage workers, egregious use of overtime and improper disposal of waste materials.
Cook
to the allegations in an internal letter to employees.
Most of the readers
this week said that the alleged labor issues would not turn them off Apple.
> >> Bull or Bear? Vote in Our Poll
Facebook
grabbed the spotlight on Friday after
The Wall Street Journal
reported that the social networking giant is
closer to its eagerly anticipated IPO. The company may file its IPO documents next Wednesday, according to the report.
Citing an unnamed source,
The Journal
said Facebook may seek a valuation of $75 billion to $100 billion.
Morgan Stanley
(MS) - Get Report
, it added, is close to winning the deal to become Facebook's lead underwriter, although
Goldman Sachs
(GS) - Get Report
may also play a major role.
Yahoo!
(YHOO)
reported its quarterly results this week, revealing that
, partly because of weak ad sales.
The company reported earnings of 24 cents per share on revenue of $1.17 billion for the quarter. Analysts were expecting earnings of 24 cents per share on revenue of $1.19 billion in the period. Yahoo! said revenue from display advertising, its core business, fell 4% year over year during the quarter to $546 million.
Yahoo! shares closed Friday at $15.74, down 1.2% for the week.
Research In Motion
(RIMM)
also had an eventful week,
co-COO Thorsten Heins as its new CEO on Monday.
With Heins being promoted to CEO, many investors were hoping for a shift in strategy at the company. On the conference call, however, Heins said he didn't think there was a need for a "drastic change" at the embattled handset maker. RIM shares fell sharply on Monday following the CEO reshuffle.
The Canadian company also added Prem Watsa, "Canada's Warren Buffett," to its board and named independent director Barbara Stymiest as the new chairman of the board. Former co-CEOs Mike Lazaridis and Jim Balsillie stepped down from being co-chairmen, but Balsillie will remain a director and Lazaridis a vice chairman of the firm.
Shares of the Blackberry maker closed Friday at $16.80, down 1.2% for the week.
AT&T
(T) - Get Report
reflecting strong sales of iPhones and
Google
(GOOG) - Get Report
Android devices. The
Dow
component sold 9.4 million smartphones in the quarter. Margins, however, took a hit as the firm had to subsidize prices of the phones.
The telecom giant reported revenue of $32.5 billion, an increase of 3.6% from the same period in 2010. Analysts had expected revenue of $32 billion.
Shares of AT&T closed Friday at $29.16, down 4.4% for the week.
Symantec
(SYMC) - Get Report
reported
this week, as the company's turnaround continues.
In a post-earnings interview on Wednesday, Symantec CEO Enrique Salem attributed the strong performance to better marketing and cross selling. "Sales execution is something that we have absolutely improved," he said. "We're able to do a great job of cross-selling our portfolio;
during the third quarter 41% of all sales over $1 million included products from both segments -- security and storage."
Symantec shares closed Friday at $17.08, up 1.7% for the week.
Netflix
(NFLX) - Get Report
reported
stronger-than-expected earnings
this week, with analysts suggesting the company may be rebounding from its 2011 woes.
The online content specialist reported earnings of 73 cents per share on $876 million in revenue. The average estimate of analysts polled by
Thomson Reuters
was for earnings of 55 cents per share on $858 million in revenue.
Netflix was able to add subscribers during the quarter, despite last year's gaffes, which saw the company hike prices by 60% and try to split off its DVD-by-mail operation into a separate business, Qwikster.
Netflix shares close Friday at $123.79, up 23.5% for the week.
Interested in more on Netflix? See TheStreet Ratings' report card for
this stock
.
Check out our new tech blog,
Tech Trends
.
-- Written by Chris Ciaccia in New York
>To follow the writer on Twitter, go to
http://twitter.com/commodity_bull
.
>To submit a news tip, send an email to: