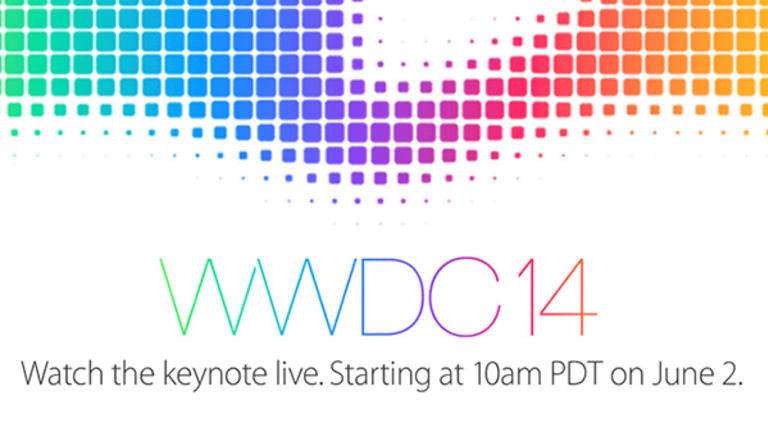 Apple WWDC: What Wall Street's Saying
Apple kicked off its Worldwide Developer Conference yesterday, where it made several big software announcements, but no new hardware announcements, in light of a major product refresh and update later this year. Despite that, it sets the company up for an enormous second half of 2014, as it works to get software ready for upcoming hardware.
Updated from 10:08 a.m. to include thoughts from Oppenheimer analyst.
NEW YORK (TheStreet) -- Apple (AAPL) - Get Apple Inc. (AAPL) Report kicked off its Worldwide Developer Conference on Monday, making several big software announcements but nothing new on hardware. A major product refresh and update is likely for later this year.
Despite that, the conference sets up Apple for a spirited second half of 2014 as the maker of the iPad readies a software rollout for its upcoming new hardware.
This year's WWDC, held in the Moscone Center West in San Francisco, focused on iOS 8, as well as Mac OS X, codenamed Yosemite. Yosemite continued to converge with iOS, looking more like Apple's mobile operating system but it's still separate enough to be distinct. As part of OS X Yosemite, Apple announced new features like Spotlight search, making online and offline search easy, straight from the operating system.
Apple also enhanced iCloud for Mac OS X using iCloud Drive, which allows users to store files of any type, and find them anywhere, including iOS, Mac OS and even Microsoft (MSFT) - Get Microsoft Corporation (MSFT) Report Windows.

WATCH: More tech videos on TheStreet TV
Perhaps one of the bigger features for Mac OS X is Handoff, which lets you start an activity on one device and continue working on it on another as well as Instant Hotspot, which makes using your iPhone's hotspot as easy as connecting to a Wi-Fi network. You can even make iPhone calls on your Mac using Yosemite.
"Yosemite is the future of OS X with its incredible new design and amazing new apps, all engineered to work beautifully with iOS," said Craig Federighi, Apple's senior vice president of Software Engineering in a press release. "We engineer our platforms, services and devices together, so we are able to create a seamless experience for our users across all our products that is unparalleled in the industry. It's something only Apple can deliver."
In addition to Yosemite, Apple unveiled the much-awaited iOS 8, which brings new features. It offers new Messages features, which allows users "to easily share voice, video or photos with just a swipe." There's also a new app, known as Health, "that gives you a clear overview of your health and fitness data all in one place."
One of the problems with iOS 8 has been autocorrect, and iOS 8 is fixing that, with predictive typing, using Apple's QuickType keyboard. Apple also announced that it would allow, for the first time ever, Swype keyboards into iOS.
Apple's iOS 8, which was released to developers in beta yesterday and will be available to everyone in the fall, comes complete with an iCloud Photo Library. This is a simpler, faster and more intuitive user experience that will give users a lot of new functionality.
Within iOS 8, Apple has launched a new Health application that will centralize a user's health and fitness data and may cause die-hards to continue to wait for new hardware like a smartwatch.
Apple also gave Messages a boost, implementing new features that will allow users to share voice, video or photos with a single swipe. For some who have been on long, annoying group messages, Apple has now created the ability to remove oneself from those group messages. Apple also introduced a feature that allows some of these messages to self destruct after a predetermined period of time, a nod to messaging apps such as Snapchat.
Perhaps the biggest announcement yesterday was the announcement of the Health app, which may wind up being a precursor to Apple's long-awaited iWatch. The app, which works in conjunction with doctors, gathers information from a host of health-related applications and will provide users with a clear and current overview in one place. Apple also noted iOS 8 also offers developers the ability for health and fitness apps to communicate with each other, possibly opening the doors to more comprehensive health apps.
Additionally, the company launched what it calls smart home technology, known as Homekit, that will allow its users to integrate computing hardware with smart appliances. Currently, there are a few partners for HomeKit, Honeywell (HON) - Get Honeywell International Inc. (HON) Report, Texas Instruments (TXN) - Get Texas Instruments Incorporated Report, iHome, Phillips (PHG) - Get Koninklijke Philips N.V. Sponsored ADR Report and others. 
According to Apple's website, "HomeKit is a new framework for communicating with and controlling connected devices in a user's home. Apps can enable users to discover devices in their home and configure them, or you can create actions to control those devices. Users can group actions together and trigger them using Siri." HomeKit will allow locks, lights, doors, thermostats, garage doors and other home-centric items to integrate into an iPhone or an iPad, using Siri to operate them.
Following the keynote address yesterday, analysts on Wall Street were notably positive on Apple's announcements, even if there was no new Apple TV set-top box, or updates to Macs, as there had been in the past. Here's what a few of them had to say.
UBS analyst Steve Milunovich (Buy, $700 PT)
"Although the Wall Street view is that smartphones are mature, there is plenty of innovation left in their use. When technologies are new, integration is key to user acceptance. Tim Cook underscored that Apple engineers platforms, services, and devices together, its primary competitive advantage. The iPhone increasingly acts as a digital hub, as with the HomeKit platform. We expect the Health app that collects and passes along vitals to caregiving professionals will be linked to a wearable measuring device given the fashion and healthcare experts Apple has been hiring."
Credit Suisse analyst Kulbinder Garcha (Neutral, $600 PT)
"Yesterday, Apple held its Worldwide Developer Conference (WWDC) 2014 event in San Francisco. It announced a significant update to its iPhone and iPad software in iOS 8 and increased mobile and web integration for the Mac OS in Yosemite. With these announcements, Apple continues to demonstrate how its integration between hardware, software and services across iPhone, iPad and Macs creates a sustainable differentiating advantage versus rival platforms, and effectively enables an up leveling of the OS to the "cloud." This creates a virtuous circle for each of its business lines, high levels of usage and differentiation and allows more devices to be plugged into the platform. Our FY14/FY15 revenue and EPS ests stand at $182.4bn (+6.7%)/$187.2bn (+2.6%) and $44.71/$46.81. We keep Neutral rating and raise TP to $600 from $560."
Canaccord Genuity analyst T. Michael Walkley (Buy, $710 PT)
"We attended Apple's WWDC event in San Francisco where Apple introduced iOS 8 and Mac OSX Yosemite with expanded features and functionality. We believe these initiatives, combined with Apple's recent purchase of Beats Music and Beats Electronics, should drive increased iOS product sales and increase Apple's potential to grow its higher-margin Software and Services businesses. The initiatives should also strengthen the stickiness of the iOS ecosystem among its loyal consumers. In fact, our May surveys indicated continued consumer loyalty resulted in the iPhone 5s remaining a top-selling smartphone at all tier-1 U.S. carriers and at a number of global channels. Further, U.S. surveys indicated tier-1 carrier customers were increasingly opting for early-upgrade programs for more expensive high-tier smartphones, and we believe these trends could enable Apple to charge higher prices for larger-screen iPhone 6 models. Given our expectations for a very strong iPhone 6 upgrade cycle and potential for increasing higher-margin services revenue contribution, we maintain our BUY rating and increase our price target to $710 (14x F2015E EPS)."
JP Morgan analyst Rod Hall (Overweight, No PT)
"Apple rolled out so many new APIs and platform enhancements at WWDC that it is difficult to summarize them in a short note. The emergence of Handoff and iCloud Drive point, in our opinion, to an eventual platform merger (our iAnywhere concept), which would allow an iPad to function as both a Macbook and a tablet device."
Oppenheimer Ittai Kidron (Perform, no PT)

"We view Apple's WWDC announcements and OS improvements as consistent with expectations and neutral for the shares near term. The focus now shifts to the associated hardware announcements, which will come down the road and better shape Apple's incremental growth opportunities (for iPhone, iPad, Mac and with TAM expansion). Apple's fall iOS release timetable is consistent with expectations and suggests the normal September/October iPhone refresh timetable is appropriate. We're leaving our model as is for now, which builds in the normal annual refresh. Reiterate thesis/maintain Perform with a positive bias."
Also See: Apple WWDC Live Blog Recap
Also See: WWDC Sets Up Apple for Big Second Half in 2014
--Written by Chris Ciaccia in New York
>Contact by Email.