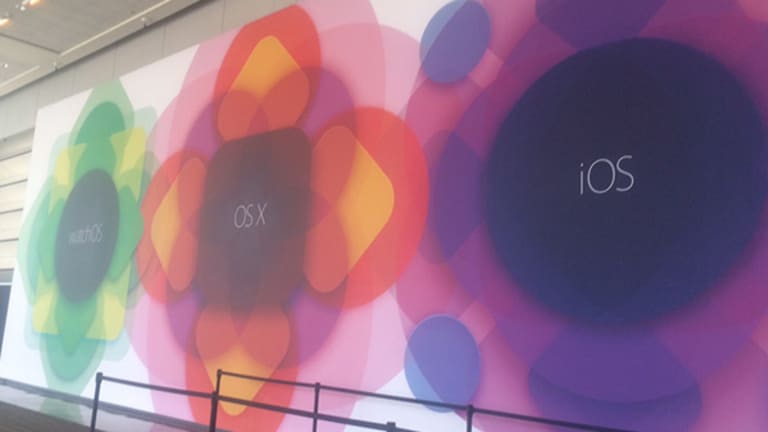 Apple WWDC -- 32 Pictures That Will Make You Feel Like You Were Actually There
Apple's Worldwide Developer Conference is home to some of the biggest announcements the company makes every year. Get an inside view with these pictures.
NEW YORK (TheStreet) -- Apple's (AAPL) - Get Apple Inc. (AAPL) ReportWorldwide Developer Conference is home to some of the biggest announcements the company makes every year.
This year was no different, as Apple showed off its new operating systems -- iOS 9, OS X El Capitan, watchOS 2 -- and a slew of other products and services, including the much talked-about Apple Music.
Read More:
There are thousands and thousands of people who come to WWDC every year, with CEO Tim Cook noting the event attracted developers from 70 countries. And 80% of attendees captured their first glimpse of WWDC for their first time. Unfortunately, not everyone can attend, even if they'd like to.
Apple live streamed the keynote address and, for the first time ever, noted would do the same for some of the sessions and labs. But, as most folks would agree, there's nothing like being there in person.
Here's an inside look at the WWDC through a collection of photos taken straight from the event at the Moscone Center West in San Francisco.
When you first walk into Moscone Center West, you're hit smack in the face with Apple signs. If you didn't know you were here for an Apple event, you know now!
It's early, a little after 7 a.m. PST, and I'm one of the first media members to arrive. As a media member, thankfully, we don't have to wait in a line outside. Phew! There are thousands of people lined up already.
Since this is primarily a software conference, we're getting updates to iOS, OS X and watchOS, if you couldn't tell. What other goodies and treats will Apple have in store for us?
After waiting for nearly two hours, we're finally inside and will hear from CEO Cook and a host of others who are going to talk. The Apple sign on the stage means things are about to kick off any minute now.
It's starting! Apple is showing us a spoof film about putting WWDC together. Even though it's the world's largest company, it's nice to see Apple can poke fun at itself.
Cook is on stage, telling us how many people are here from around the world. Try 70 countries! For a conference that's gone on for 26 years, that's still really impressive.
Cleveland Indians player Brandon Moss, who hit his 100th career home run recently, talks with Cook. His teammates jokingly issued a ransom letter (pictured) for his career home run ball. And the ransom request? A bunch of Apple devices. By-the-way, Apple is going to pay the ransom for Brandon.
A better shot of Cook, who confirms what the signage outside of the auditorium said -- we're getting updates to iOS, OS X and watchOS. First to kick it off is OS X, which has been the star of the show in recent years. What does Apple have in store for us?
Craig Federighi, Apple's senior vice president of software engineering, is showing off OS X, code named El Capitan, after one of the rock formations in Yosemite. You can search in OS X using spoken commands. 
Email is getting a big upgrade in OS X El Capitan (I still can't get used to that name), Federighi said. You can have tabbed emails and drag and drop pictures. There's Eddy Cue, rooting on the Warriors!
Multi-tasking apps are coming to OS X El Capitan. Now you can have multiple apps running at the same time on the same screen. I hope this comes to the iPad as well!
Now, we're on to iOS and Siri is getting a huge upgrade. Siri can now be used to remind you to do tasks, like the one seen below. Siri now gets 1 billion search requests per week and with this, I'll bet that goes way higher!
Ever get a phone call from someone you think you might know but don't have their number stored in your phone? Siri can now suggest known phone numbers based off who you talk to.
Siri can now even make app suggestions for a task, such as booking a lunch. It can even suggest someone in your phone book to contact if you need help with it.
If you're hungry, don't worry about it. Siri now includes deep linking to apps like Yummly to help you cook up something that's sure to fill your stomach. Now I'm really getting hungry!
Even though Siri knows a lot about you, Apple is keen to protect your privacy and has no interest in making money off of you or your data. That screams like a direct shot at Facebook and Google!
Now we get Jennifer Bailey, Apple's vice president of Internet services and its first female executive to ever present at WWDC. She's telling us we can use Apple Pay to purchase things right inside these apps. I can't wait to try that out in Nordstrom Rack or Etsy!
Yay! Reward cards are coming to Apple Pay! Now you can rack up reward points for your favorite stores, including Kohl's, each time you use Apple Pay.
Now, we're cooking! We're getting a big upgrade to Apple Maps, including transit directions. This is so helpful (especially if you're like me) since it'll tell you where exactly you are and where you need to go, including which entrance you need to take on the subway. Thank you, Apple!
The transit direction feature for Apple Maps is coming to a number of U.S. cities this summer, as well as these Chinese cities. Judging by the number of cities, I'd say it's safe to say that Apple really cares about China.
No more will you have to go to several apps to get your news. Apple is getting into the news aggregation game, with its news app. Look out Flipboard!
Articles look and act a lot better in the news app, says Apple's Susan Prescott, who runs Apple's news division. Here's a Quartz article that lets you see whether you can write like Einstein!
Now Craig is back on stage showing us iOS on the iPad. We're getting multi-tasking apps! Now, the iPad is a true computer, allowing users to do more than just one task at a time.
Boom! There it is! The biggest thing for developers so far, Swift 2. Here's all the new features of the new programming language and Apple announces that Swift is now open source, which means anyone can tinker with it. The loudest round of applause of the day, so far!
Cook is back on stage and announced that over 100 billion apps have been downloaded so far. Apple has also paid out over $30 billion to developers since the App Store was created. That's a lot of money!
Kevin Lynch, Apple's vice president of technology, is now telling us about some of the new features for watchOS 2, including the ability to change the face to photos or even albums. Now I can wake up to all the food pictures I take!
Finally! I can reply to emails in a normal way on watchOS 2 instead of sending a quick response or an emoji. Our prayers have been answered!
We're almost two hours into the event, and yet still no sign of Apple Music. Will they show it off, or will they push it back. Wait a second, I've seen these three little words before.
There it is! Apple's unveiled its Spotify, Pandora, Rdio killer all-in-one, Apple Music! Cook is handing off Apple Music to Jimmy Iovine, who came to Apple when it bought Beats.
Here's Jimmy! Apple Music, which costs $9.99 a month, isn't just a a streaming service. It's a radio station, a streaming service and a way for artists to connect with fans. Sort of like Ping, Apple's failed social network, only this one seems to have more promise.
Here to tell us about the new feature, known as Connect is none other than Aubrey "Drake" Graham! Apple is pulling out all the stops for Apple Music, since it really doesn't get any bigger than "Drake"!
Eddy Cue, Apple's senior vice president of Internet Software and Services, shows off Apple Music, which is coming to iOS, Windows and Android. That's some shirt, Eddy!