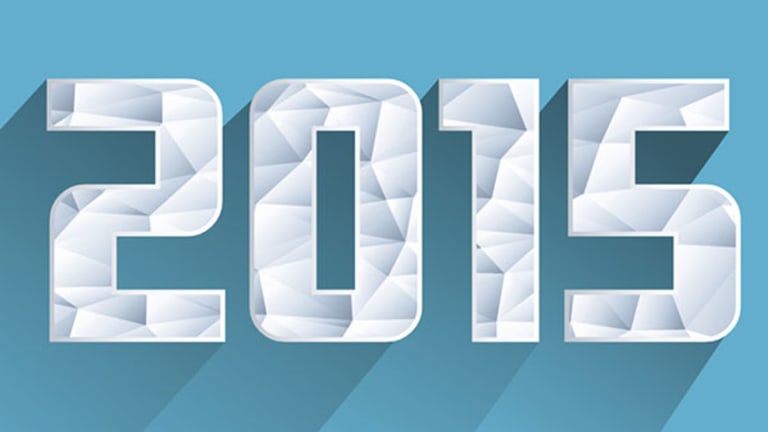 Apple Watch Soars, Twitter Gets Bought: 5 Tech Predictions for 2015
Apple, Twitter, Google and others will lead the way next year, as the world gets smaller and more connected.
NEW YORK (TheStreet) –– Last week, I took a look back at my tech predictions for 2014, and I hit some right on the nose, and missed miserably on others. Now it's time for my predictions for 2015.
Coming off the back of last year, I'm slightly more confident that some of these will be true, while some will be so way off the mark, it's not even funny. As was the theme for 2014, mobility and connected devices will continue to be the major drivers in 2015, with everything from your watch to your phone to your refrigerator looking to become smarter. 
We've already seen some mergers in the connected device space, with Google (GOOGL) - Get Free Reportbuying Nest and Dropcam, and I suspect that will continue next year. The health and fitness market is also likely to get a boost, with wearable technology coming to the forefront, as evidenced by the Apple Watch announcement.
On the next few pages is the outlook for 2015, including the possibility of a few major mergers in the tech space, a CEO stepping down, some product predictions and more.
Twitter Gets Sold
Bam! Nothing like starting off 2015 with a bang, right?
Twitter (TWTR) - Get Free Report has had a rough start to its life as a public company, to say the least. There are quite a few people calling for CEO Dick Costolo's head. Its CFO, Anthony Noto, committed one of the most egregious gaffes a CFO could make in sending a message about acquiring a company that was meant to be private and turned out to be for the whole world to see. The company's gone through some major product changes, yet has seen little in the way of new user growth, ending the Sept. quarter with just 284 million monthly active users (MAUs).
The company's biggest problem isn't that it can't generate money, as third quarter revenue rose 114% year over year to $361 million, and it now expects 2014 adjusted EBITDA to be between $260 million and $265 million, up from a prior outlook. It's that it doesn't appeal to a broad enough audience. The company can try to buy growth, either by buying one of the names it's rumored to be interested in, or if investors feel the current management can't get it done, they could place pressure on Noto (a former Goldman Sachs GS investment banker and one of the main bankers on Twitter's IPO) to run a sale of the company.
I'd bet that if Noto does indeed run a sale of the company, Google (GOOGL) - Get Free Report salivates over the acquisition and ultimately pulls the trigger. Google has a ton of cash on its balance sheet (which I'll talk more about later) and would love to get Twitter's tweets integrated into Google search.
The two companies had a previous relationship, with Google integrating tweets into real-time search, but the deal ended in 2011, amid hard feelings on both sides. Don't be shocked to see Google come knocking if Twitter's market cap drops below $20 billion.
Google's Stock Outperforms Apple's
Going into 2014, shares of Google had vastly outperformed shares of Apple (AAPL) - Get Free Report -- then it reversed, with Apple gaining 35% year to date, while Google shares have lost about 8%. I suspect that's likely to change in 2015.
Both companies take a long-term approach towards investing in their businesses, but Google takes an EXTREMELY long-term approach, making bets on everything from Google Glass to smart contact lenses to providing Wi-Fi via hot air ballons (Project Loon).
Even after spending more than $3 billion on Nest and a few hundred million on Dropcam and other companies that Google has bought this year, the company still has more than $60 billion in cash on its balance sheet ($62.3 billion as of the end of the September quarter). By this time next year, Google will have roughly $75 billion in cash on its balance sheet, more than is needed to run the business, even with all of Larry's long-term bets being fully funded.
Apple faced an activist this year in Carl Icahn, and while much of the share price gain can be attributed to the success of the iPhone 6, the company also made some shareholder-friendly moves, including a larger buyback and dividend, as well as a seven-for-one stock split
Google made some moves in 2014 to be a bit more shareholder friendly (it split its stock, but the Class C and Class B shares don't have equal voting rights) and with the company's core business starting to mature, CEO Larry Page will have to start looking to the company's ancillary projects to start to pay off. With the enormous amount of cash on its balance sheet and a slowing core business, I wouldn't be shocked to see an activist investor come into Google and try to rattle a few cages, asking for either a large buyback or a dividend to do something to boost the slumping stock price.
Tesla's Model X Is More Popular Than the Model S
It's pretty hard to improve on a car (the Model S) that has won countless car of the year awards and has managed to become the National Highway Safety and Traffic Administration'ssafest car ever, but Tesla Motors (TSLA) - Get Free Report and CEO Elon Musk will do just that with the Model X.
A few details about the Model X are known, such as that it will have Falcon Wing doors, come with both 60 kWh and 85 kWh battery models, and will feature a four-by-four drive train option, as well as a Dual Motor All-Wheel Drive option. Even though there are no Model X's to test drive and the SUV won't be delivered until the latter part of 2015, there's still enormous demand for it, even if buyers don't know how much it'll cost just yet.
On the Nov. 5 earnings call, Musk noted that if someone were ordering the X now (you need a $5,000 deposit), they wouldn't get it until 2016. "With respect to Model X, I think realistically somebody's ordering the Model X right now or just changed the website to this effect; the car is going to get delivered in early 2016," Musk said. "So we're essentially sold out of 2015."
The SUV market has continued to remain hot in 2014, with data compiled by The Wall Street Journal showing sales of luxury SUVs rising 28%. I suspect that with oil prices falling to where they are now (even though the X is electric), the SUV market is likely to remain hot, and the X is likely to show enormous amounts of demand well into 2016, outselling the Model S, price point be damned.
John Chambers Steps Down
I thought last year would be the year that Cisco CEO (CSCO) - Get Free Report John Chambers stepped down, paving the way for his replacement. As it turns out, I was wrong, but that's not going to stop me from making another prediction for this year.
Shares of Cisco have returned more than 18% this year, broadly outpacing the Nasdaq, which has only gained 10%, and outpacing competitors such as Juniper (JNPR) - Get Free Report , but not F5 Networks (FFIV) - Get Free Report .
Cisco has continued to struggle in China, and the pending ruling on net neutrality could hurt Cisco's domestic business, as telecoms become cautious about building out their networks in 2015. Chambers has led Cisco to become a networking and switching utility for the enterprise, but it's largely been passed by companies such as F5 Networks, Brocade Communications (BRCD) and others. The company is working hard to compete, with its software defining network (SDN) and pushes towards making products that are focused around the cloud and especially mobile. It's also heavily invested in the Internet of Things (IoT), whereby regular appliances, such as refrigerators, washing machines and dishwashers become connected to the Internet.
Much of what I said last year still remains true. The pressure on Chambers, 65, to turn Cisco's ship around is still immense. The product portfolio is still too big, and while operating expenses have come down drastically due largely to multiple rounds of layoffs, you can't cut yourself to growth. There needs to be a mending of the ways to reestablish its presence in emerging markets, especially in China. If Chambers can't do that, maybe it's time for him to step down and have Cisco's board to look for replacements.
The list of potential replacements is still largely the same, with Rob Lloyd, Cisco's President of Development and Sales, still leading the list. Also on the list is Chuck Robbins, Senior Vice President of the Americas. If Cisco is going to look outside the company for a replacement for Chambers, maybe Pivotal CEO Paul Mortiz or Brocade's Lloyd Carney would want the job.
Apple Watch Is a Bigger Hit Than Anyone Expects
It's probably not much of a prediction to say the Apple Watch will be a hit, right?
What if I told you (thanks 30 For 30 for making that line popular!) that not only would the Apple Watch be a hit, it would be a mega-hit to the tune of the iPad in its first year?
Though there's no official consensus, the sources I've talked to and a bunch of Wall Street analysts seem to think Apple will sell anywhere between 20 and 25 million Apple Watches in its first year. That's pretty good for a first-year product, and certainly nothing to sneeze at.
I'd guess Apple will sell WAY more than that, perhaps as many as 40 million Apple Watches in calendar 2015, with the bulk of them coming in the all-important holiday quarter. This year, we've seen products like the Fitbit Flex and other fitness bands take off during the holiday shopping season, and I suspect next year's holiday season will be no different.
There's only one caveat to this prediction which could throw it off entirely. Apple said in October it would not announce sales figures for the Watch, like it does with the iPhone, iPad, iPod (yup, that still exists!) and the Mac, so official numbers will be a little tricky to come by. If the product is as big of a hit as I think it is, CEO Timothy D. Cook and his team may change their tune on this one, just to show much muscle is left in Cupertino.
--Written by Chris Ciaccia in New York
>Contact by Email.