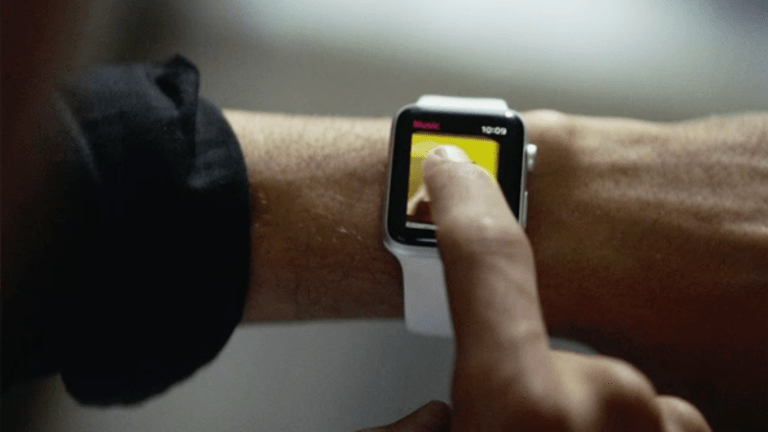 My Apple Watch Sent the Police to My House, But I Still Love It a Year Later
As the the Apple Watch Series 3 continues to be a best-seller for Apple, here's a reminder that the watch is loaded with pretty innovative features, but make sure you're aware of all of them.
With Action Alerts Plus name Apple Inc. (AAPL) - Get Apple Inc. Report  expected to report continued high demand for the Apple Watch Series 3 Tuesday, I decided to celebrate the (almost) one-year anniversary of the day that made me question both my love affair with Apple and my competency when it comes to reading instructions. 
In a move that only slightly made me hate myself, yes, I was one of the Apple junkies that picked up the Apple Watch Series 3 on Day One. 
To be fair, I didn't intend to buy the watch on the first day, but rather unfortunately, I pass an Apple store on my commute home. Unable to resist the siren's call created by an assembled crowd and the promise of shiny new things, I went in just to look. Four-hundred dollars later (thanks for twisting my arm on that Apple Care Plan, Apple employee Brian), I found myself running to catch my train with an over-sized bag in hand. 
Despite a statement made two years ago in which I may have used the words "unnecessary" and "extravagance" to describe the original Apple Watch, I was initially impressed. 
Because my iPhone is basically an extra appendage and I have no plans of running a marathon any time soon, I opted out of the cellular-enabled version, instead sticking with the more affordable GPS-enabled model. After being forced to download iOS 11 (you finally trapped me, Apple), I was pretty pleased with its easy-to-use layout. 
Even with no experience with smart watches and a lack of an included instruction manual -- a downloadable guide that I haven't looked at is available online -- I was quickly able to see how the watch could be incorporated into my daily routine. 
As a somewhat health-conscious Millennial, I found the watch's built-in fitness apps to be its main appeal. After a few workouts, I was happy with the variety of offered workouts that step beyond the FitBit's (FIT) - Get Fitbit, Inc. Class A Report pedometer functions and include strength training, core exercises, swimming and more. And the fact that it's waterproof came in clutch when I realized, mid-shower, that I was still wearing it. 
While the whole receiving push notifications to my wrist via the watch is still taking some adjustment, it's proven a pretty convenient way to scan text messages, emails and breaking news headlines quickly in meetings when pulling out my phone would be a faux pas. 
And most importantly, the option of a watch face featuring animated Toy Story characters catered to my inner '90's child. 
It was all fun and games until I found myself on the phone with the Roselle Park, N.J. police department. 
Geared toward the safety-minded, the Apple Watch features an Emergency SOS that will automatically call your local emergency responder and send your emergency contacts your location when you press and hold the side button on the watch. Holding the button triggers an alarm and a countdown, and then the watch will place a 911 call when near your phone or connected to cellular. 
What I didn't know is just how easy it is to "take advantage" of the feature accidentally. Unbeknownst to me, the lifting glove I was wearing happened to press against my watch during the final stages of a workout. Considering I was oblivious to the feature in the first place, I didn't know enough to use the "End Call" feature, which would have stopped the watch before triggering the emergency call. My slow reaction time meant my 911 call snuck in a few dial tones before I was ultimately able to hang up. 
Sooner than I knew it, I was on the receiving end of a call from the local police department, and no matter how many times I explained that I was absolutely fine, it's the local policy to send an officer to assess the situation regardless.
So there I was explaining to a rightfully annoyed officer of the law that no, I was in no immediate danger and yes, I'm an overgrown child who doesn't know how to use my new toy. 
It wasn't until later that I read up on the feature and realized that it can also be turned off. PSA: go into the Apple Watch app on your phone, tap general, then Emergency SOS and then turn off "Hold to Auto Call." You can still make an emergency call via the watch, but you no longer run the risk of accidentally starring in an episode of "Cops." 
Admittedly, I should have educated myself more on the watch more before wearing it, but there's also such a thing as overkill, especially for features that aren't widely publicized. 
Moral: Thanks for caring, Apple, but maybe you care too much. 
N/A