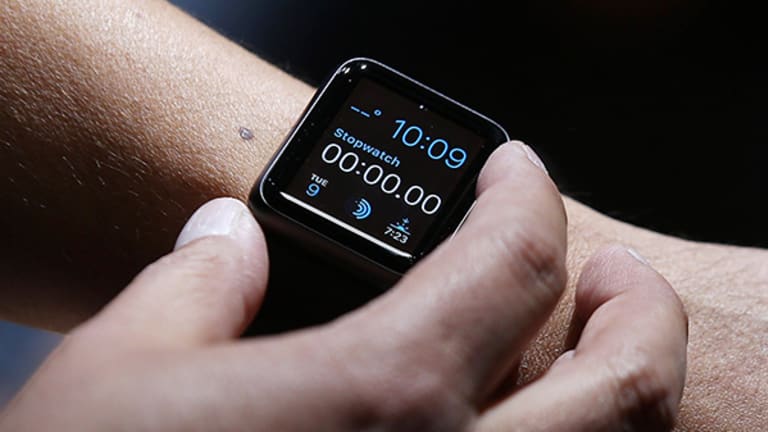 SAN DIEGO, CALIF. (TheStreet) -- Consumers can't yet pick up Apple's (AAPL) - Get Apple Inc. (AAPL) Report newest device in stores, but that doesn't seem to be dissuading them from buying the expensive timepiece.
The company should yield more than 2.3 million pre-orders for the Apple Watch, according to Chinese analyst firm KGI.
Apple Watch was made available for online purchase on April 10 with nearly 1 million people placing their orders on day one, according to third-party data. The watch will start shipping April 24, though the company may not be stocking inventory in its stores until June. Ship dates for online orders have been pushed back to June as well.
Shares of Apple were trading off a fraction of percent at $126.42 on Wednesday afternoon.
Despite the 2.3 million unit estimate, KGI analyst Ming-Chi Kuo said in a note that he believes Apple is experiencing "production bottlenecks" that could negatively impact the number of Apple Watch devices it can sell this year. Kuo estimates sales of between 15 million and 20 million devices in 2015, which he said compares to consensus estimates of between 20 million and 30 million units.
The firm expects 85% of pre-orders to be for the cheapest model, Apple Watch Sport, which retails starting at $349. It anticipates the middle-tier Apple Watch to make up the majority of the other sales, with the Apple Watch Edition, the gold version that sells for a starting price of $10,000, to pick up less than 1% of orders.
And just because the watch may be hard to get your hands on, that doesn't necessarily mean we can call it hit.
"We have yet to see signs as to whether Apple Watch will be a hit, as it's likely most consumers that have placed orders are hardcore Apple (US) fans," Kuo wrote.
The tepid sentiment paints Apple's seemingly impressive early watch sales figures in a less flattering light than one might expect. Other analysts are viewing pre-order demand as a positive indicator of things to come.
"In our view, Apple Watch has gotten off to a strong start with," Cantor Fitzgerald analyst Brian White wrote in a Monday note. "Although Apple generally experiences supply constraints with new product launches, we doubt the company was targeting shipment times stretching out into June so early in the pre-order process."
Cantor expects Apple to sell 20.6 million watches in its first year of availability.