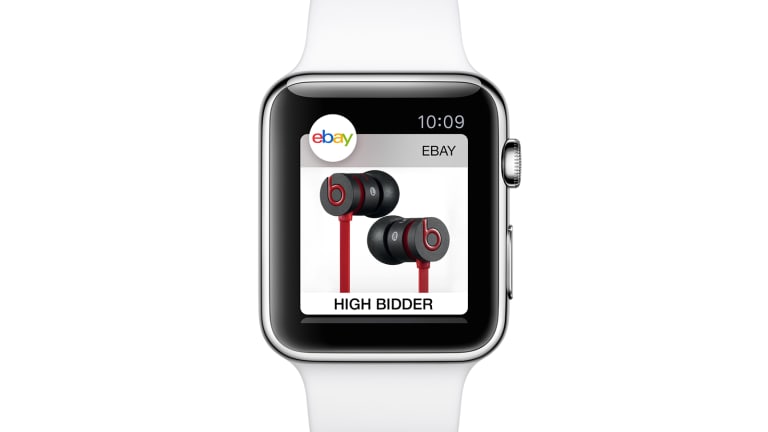 Apple Watch Is Already Attracting E-Commerce Players
Despite its inherently small real estate, the Apple Watch is already attracting e-commerce players.
Despite its inherently small real estate, the Apple Watch is already attracting e-commerce players.
Updated from 8 a.m. to include comments from Zulily.
NEW YORK (TheStreet) -- The first shipment of Apple's (AAPL) - Get Report Apple Watches just began Friday morning, but retailers and e-commerce giants are already betting on the new device.
The Apple Watch app store went live late on Thursday and among more than 3,000 apps in the store are ones from Amazon (AMZN) - Get Report, eBay (EBAY) - Get Report, Zulily (ZU) , Target (TGT) - Get Report and other retailers. Despite the fact that the Apple Watch (like other smartwatches) shrinks the screen even more than a smartphone, these retailers are betting that consumers will choose to interact with their products on that smaller platform.
"eBay's goal is to facilitate shopping whenever and wherever -- on their desk, in their pocket, or even on their wrist," said David Cheng, director of mobile products at eBay by email. "The eBay for Apple Watch app will be another step forward in driving our vision to deliver frictionless commerce by bringing simplicity while maintaining utility."
The eBay Apple Watch app will enable users to follow auctions in real time and receive notifications "so that they can react immediately and never miss a sale," Cheng added.
Such activity will take advantage of the Apple Watch's being easily accessible at all times of the day. "That's a great notice to get on my watch," Gartner managing vice president Gene Alvarez said by phone. "I can tap and boom, make my bid and I'm moving on," he said.
While participating in an auction may make sense on the Apple Watch, a pure shopping experience seems a little far-fetched to at least one observer.
"I am skeptical of actually shopping on the watch," said Nikki Baird, managing partner at Retail Systems Research, by email. "It's more real estate than you'd expect, but it's still not very much real estate at all."
Zulily has tackled that challenge with a "bookmarking" feature that lets consumers bookmark a sale on their watch and then view it on their iPhone at a later time. "As we strive to make our shopping experiences more personal, creating an app for the Apple Watch was an easy decision," Jason Carter, Zulily Director of Webstore Experience, said in an email. "Our Apple Watch app allows our customers to quickly sift through the hundred+ events we have every day, tap on the ones that interest them the most, automatically sorting them to the top of their iPhone app. In short, it's an incredibly simple way to make shopping zulily more personal."
Nonetheless it's difficult for some, including Baird, to imagine consumers actually swiping through sales on an Apple Watch.
"One of the key things around commerce from a watch perspective is whether or not the product being sold matches that sales environment," Alvarez said.
Certain activities might be easier for users to envision than pure browsing and shopping. For instance, Target has decided to leverage the Apple Watch to be more of an in-store guide, syncing with a shopping list on the iPhone app and prompting consumers about a possible purchase as they physically approach the product.
Other possible uses might involve setting up the replenishing of purchases. Say someone ran out of toilet paper. He or she could quickly tap a watch to refill a previous order. Or for ordering the next book in a series, an Apple Watch app could make sense.
That kind of activity won't likely be accomplished for larger products like a television.
For such sales, consumers may wish to browse more details on a larger screen before committing to the purchase. "More complex items that have high visualization requirements in order for the customer to ensure this is what they want or need -- that's when you move away from the watch to a larger device," Alvarez said.
The level of demand for the Apple Watch is still unclear. As of last week, Apple had more than 2.3 million preorders for the Apple Watch, according to Chinese analyst firm KGI, but it's early in the product's life.
E-commerce companies may wish to view the Apple Watch as yet one more channel through which they can reach certain segments of consumers.
"It becomes a balancing act," Alvarez said. "Some prefer text. Some prefer email and some prefer the watch," Alvarez said. "The watch is an addition of a touch point; it won't decimate other touch points." But he said it will play to the personal preferences that certain consumers have.