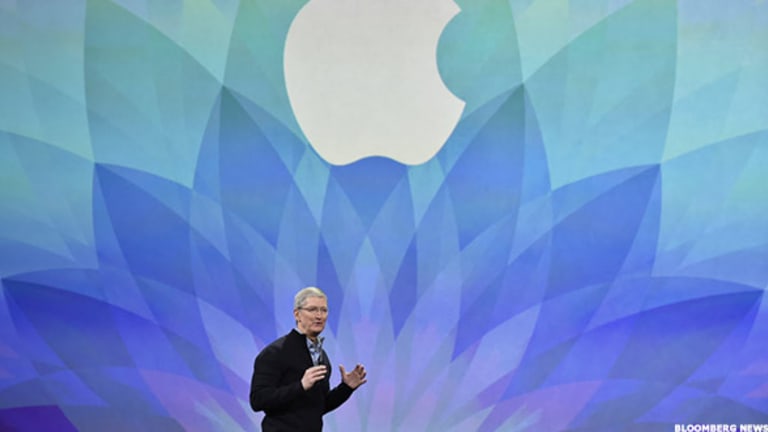 Apple Upgrades iPod Touch With Faster Processor, Better Camera
The new model features a better camera, faster processing and Apple Music. And for those who view their tech gadgets as accessories too, Apple also added some new colors.
NEW YORK ( TheStreet) -- Apple (AAPL) unveiled its latest series of iPods Wednesday, including an iPod Touch featuring a faster processor, a better camera and more storage space.
The update is the first in three years for Apple's most advanced music player, the longest period between new models since Apple began selling the Touch in 2007.
The Touch's eight-megapixel camera (the same one used in the iPhone 6) and its A8 chip will allow users to "experience next-level gameplay, take even more beautiful photos and enjoy their favorite music, TV shows and movies," Greg Joswiak, the company's vice president of iPhone, iPod and iOS Product Marketing, said in a statement.
In its announcement, Apple also emphasized the inclusion of its Apple Music streaming service, unveiled last month to compete with companies like Pandora (P) and Spotify. The service includes access to Apple's music library as well as radio stations streaming music live.
The Touch will also be available for the first time in a 128GB model, which will retail for $399. Along with the smaller-storage space models, it went on sale in Apple's stores Wednesday.
The Cupertino, Calif.-based company also announced several new colors for all of its models, including the iPod Nano and the iPod shuffle, including space grey, silver, gold, pink and blue.
Apple's stock price jumped 0.9% to $126.73 early Wednesday afternoon.
The company will report results for the second quarter of 2015 after the markets close on July 21. The company broke records with its first-quarter earnings, making $18 billion in profit on revenue of $76.4 billion.
The new line of iPods comes months after Apple premiered the Apple Watch, sales of which have disappointed Wall Street since shortly after it went on sale in April.
Apple watchers are already making predictions about the next iPhone, scheduled to be unveiled this fall.