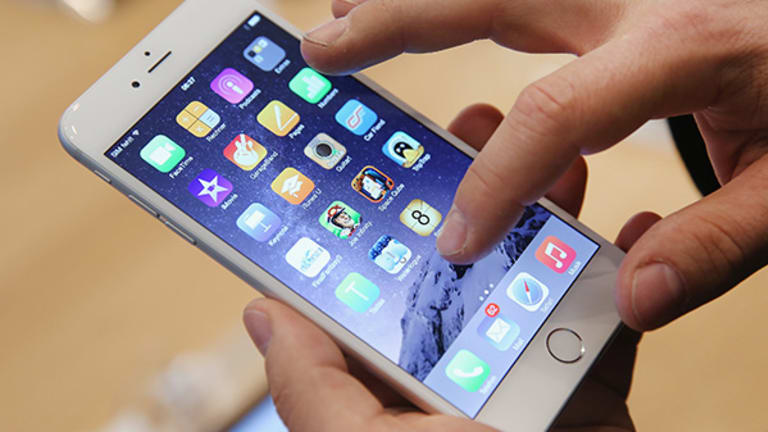 Apple Unveils iOS 8.3 Update -- Here Are All the Latest Features
Apple unveils a bevy of new features as part of its updated mobile operating system, including new emojis and the ability to use CarPlay wirelessly.
NEW YORK (TheStreet) -- Apple (AAPL) - Get Apple Inc. (AAPL) Report unveiled a bevy of new features on Wednesday as part of its latest update to its mobile operating system, including new emojis and the ability to use CarPlay, its system for using the iPhone in vehicles, wirelessly.
As part of iOS 8.3 (280MB) update, Apple unveiled a slew of new emojis, more than 300 in total. The new emojis will get most of the attention from consumers, especially since different skin tones for the different faces and people emojis are introduced. There is also an effort to include same-sex couples in the new emojis, further cementing Apple's effort to increase awareness around diversity.
There are also several other new features as part of the new update to iOS, which is designed to help boost performance, speed and reliability. There have been some issues with apps not rotating on the iPhone 6 Plus, so that's included in the latest update, as well as a key fix to Messages. Occasionally, group messages would split in Messages, which would prevent them from being either forwarded or deleted, a problem Apple has now fixed.
JimCramer's charitable trustAction Alerts PLUS owns Apple. Read his latest analysis on the stockhere.
Though not as highly promoted as the release of the new emojis, as part of the iOS 8.3 update, CarPlay is getting a boost with the ability for it to now be used wirelessly. This allows users control their central displays without plugging in their iPhones and hints at Apple's reported ambitions to get into the vehicle market.
The adoption of iOS 8 has been increasing steadily since it was released in September 2014 (it was first announced in June 2014 at Apple's developer conference). But there is still some bifurcation occurring. A look at Apple's developer site shows 78% of Apple's mobile devices are using iOS 8, while 20% are using iOS 7. Just 2% of users are using an earlier version of iOS. The results are as of March 30, as measured by the Apple Store.
Below is a list of all the updates: