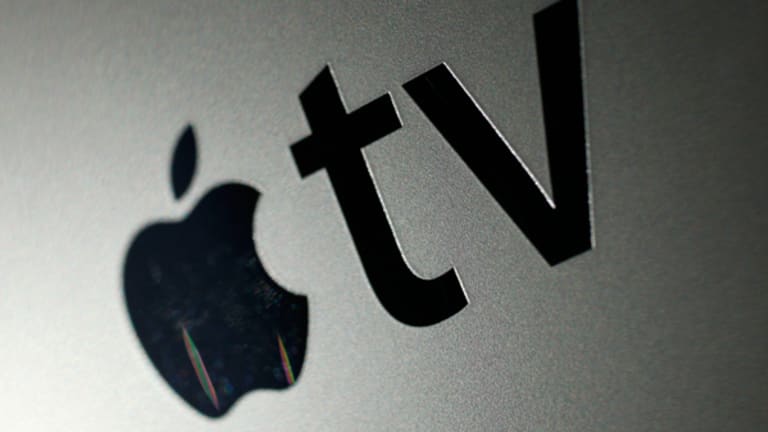 Apple TV and the NFL: The 50-Yard Scamper for Cash
Google meets with the NFL about bidding for NFL Sunday Ticket. It's all about cash in this cash, and there's one company that has more cash than anyone.
NEW YORK (
) -- "Are you ready for some football?"
Google
(GOOG) - Get Alphabet Inc. Report
wants you to watch it on its services, but don't discount
Apple
(AAPL) - Get Apple Inc. Report
in this case.
According to
AllThingsD
, Google CEO Larry Page met with NFL Commissioner Roger Goodell about bidding for the NFL Sunday Ticket, which is carried by
DirecTV
(DTV)
. It's all about cash in this case, and Apple, with its $146.6 billion cash hoard, has more cash than anyone, Including Google.
DirecTV has had the contract to carry Sunday Ticket, which allows you to watch any game, in market or out of market, since the package was unveiled in 1994. In 2009, DirectTV paid the NFL $4 billion to re-up the deal, but it expires next year.
A Google/YouTube + NFL combination would almost certainly send shockwaves through the media, broadcast television and technology worlds. However, a combination of Apple + NFL would do even more. Apple already has a wide lead on Google as it relates to set top boxes, with Apple TV. Though I've
that the Google Chromecast, which plugs directly into people's HDTVs, might impact Apple TV, Apple has the user interface, ecosystem, and most importantly, the cash, to win any bidding war should it decide to enter into one.
Apple and Google could not be immediately reached for comment for this story, while NFL Spokesman Greg Aiello did not respond to a tweet sent on this matter.
It's likely that Goodell, who's already met with Google, will meet with other companies, including Apple; it only makes sense. It also continues the trend of the NFL adding more technology to the fan-watching experience, something it's been doing over the past few years.
The NFL has brought some of its games to
Verizon
(VZ) - Get Verizon Communications Inc. Report
, allowing users to watch Thursday and Sunday night games on their smartphones. Some teams have added tablets to help enhance the viewing opportunities in stadium, allowing fans to keep up to date on their fantasy teams. The NFL is clearly taking technological enhancements seriously, especially as ticket prices continue to remain elevated, and going to an actual game remains expensive.
DirecTV certainly won't go down without a fight in this battle, given it spent $4 billion on the deal just four years ago. It's also a question of whether the NFL would even sell the rights to a technology company, potentially upsetting the last bastion cable companies have over viewers. Live sports have always been the one reason most consumers cite as a reason not to cut the cord, and the NFL is the most popular domestic sport.
As part of the
Madden 2014 Anniversary Edition,
DirecTV is allowing buyers to watch any game on their smartphone or tablet with an access code. The relationship between the NFL and DirecTV is certainly a strong one, and perhaps not one the NFL is likely to just throw away.
Bringing Sunday Ticket to Silicon Valley will allow Apple (or any other technology company) to enhance the viewing experience in a way that these companies know best.
Apple has been working on building up its software and services drastically over the past year or so, and has made Apple TV a prime part of that. It recently added HBO GO and WatchESPN to its
. Getting a deal with the NFL would not only make Apple's TV plans that much better than anyone else in the industry, it would firmly supplant itself as having the innovation needed to compete in the television space, one where CEO Tim Cook has said is
for Apple.
Not only would Apple get the perception it's willing to do what it takes to win in services, it likely would significantly boost software and services revenue, as well as hardware revenue. Last quarter, Apple generated $3.99 billion in software revenue, up 25% year over year. Apple does not break down revenue for Apple TV, but it's listed under the iPod section on Apple's Web site.
Watching the Sunday Ticket deal play out in public is going to be incredibly interesting. For fans, like myself and millions of others, this drama will undoubtedly change the way we watch the NFL and perhaps consumer live sports for years to come.
--
Written by Chris Ciaccia in New York
>Contact by
.