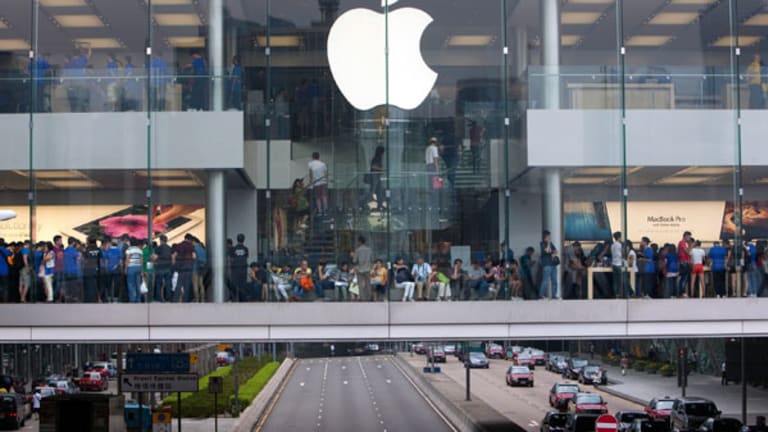 Apple: The Benefactor of Samsung's Fragmentation
Apple, unlike Samsung, is the epitome of crafting simple product lines.
NEW YORK (
) -- On Tuesday
CNET
cited an
IDC
report that
Apple
(AAPL) - Get Apple Inc. Report
is closing the gap on
Samsung
smart connected devices. This report takes into account a wide market section including; PCs, laptops, smartphones, and tablets. All the other Mac sites are reporting on it, but nobody is speculating why.
Well, let me offer up the following theory. Apple is the epitome of crafting simple product lines. There's iPod, iPad, iPhone and Mac. Each product is clearly defined with essentially similar choices within each line; small, medium and large. They all work the same, and they all have consistent look, feel, usability, operating systems, and compatibility. Buying an Apple product is a relatively simple purchasing experience, whether at an Apple retail store or online, it's about as uncomplicated as it gets.
Also see: 12 Ways Skimping Now Can Blow Up in Your Face Later
Now, let's compare this with Samsung. We'll start with phones. Apple has the iPhone running iOS, which runs across all Apple mobile devices. Samsung has the Galaxy, the Galaxy Note and the Super Social with Windows Mobile. The Galaxy is a bit confusing, with the Galaxy III and the Galaxy Note - is it a phone or a tablet? Even Samsung asks this question on its Web site.
Then there's the Samsung Windows phones, which are split into two sub-models; the Odyssey and Focus - one is apparently good for business, the other for social networking.
Samsung tablets are just as confusing. There's the Galaxy Note, which isn't a phone, but comes in two sizes like the iPad. Then there's the Galaxy Tab, which is meant to control my media and entertainment systems. But wait, there's an app for that on my iPad - why do I need a $300 tablet just for that? It has this thing called Media Hub built in. If it's anything like my Samsung Smart TV media thingy, I don't want it - what a mess. And to round out the tablet offering, there's the Nexus 10 from
Google
(GOOG) - Get Alphabet Inc. Class C Report
. This appears to be the high-resolution entry into the tablet space. I've got to wonder, though, why did it take a Google-inspired tablet to go hi-res?
The really confusing thing, at least for me, is navigating the Samsung site and trying to find one place where I can compare all the different tablets. Same goes for the phones. It took me a long time to piece it all together. There's no confusion with the Apple online store - everything is neatly arranged for comparison. I know how they differ and can easily choose the device for me.
Also see: Cramer Greets the 21st Century: Airbnb
So, now it's on to the laptops. Without getting too repetitive, it's the same story there as well, with the Series 3, 5, 7, and 9. They are categorized in many different dimensions, from CPU, to Operating System, weight, storage, graphics. Some are recommended for gaming, some for business, some for...oh, I forgot where I was. Ok, got my bearings now, I think I saw something like 30 models, but I can't for the life of me figure out which one is which. I'm overloaded. Then there's the Chrome, which really isn't in the same class as a traditional laptop running Windows or Mac OS, because it can't run anything mainstream other than a Google browser. Oh, and it looks just like a MacBook Air, except that it's made out of cheap plastic and about twice as heavy.
Ok, so I made the mistake of journeying into the Samsung online store to make a point. I wish I hadn't, because now I'm tired and frustrated. Probably a lot like the people thinking they're gonna get a better deal with a Samsung product than an Apple. The experience with Apple products is full cycle. It starts at the joy you feel at the point of purchase, extends to the packaging, then the quality and industrial design and consistency of use across products, the unbelievable service, especially if you purchase AppleCare, then finally the great resale value when it's time to upgrade (which, by the way, will be about twice as long as Samsung, because Apple products have on average a much longer usable life time).
Also see: 10 Ways Your Credit Can Betray You
So, this is why Apple will eventually win over Samsung; clean, clear product lines that support one another and have an ecosystem that supports the products. Samsung is fragmented and confusing. Sure, they have some neat products, but it takes more than that for the type of longevity for which Apple products are positioned.
-- Written by Ernie Varitimos, author of the Apple Investor blog.
This article was written by an independent contributor, separate from TheStreet's regular news coverage.
Ernie Varitimos has a long history with Apple as an investor, trader and consumer of its technology. He started his career as a rocket scientist and has spent the past 25 years driving, controlling and influencing technology in the financial industry. Ernie is a former hedge fund manager and current futures trader.