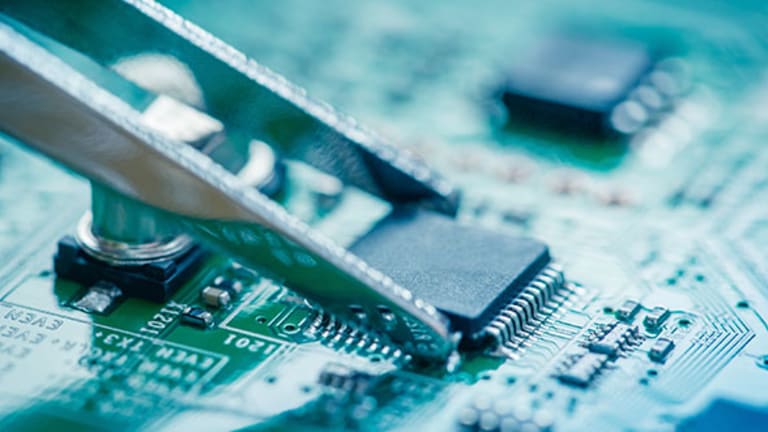 Apple Supplier STM Aims to Bolster Flagship Smartphones Business, CEO Says
The chipmaker is equipped for M&A, but doesn't see it as a priority.
STMicroelecronics (STM) - Get STMicroelectronics NV Report , a supplier of semiconductors to major tech players such as Apple (AAPL) - Get Apple Inc. Report , Cisco Systems (CSCO) - Get Cisco Systems, Inc. Report , and Samsung Electronics (SSNLF) wants to be "more present" in flagship smartphones, CEO Carlo Bozotti said. 
While the outlook for the smartphone market is not as straightforward as the automotive market, from which the company expects to reap benefits "for several years," Bozotti told TheStreet he wants to grab the opportunities that lie in an area where giants such as Apple, Samsung, and China's Huawei compete, but where  smaller players are also gaining presence. 
"The [smartphone] market may be a little bit volatile but it is huge volume," Bozotti said, adding that he wants to gain more market share there. "The volume is so important, we want to be more present particularly in flagship models... We want more ST [STMicroelectronics] content in flagship phones, this is our objective."
Flagship models might include Apple's iPhone 7, Samsung's Galaxy S7, and Huawei's P9, although the company did not specify any particular brand.  
Bozotti's comments come after the Geneva, Switzerland-based company said it expects fourth-quarter revenue to advance by a greater-than-expected 3.2% quarter on quarter, because of smartphone, automotive and industrial growth. The company's growth estimate compares with the 0.6% estimated by a consensus of 27 analysts compiled by FactSet.
The company reported third-quarter results before the markets opened on Thursday.
STMicroelecronics shares jumped nearly 10% in Paris. The stock has advanced nearly 30% in the past 12 months.
For the third quarter, the company booked net profit of $71 million on revenue of $1.8 billion, which compares with $90 million and $1.76 billion, respectively,  in the same period a year earlier.
STMicroelectronics manufactures products that surround the digital core of smartphones such as those related to sensors, wireless charging, near-field communications, securities, secure elements and embedded elements. Bozotti says he especially sees strong demand in sensor products.
The global smartphone market is estimated to expand by 5.7% year-on-year to reach 1.5 billion units in 2016, and to advance by a compound annual growth rate of 6% to reach 1.92 billion units in 2020, according to IDC Research.
"The wave of new products is unprecedented for us," Bozotti said.
Bozotti sees growth from the automotive sector, which is adopting a higher number of semiconductors as cars become increasingly electronized, "for several years."
"[Demand from] automotives, yes it will continue for a long time," Bozotti said. "It is not the volume of cars that is modelling the growth, but certainly the increase of semiconductors per customer."
Bozotti said that while large customers are important, he wants to continue diversifying the company's client base and take in smaller clients. STMicroelectronics has 40,000 customers for its microcontrollers.
The company is spending between $1.3 billion to $1.4 billion per year on R&D.
Bozotti said that while he does not exclude the potential for M&A, it is not a priority and nothing is currently on the table. The company, which had $464 million in net cash at the end of the third quarter, is equipped for acquisitions, he noted.
Earlier today, Qualcomm (QCOM) - Get Qualcomm Inc Report said it finalized a $47 billion deal to buy Dutch rival NXP Semiconductors (NXP) - Get Nuveen Select Tax-Free Income Portfolio Report the world's largest automotive chipmaker by market share. San Diego-based Qualcomm said the purchase will give it a lead in high-performance, mid-signal semiconductors and expand its automotive, security and "Internet of Things" ranges.
Bozotti said he placed more importance on organic growth than M&A.
"Anything we would do in M&A would not be to do more, but to do better," Bozotti said. "To reinforce any of these six [existing business] lines but certainly not to have more lines. Of course, the geography would be an important consideration. The focus would be on to reinforce what we have and possibly complementary in terms of geography coverage."
Bozotti declined to expand on which business areas he wants to improve on or where he wants to increase his footprint. The company currently generates roughly an equal portion of revenue, just above 30%, from the Americas, Europe, the Middle East and Africa, and Asia Pacific regions.
In July, STMicroelectornics acquired the near-field and radio-frequency identification business of Austrian chipmaker AMS for $114 million.
(Cisco Systems, NXP, Apple are held in Jim Cramer's charitable trust Action Alerts PLUS. See all of his holdings here.)