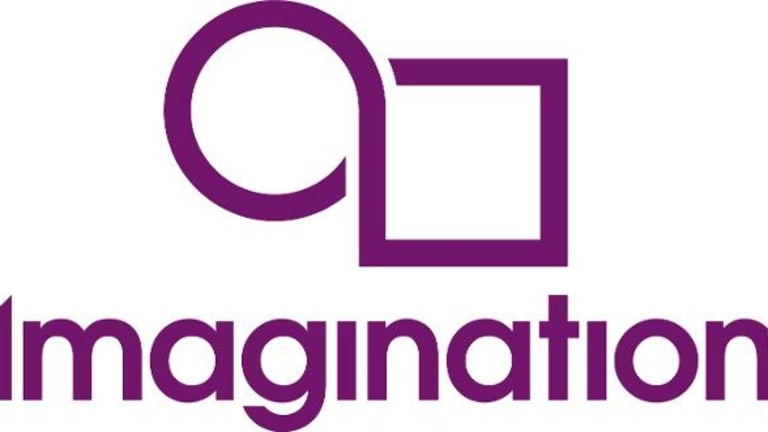 Publish date:
Apple Supplier Imagination Soars on Profit Return, New Chairman Appointment
U.K. chip designer Imagination swings to profit amid ongoing restructuring effort and domestic currency weakness.
U.K. chip designer Imagination swings to profit amid ongoing restructuring effort and domestic currency weakness.
Imagination Technologies (IMGTY)  topped London's mid-cap FTSE 250 index Tuesday after the Apple (AAPL) - Get Report  supplier returned to profit following restructuring efforts and appointed a new chairman.
Shares in Imagination jumped as much as 20% in early trading to 260.75 pence each, making it the biggest gainer on the London Stock Exchange, before paring the session's advance to 11.5% by 09:30 GMT.
Imagination, whose customers also include Intel (INTC) - Get Reportand Mediatek (MDTKF) , appointed Peter Hill as its new non-executive chairman.
Data from BoardEx, a business unit of TheStreet, shows that Hill started his professional career at Anglo American in 1975. He became CEO of Costain America in 1994, and from 1997 headed strategic planning at BTR, which later became Invensys, an automation software company.
Hill, a former CEO of British electronic components maker Laird plc, between March 2002 and November 2011, is currently a non-executive chairman of Keller Group and Volution Group.
The University of Nottingham and London Business School graduate, who has also been awarded Commander of Order of the British Empire by Queen Elizabeth II, will assume the role of Imagination chairman from February 1.
The Kings Langley, U.K.-based company said operating profit from continuing operations hit £2.9 million ($3.7 million) in the six months through October 31, as revenue advanced 6% on the year to £64.4 million. The company had booked a loss of £5.5 million a year earlier. Meanwhile, adjusted Ebit jumped 65% to £12.2 million, the company said.
Imagination attributed the return to profit partly to annual costs savings of £27.5 million, as it nearly completes its restructuring involving the sale of its Pure digital radio business division in September and the sale and closure of IMGystems. The company is also close to disposing of IMGworks, it said.
The company also said dollar appreciation against the pound also contributed, saying the average sterling/dollar rate increased by 14% in the first half.
"We have successfully executed the restructuring programme, initiated last February, on time and in line with our expectations," said CEO Andrew Heath. "We are now in a much better position to exploit our leading technologies, across a range of increasing opportunities and execute our refreshed strategy."
Going forward, Imagination expects to see continued strong demand for its three surviving businesses - PowerVR, MIPS, and Ensigma.
The PowerVR division is involved in technologies for mobile phones, automotive infotainment, and augmented and virtual reality markets. In the first half, the company maintained a robust positon for high-end mobile phones and won back market share for mid-range mobiles phones, it said.
Imagination said it expects to benefit from new devices to be shipped by Mediatek. Market concern had lingered about the company's loss of businesses from the Taiwanese fabless semiconductor company.
The MIPS division provides technology for embedded devices, networking, and routers. Customers the division caters to includes Mobileye (MBLY) .
Meanwhile, the Ensigma division focuses on IP licensing for connectivity products such as Wi-Fi and Bluetooth. Imagination said it has secured "notable deals" with major industry playersm including a tier 1 player, in mobile computing, unmanned systems and Internet of Things.
In the first half, the Ensigma division saw license revenue soar 260%. Meanwhile, both the PowerVR segment saw licence revenue drop.
(Apple is held in Jim Cramer's charitable trust Action Alerts PLUS. See all of his holdings here.)