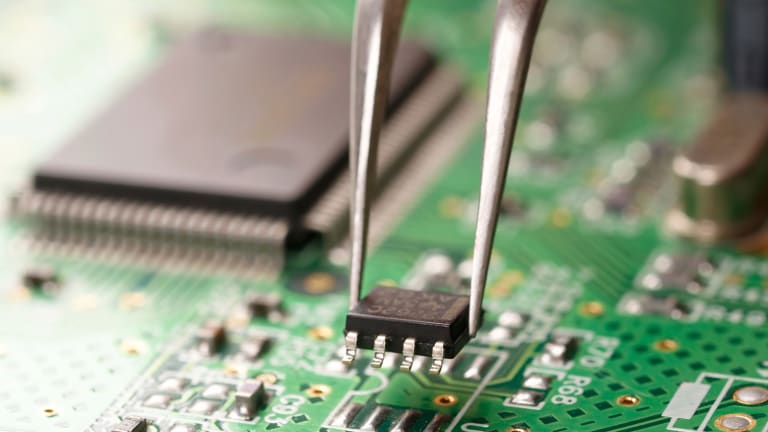 Publish date:
Apple Supplier Imagination Expected to Report 17% Sales Decline
Analysts attribute its weakness to subdued growth at Apple and loss of businesses at Intel, Mediatek.
Analysts attribute its weakness to subdued growth at Apple and loss of businesses at Intel, Mediatek.
ImaginationTechnologies (IMGTY) , a U.K. designer of semiconductors, is expected to report a sales decline next Tuesday as it faces subdued growth at its major client Apple (AAPL) - Get Reportand the impact of losing business at other major clients.
The Kings Langley, Hertfordshire-based company is scheduled to report half-year results on Tuesday, Dec. 6.
A consensus of 12 analysts compiled by FactSet forecasts sales to drop 17% to £60.6 million ($76.3 million) in the six months through end-October from £71.1 million a year earlier. Analysts attribute the decline to slowed growth at its biggest customer Apple, which accounts for a substantial portion of its business, as well as the impact of losing businesses from large customers such as Intel (INTC) - Get Report at MediaTek (MDTKF) , a Taiwanese fabless chipmaker.
"Any sustainable growth depends not only on future traction with Spreadtrum (for GPU) and RDA (for connectivity)," Credit Suisse analysts Achal Sultania and Quang Tung Le said in a report. They added that Imagination's growth also hinges on the success of these fabless chipmakers themselves competing in a highly competitive market.
Meanwhile, the FactSet analyst consensus also expects Imagination to move into the black £3.9 million at the operating level, compared with a loss of £7.3 million a year earlier, and to see losses narrow to £9.5 million at the net level from £20.8 million.
Rivals of Imagination, whose main offerings are semiconductors that enable graphics in mobile, wearable and Internet of Thing devices, include CEVA (CEVA) - Get Report and Nvidia (NVDA) - Get Report .
One analyst holds a positive outlook for the company, citing growth potential for graphic chip players, who will likely gain presence not only in smartphones but growing markets, such as cars, servers, virtual and augmented reality, and IoT.
"The use of graphics is expected to see massive growth in all applications, especially smartphones, servers and cars," Liberum Capital analyst Janardan Menon. "Nvidia and Imagination are the only graphics pure plays globally. These stocks are expected to re-rate as is already happening in the case of Nvidia. While Imagination does not have a position in servers, it is strong in both smartphones and cars."
Menon expects Imagination's first-half results to lead to forecast upgrades due to strength in its underlying business and a fall in the pound. He also believes Apple-related royalties are trending above management expectations, and pointed to positive trends at customers like Microchip (MCHP) - Get Report , Mobileye (MBLY) , and Broadcom (BRX) - Get Report .
The London Stock Exchange-traded Imagination has advanced 15% in the past twelve months. That compares with a 170% surge for Nvidia and an 18% jump for CEVA.
Since the U.K.'s June 23 vote to leave the European Union, Imagination shares have jumped about 20%
As of April 30, Apple was Imagination's fourth-biggest shareholder with an 8.48% stake and the only non-financial company to hold interests exceeding 5%. Other large shareholders include BaillieGifford, M&G Investment management, and Standard Life Investments.
(Apple is held in Jim Cramer's charitable trust Action Alerts PLUS. See all of his holdings here.)