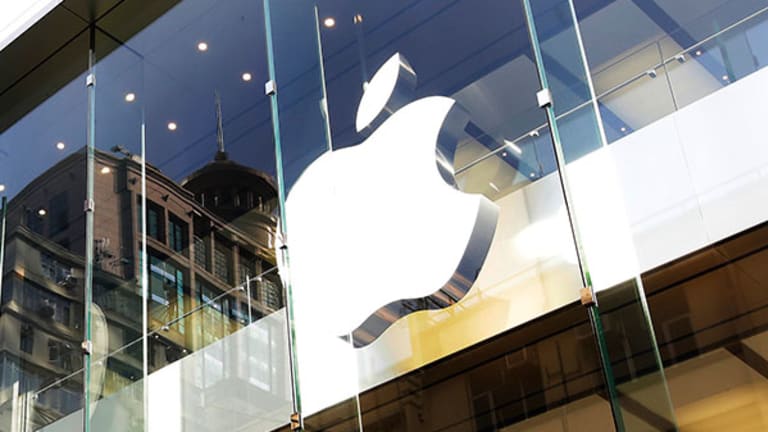 Apple Slowdown Not in the Cards This Year
Even though the summer months are traditionally a slower time for Apple, it looks as if there's no slowdown this year, as May was a stronger month that it has been in previous years.
Updated from 8:56 a.m. to include thoughts from UBS analyst.
NEW YORK (TheStreet) -- Even though the summer months have traditionally been a slower time for Apple (AAPL) - Get Report, it looks as if there's no slowdown this year, as May was a stronger month that it has been in previous years.
Cantor Fitzgerald analyst Brian White, who rates Apple "buy" with a $777 price target, noted that following the software innovations at Apple's Worldwide Developers Conference and implications for Apple at Computex, May sales for the proprietary Apple Barometer were stronger than they've been historically. "Preliminary May sales (98% of sales have been reported) for the companies in our Apple Barometer have been reported and were stronger than typical seasonality," White wrote in a note. "Sales in May rose by approximately 6-7% MoM and were above the average increase of 2% over the past nine years."
In the calendar third quarter of 2013, Apple had quarterly revenue of $35.3 billion and earned $7.47 a share, as it sold 31.2 million iPhones, 14.6 million iPads and 3.8 million Macs. That was down from the previous quarter, where Apple posted quarterly revenue of $43.6 billion, and earned $10.09 a share, as it sold 37.4 million iPhones, 19.5 million iPads and just under 4 million Macs.
Read: Why Uber Is Worth $17 Billion
While the calendar third quarter may dip sequentially in 2014, according to White's numbers, it won't be as drastic as it has been before.
Analysts surveyed by Thomson Reuters expect Apple to generate $37.83 billion in revenue, earning $8.53 a share.
The Apple Barometer consists of "leading Taiwan-based suppliers that generate a high percentage of sales from Apple." White noted that that the sales for the Apple Barometer will rise between 18% and 20% sequentially, well above the average of a 10% rise over the past nine years.
This fact is partly being reflected in Apple's share price since the start of the year. UBS analyst Steve Milunovich notes Apple and HP (HPQ) - Get Report are leading the S&P Hardware index to gains this year, outpacing other sectors. "Apple and HP are in the leaders quadrant; EMC, Accenture, and Cognizant are losing momentum; and IBM and NetApp are lagging (p6). Apple's P/E matches its 2012 peak, but Apple now sells at a 10% discount to the market compared to parity in August 2012," Milunovich wrote in the note.
Read: Hertz Restatement Throws 2014 Plan in Doubt
Given that Apple did not announce any new hardware products earlier this week at WWDC, only showing off new software -- including Mac OS X, iOS 8, Apple's foray into the health and fitness market with Health and HealthKit, and HomeKit (Apple's move into the smart home), White said Apple continued to strengthen the halo surrounding its products, keeping integration tight. "At WWDC, we believe Apple successfully furthered its objective of more tightly integrating its digital matrix across devices, software, and services, while expanding its support for developers with exciting new initiatives," White wrote in the note.
In addition to the software announcements, White said he believes that Apple is indeed getting ready to launch not one but two iPhones in the September/October time frame -- a 4.7-inch version, as well as a 5.5-inch version. He's also expecting Apple will release the oft-rumored iWatch around the same time frame "at a very affordable price point."
Also See: How Apple's iPhone Ad Hints at Its Next Big Thing
Also See: What Elon Musk Thinks of BMW's i3
--Written by Chris Ciaccia in New York
>Contact by Email.

WATCH: More tech videos on TheStreet TV