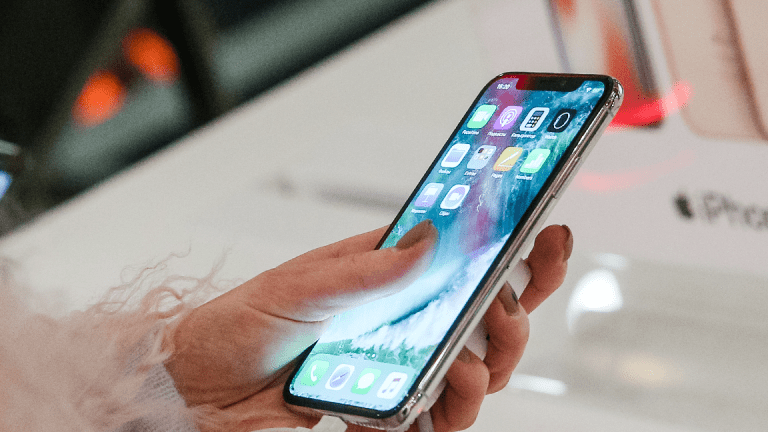 Apple Stock Slips on More Fears Over iPhone X Interest
Apple's flagship iPhone X is seeing 'lukewarm' demand, Longbow analyst Shawn Harrison says in a note that lowers his rating on the stock to neutral.
Apple Inc. (AAPL) - Get Report shares were marked modestly lower in premarket trading Wednesday following a downgrade from Longbow Research on concerns over the depth of demand for its flagship iPhone X.
Longbow analyst Shawn Harrison said the anniversary edition of the iPhone, which has a list price of $999, has seen "lukewarm" reception from customers and called the current cycle of overall iPhone sales "good, not great." Harrison also clipped his earnings per share estimate for the world's biggest tech company by 29 cents to $11.25 and pegged his fiscal year shipment forecast at 233 million units. Longbow's rating on the stock was reduced to "neutral" from "buy."
Apple slipped 0.27% in premarket trading in New York, indicating an opening bell price of $175.72 each, a move that would trim its three-month gain to just under 10%.
However, Wednesday's declines could be mitigated by a price upgrade from Barclays, which lifted its target to $174 just two weeks after pegging it at $162 each while Bank of America Merrill Lynch upped its own target to $220 from $180. The bank also maintained its "buy" rating on the stock.
The moves follow a rough two weeks for Apple in the newscycle after two of its biggest investors -- Jana Partners and the California State Teachers' Retirement System -- issued a letter on Sunday Jan. 6 warning that children were growing increasingly at risk to depression and even suicide linked to the overuse of mobile phones and urged the Cupertino, Calif.-based group to take action.
"We believe addressing this issue now by offering parents more tools and choices could enhance Apple's business and increase demand for its products," the shareholders said in the letter. "...In the case of Apple, we believe the long-term health of its youngest customers and the health of society, our economy, and the Company itself, are inextricably linked, and thus the only difference between the changes we are advocating at Apple now and the type of change shareholders are better known for advocating is the time period over which they will enhance and protect value."
However, longtime Apple analyst Gene Munster at Loup Ventures said the issue of tech addiction is more of an industry problem and argued the issue "won't affect the stock." "
"[It's] unlikely that Apple is going to change how they do business because people can't put their products down," adding that Apple could put parental controls in future iOS versions that limit screen time.
More of What's Trending on TheStreet: