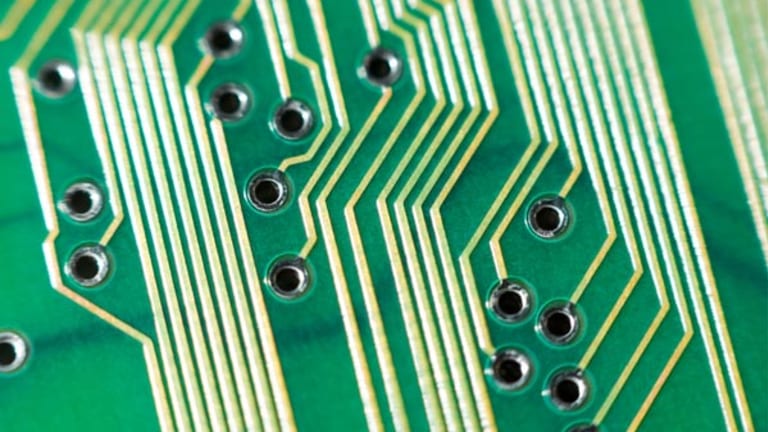 Apple Sinks, Pandora Blinks: Tech Movers & Shakers
Apple shares fell as a patent ruling went against the tech giant. Pandora dropped on continued rumors of Apple's new streaming service, iRadio.
NEW YORK (
) --
Apple
(AAPL)
shares dipped 0.9% to $445.11 as the maker of the iPhone and iPad faces pressure from a
by
Samsung
.
Since shares hit an
in September, the Cupertino, Calif.-based company's stock price has dropped 37% as investors
the pace of innovation and lack of new products.
The judgement could potentially pose problems for Apple. The ruling means that the iPhone 3G, iPhone 3GS and iPhone 4, as well as the iPad and iPad 2 with 3G that run on the
AT&T
(T)
network will no longer be available in the US. According to a
Piper Jaffray
report, this may imply a loss of up to $680 million for the June and September quarters.
Jefferies
analyst Peter Misek says the overall impact could be as much as $1-$2 billion in revenue.
The company is going to appeal the charges moving forward.
Pandora
(P)
shares fell 1.11% to $14.23, as rumors of Apple's iRadio service continue to persist.
Apple is
going to launch an iRadio service, that may bring added competition into online streaming space. Pandora CFO Mike Herring has downplayed the impact that may be on the horizon for Pandora, assuring investors that the company will continue to be a top competitor. "We're waiting, like the rest of you, to find out what they're going to do," he said in remarks at the Bank of America Merrill Lynch Global Technology Conference in San Francisco. "We'll compete against any real or imaginary competitor just the way we always have."
Over the past few days, shares of the online radio streaming company has slipped over 15%. Despite the recent slippage, Pandora continues to be one of the top performing stocks this year, gaining 79% year-to-date.
Microsoft
(MSFT)
shares fell 0.87% to $34.69, as optimism continues to increase around Microsoft's new gaming console, Xbox One.
Wells Fargo
analyst Jason Maynard estimates the company's revenue growth at 6.7% by the end of 2013, while earnings per share are expected to hit $2.78 by the end of the current fiscal year.
--
Written by David Webster in New York
>Contact by
.
Follow @thedavidwebster