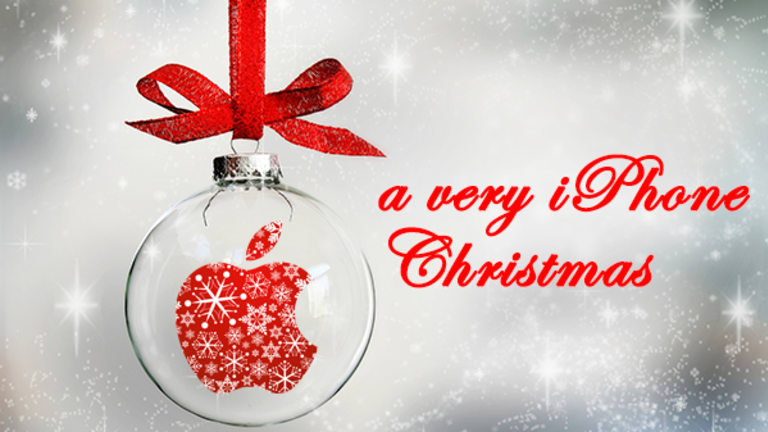 Apple Sets Up for an Enormous Holiday Season - What Wall Street's Saying
Apple ends its fiscal year in record fashion, and analysts on Wall Street couldn't be happier.
Updated from 8:30 a.m. to include comments from S&P Capital IQ.
An iPhone (or more) a day, will keep the bears away.
Apple (AAPL) - Get Free Report ended its fiscal year in record fashion, as the company generated $51.5 billion in revenue during the fourth quarter, a new company record, and earned $1.96 a share. Analysts surveyed by Thomson Reuters expected the company to generate $51.12 billion in sales and profit of $1.88.
The iPhone continues to be the main driver for Cupertino, Calif.-based Apple, as the company sold 48.05 million iPhones in the fourth quarter, up 22% year over year. During the quarter, Apple also sold 9.88 million iPads and 5.71 million Macs.
Shares were rising in premarket trading Wednesday, gaining 1.3% to $116.
With most investors eyes looking toward the holiday season and especially growth for the iPhone, Apple said it expects to generate revenue during the holiday quarter of between $75.5 billion and $77.5 billion.
On the conference call, Apple CEO Timothy D. Cook said he expects iPhone growth above the prior year's first quarter, in terms of revenue and unit sales.
Cook cited things like the iPhone upgrade program, the number of people switching from Android to iPhone, iPhone momentum in emerging markets and LTE penetration in those markets as catalysts that will help December sales and beyond.
"I do believe we'll grow this quarter as we put in our guidance," Cook said. "That when we start with the number in the low 30s in terms of the percentage of the installed based is upgraded that had some three of the iPhone 6 and 6Plus, that number still likely to leave a lot of headroom beyond December."
Cook also mentioned some of Apple's newer products, including the Apple Watch and the Apple TV, which just became available for pre-order. The CEO noted Watch sales continue to grow sequentially and the Apple TV had a "huge first day" as the company seeks to change how television is watched.
Following the results, analysts were unabashedly bullish on the world's largest company by market cap, with several raising price targets. Here's what they had to say.
Pacific Crest Securities analysts Andy Hargreaves (Overweight, $142 PT)
"Long-Term Value Offsets Remaining Near-Term Risk; Upgrading to Overweight
We recommend buying AAPL. Expectations for the 6s cycle have fallen and we see March as the low point for growth. Longer term, Apple is gaining share and retains extraordinary pricing power, which should support stock appreciation as F2016 progresses. Our $142 price target is based on 7.5x F2016 EV/EBITDA.
FQ4 (Sept.) iPhone sales are in line. Apple sold 48 million iPhones in FQ4, which was in line with both our and the consensus estimates. Higher-than-expected iPhone ASPs offset lower-than-expected Mac and other product revenue and drove total FQ4 revenue to $51.5 billion, slightly above our estimate of $51.3 billion. Slight upside in gross margin helped drive FQ4 EPS to $1.95 versus our estimate of $1.92.
Expectations for the 6s cycle have come in; growth should reaccelerate beyond March. Apple's P/E multiple has compressed approximately 12% since the beginning of July and over 20% YTD, which we believe has largely priced in the likelihood for stagnant growth during the 6s cycle. March remains a risk, but we expect revenue and EPS to accelerate beyond March and see a very strong likelihood for acceleration through the iPhone 7 cycle.
Strong FQ1 (Dec.) guidance prompts higher estimates. We are raising our FQ1 iPhone unit estimate to 75.9 million from 66.9 million, which drives our F2016 EPS estimate to $9.50 from $9.25. We are introducing an F2017 EPS estimate of $10.30 based on 9% estimated unit growth in the iPhone 7 cycle."
RBC Capital Markets analyst Amit Daryanani (Outperform, $150 PT)
"AAPL printed upside to Sept-qtr results and guided Dec-qtr inline with street expectations (though we suspect much better than buyside fears). While we are cognizant the compares remain difficult into the march-qtr we think there are several tailwinds that should benefit AAPL across both revenues and EPS - 1) ~1/3 of the install base has migrated to the 6 product line, 2) Android switch rate at 30% suggests further gains likely, 3) tailwinds in China from LTE expansion and further uptake of AAPL products, 4) ASP's should sustainably ramp higher given memory uptake and 5) gross-margins could see upside given leverage and cycle efficiency (S cycle typically 150bps higher GM)."
Deutsche Bank analyst Sheri Scribner (Hold, $125 PT)
"AAPL's F4Q-15 results had some positives for the bulls and negatives for the bears, but not enough either way to change our view. iPhone numbers were a bit of a disappointment, but guidance implies unit growth in F1Q-16. Gross margins were a bright spot, but reflect accounting changes and GM will be under more pressure as we move through FY-16 as hedges roll off. We continue to believe that current valuations are fair and reflect the uncertainty around AAPL's ability to grow next year. We expect shares to be range bound over the next few quarters given limited catalysts; Maintain Hold"
JMP Securities analyst Alex Gauna (Market Outperform, $165 PT)
"We reiterate our Market Outperform rating and raise our estimates and price target to $165 from $160 on Apple after it reported upside F4Q15 EPS of $1.96 (JMP $1.98, Street $1.88) on better than expected revenue of $51.5B (+4% q/q, +22% y/y, Street $51B) and gross margins of 39.9% (+20bps q/ q, +190bps y/y, Street 39.3%). The stock was flat in aftermarket response to the report, most likely due to marginal upside being offset by the decelerating growth trend and fractional downside guidance for F1Q16 sales of $75.5-$77.5M (midpoint +49% q/q, +3% y/y, Street $76.8M). We are impressed with the result given the current macroeconomic backdrop and strength of the U.S. dollar, and particularly with the 99% y/y growth the company was able to deliver from sales into Greater China, and we continue to recommend buying the stock while it handily outgrows the global pace of economic expansion but remains at an attractive discount to the S&P 500 mean market multiple."
Canaccord Genuity T. Michael Walkley (Buy, $160 PT)
"Apple reported strong Q4/F'15 results above our and consensus estimates driven by strong Mac sales and strong initial iPhone 6S sales. We believe the current iPhone 6 and iPhone 6s should continue to post strong sales and high-end smartphone market share gains, as we believe only 31% of the installed iPhone user base has upgraded to the iPhone 6/ 6S smartphones and Apple continues to take premium tier market share with Android users switching to the iPhone. In fact, during its earnings call, Apple shared that 30% of customer upgrading a smartphone to the iPhone during the quarter were consumers switching from Android. Apple continues to report strong results from China with revenue from greater China growing 99% y/y in the face of significant currency headwinds. We believe these trends should grow the iPhone installed base to over 500M exiting C2015, and this base should drive strong future iPhone replacement sales, earnings, as well as cash flow generation to fund strong long-term capital returns programs that at the end of F2015 have returned $143B of the $200B authorized to shareholders. We reiterate our BUY rating and PT of $160."
Barclays analyst Mark Moskowtiz (Overweight, $155 PT)
"We are increasing our price target to $155 from $150. In our view, the Dec-Q guidance is not kicking the can to the Mar-Q in terms of a potential cut-over to double-digit Y/Y unit declines. In contrast, the hand-off is strong, as iPhone ASPs are sturdy and converts to iPhone appear to be accelerating. Add in the potential lifts from the new upgrade programs and increasing services attach rates potentially driving higher iPhone capacities, and we think there is diminishing risk of a growth problem for iPhone in the near-to-mid term."
S&P Capital IQ analyst Angelo Zino (Buy, $150 PT)
"Our 12-month target price is $150, on P/E of 14X our FY 17 (Sep.) EPS estimate (11.5X ex. net cash), above technology hardware providers. We raise our FY 16 EPS estimate to $9.95 from $9.76 and FY 17's to $10.70 from $10.67. AAPL posts Sep-Q EPS of $1.97 vs. $1.42, beating the $1.87 Capital IQ consensus. Sales rose 22%, on higher iPhone (48M units) and China sales (up 99%). Despite maturing smartphone space, we project new product releases and market share gains supporting growth. We see robust free cash flow (over $60B annually) and positively view switcher rates from Android."