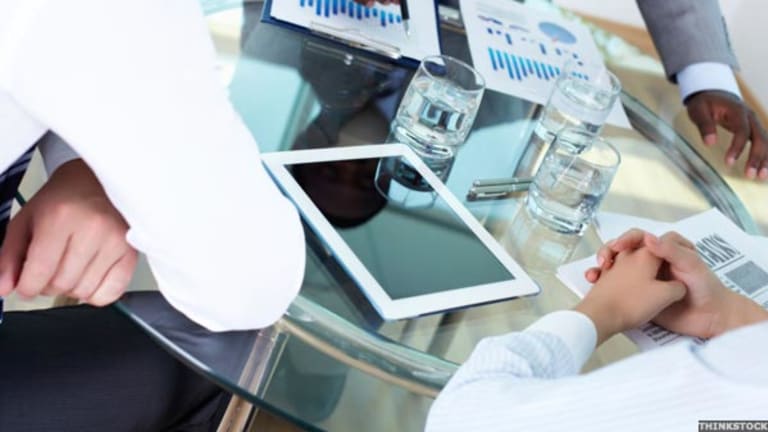 Apple & Samsung: The Other Winners & Losers (Update 1)
The effects of Apple's victory in its patent battle with Samsung extend way beyond the two smartphone and tablet rivals.
Google's response and updated share prices have been added to this story.
NEW YORK (
) -The effects of
Apple's
(AAPL)
victory in its
with
Samsung
extend way beyond the two smartphone and tablet rivals, as evidenced by the sharp
in a number of related tech stocks on Monday.
Clearly, the shockwaves from the Apple/Samsung battle are resonating in Silicon Valley and beyond. Late on Friday, a jury in San Jose, Calif. awarded Apple $1.05 billion in the high-profile case, ruling that Samsung had
six of Apple's patents.
While Apple
in its courtroom triumph, however, Samsung has described the ruling as "a loss for the American consumer."
Here's a list of the big winners and losers in the case.
Winners
Apple, obviously, has gained the most from the court's ruling, bolstering its standing in the increasingly aggressive world of tech patents. "We believe this is a huge victory for Apple," noted Peter Misek, an analyst at Jefferies, in a note released on Monday. "This is positive for Apple, but would expect a settlement following an unsuccessful appeal by Samsung."
Apple will undoubtedly see the verdict as slowing Samsung's phenomenal rise in the smartphone market. During the second quarter, Samsung's global smartphone market share was 32.6%, up from 17% in the prior year's quarter, according to tech research firm
IDC
. Apple, the no. 2 smartphone player, had 16.9% of the market, down from 18.8% in the prior year's quarter, although actual units shipped increased 27.5% year over year.
Samsung's unit shipments, however, climbed a massive 172.8% year-over-year.
Brian White, an analyst at Topeka Capital Markets, said the case boosts Apple's reputation for stretching the technology envelope.
"We believe this verdict enhances the Apple brand as 'the innovator' in the smartphone and tablet markets at the expense of Samsung electronics that some will now view as the 'imitator', while also providing a strong disincentive for future 'copying' of Apple products," said White.
The result bodes particularly well ahead of Apple's rumored launch of its next-generation products, according to Michael Walkley, an analyst at Canaccord Genuity.
"Apple has an even stronger competitive market position ahead of its iPhone 5 and other anticipated product launches," he wrote, in a note. "We believe Apple is well positioned for very strong fiscal 2013 sales and earnings growth driven by new product introductions, including the recent refresh of the MacBook Air and Pro series, an LTE iPhone 5, iPad Mini, and potentially Apple TV in fiscal 2013."
Set against this backdrop, Apple shares closed up 1.85% at $675.48 on Monday.
It's not just Apple, though, that stands to gain from the court's decision.
"We see the verdict as positive for
Qualcomm
(QCOM)
should U.S. carriers promote non-Samsung devices," noted Romit Shah, an analyst at Nomura Equity Research. "The company has 50-55% baseband market share overall, but only 10-15% share in Samsung smartphones."
Qualcomm closed down 0.1% at $62.37 on Monday.
The wireless chip maker's baseband technology, which is found in Apple's iPhone, essentially functions like an
for smartphones.
Shah also sees the latest development in the Apple/Samsung fight as a plus for another chip maker,
Nvidia
(NVDA)
. "We believe Nvidia could benefit from the launch of upcoming
HTC
One mobile device at
T-Mobile
," he wrote. "Considering the likely injunction of the Galaxy S 4G and Vibrant, we would expect T-Mobile to promote HTC devices more aggressively."
There have recently been
that T-Mobile will launch an HTC One X+ smartphone. HTC unveiled its original One X, its first with Nvidia, at the Mobile World Congress event earlier this year. The One X is powered by the chip specialist's Tegra 3 mobile processor.
Nvidia shares ended the day down 1.71% at $14.35.
An HTC spokeswoman said the company does not comment on rumors and speculation. T-Mobile also declined to comment.
Losers
Samsung, obviously, is left licking its wounds, with speculation mounting about the long-term impact of the jury's decision. Canaccord Genuity's Walkley notes that a hearing has been set for Sept. 20 to consider a ban on U.S. sales of Samsung devices, which includes a number of smartphones.
"While a ban would likely increase Apple's leading smartphone share in the U.S. market, we believe this verdict could lead to Samsung also delaying near-term product launches as it attempts to design around Apple's patents," he wrote. "We also believe other Android OEMs (Original Equipment Manufacturers) such as HTC,
Sony
undefined
and
LG
, will review this patent verdict and potentially alter and delay planned Android smartphones and tablets."
Neither Sony nor LG, has yet responded to
TheStreet's
request for comment on this story. Sony shares slipped 0.6% to close at $11.64 on Monday.
"We believe the Apple-Samsung patent verdict out Friday night after the close is a negative for the Android ecosystem as it likely puts more pressure on Android OEMs to clearly differentiate devices and it suggests the courts may be willing to tightly enforce software and design patents in the future," added J.P. Morgan's Doug Anmuth.
Samsung, for its part, struck a defiant tone following the court's verdict, vowing to continue its patent struggles with Apple. "This is not the final word in this case or in battles being waged in courts and tribunals around the world, some of which have already rejected many of Apple's claims," explained a spokeswoman, in an email to
TheStreet
. "Samsung will continue to innovate and offer choices for the consumer."
Friday's result, of course, could also have major implications for
Google
(GOOG)
, the creator of the Android operating system that's widely used on Samsung devices.
Charlie Wolf, an analyst at Needham & Co., noted that three of Apple's iPhone and iPad software patents were deemed valid.
"The bad news for Android licensees is that the three patents represent but a handful of the patents in Apple's arsenal," he wrote. "We anticipate Apple will assert many of these reportedly even more powerful patents in future cases against Android licensees."
"Google will be forced
to design workarounds of the violated software patents, which was the intent of Apple's lawsuit, not the monetary award," he added. "These workarounds are likely to materially degrade the Android user experience relative to the user experience on Apple's iOS operating system."
Google, however, shrugged off talk of negative impact on Android. "Most of these patent claims don't relate to the core Android operating system," explained a spokesman, in an email to
TheStreet
. "The mobile industry is moving fast and all players - including newcomers - are building upon ideas that have been around for decades. We will continue working with our partners to give consumers innovative and affordable products."
Shares of Google closed down 1.39% at $669.22 on Monday.
--
Written by James Rogers in New York.
>To submit a news tip, send an email to:
.
Check out our new tech blog,
Tech Trends
. Follow TheStreet Tech