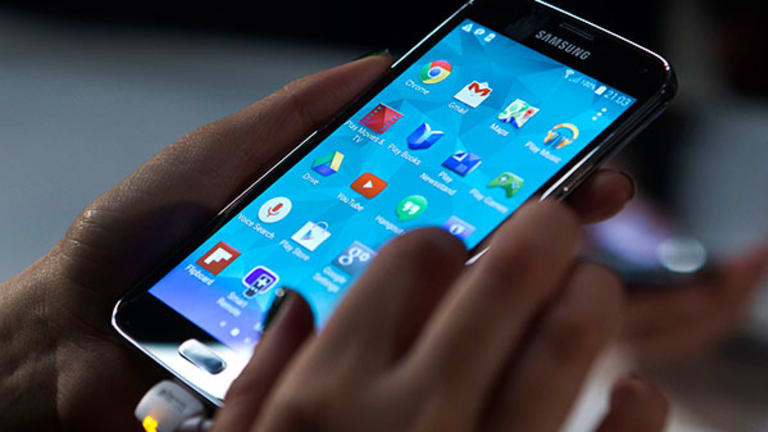 Apple, Samsung Smartphone Sales Slip On Increased Chinese Competition
Latest research shows global smartphone sales grew in the second quarter but not for industry leader Samsung.
NEW YORK (TheStreet) -- According to a new research report from IDC, the past three months were great for global smartphone sales, but Samsung and Apple (AAPL) - Get Apple Inc. Report  lost market share Chinese smartphone manufacturers, including Huawei and Lenovo.
Samsung shipments plunged to 74.3 million phones one year ago down from 77.3 million units in the second quarter, retaining only 2.52% of the market, down from 32.3% in the year ago quarter. Samsung's product portfolio, which includes the S5, S4, and S3 didn't help the South Korean-based company. "Samsung lost 7% market share compared to a year ago, despite having one of the largest smartphone portfolios of all OEMs," IDC said in the press release.
Samsung has yet to respond to a request for comment on the survey.
Seoul-based Samsung was not alone when it comes to losing market share, as Apple saw its share dip to 11.9% from 13% in the same time frame, despite iPhone shipments rising to 35.1 million units from 31.2 million in the calendar second quarter. IDC notes "Apple's second quarter is always its seasonal low of the year, but even more so this time in advance of the iPhone 6, with consumers holding their collective breath for the long-awaited bigger screens."
IDC's Worldwide Mobile Phone Tracker for the second quarter of 2014 shows the worldwide smartphone market grew more than 23% year over year with record shipments of 295.3 million units. That's a rise of 2.6% over the first quarter. IDC predicts shipments to reach the 300+ million units in the third quarter with the upward trend continuing for the rest of the year.
The big winners were Huawei and Lenovo. Huawei jumped into third-place overall by nearly doubling its market share to 6.9% from 4.3% - - a gain of 95.5% year over year. Shipment volume also came close to doubling, coming in at 20.3 million units from 10.4 million. IDC cited Huawei's success on providing upgraded 4G/LTE devices in its home market as well as low-cost models to markets outside of China for its strong showing. 
Lenovo, known primarily in the U.S. for its desktops, laptops and tablets saw both shipments and market share rise. Shipments jumped to 15.8 million from 11.4 million, with a corresponding market share jump to 5.4% from 4.7%.
IDC Program Director Ryan Reith believes small manufacturers will continue to be a market force in the future. "Right now we have more than a dozen vendors that are capable of landing in the top 5 next quarter," Reith said in the press release. "A handful of these companies are currently operating in a single country, but no one should mistake that for complacency."
Korea's LG also registered a higher number of phones moved - from 12.1 to 14.5 million - which translates to a slight global share drop from 5.0% to 4.9%. IDC says LG's numbers should improve: "With the G3 launched at the end of the quarter in Korea, greater volumes are expected to show up in the third quarter.
Samsung may see a bounce back when it is expected to release a number of new phones later this year. The company is rumored to announcing an upgraded Galaxy Note 4 phablet with a possible semi-flexible screen as well as a number of less expensive smartphone models targeting emerging markets, according to IDC.
Gary Krakow is TheStreet's Senior Technology Correspondent.