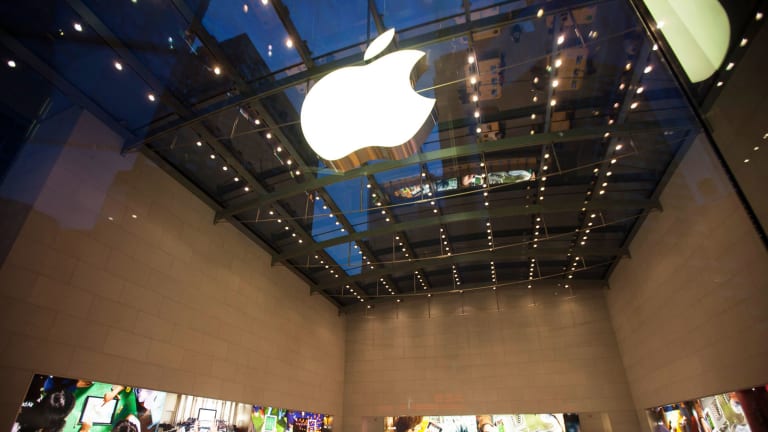 Apple, Samsung Among Smartphone Makers That May See Stress as China Contracts
Apple and Samsung are among smartphone makers dealing with new issues as China's smartphone market declines for the first time in six years.
Apple and Samsung are among smartphone makers dealing with new issues as China's smartphone market declines for the first time in six years.
NEW YORK (TheStreet) -- Some of the world's biggest makers of mobile phones, including Apple (AAPL) - Get Report and Samsung (SSNLF) , may be on the edge of seeing their business in China begin to slow down. A new industry report says the country's smartphone market is showing signs of contracting for the first time in years.
The report, from tech industry researcher IDC, said during the first quarter of this year, smartphone shipments in China fell by 4.3% from a year ago, to 98.8 million phones. The data is seen as concerning, as China surpassed the United States as the world's top smartphone market in 2011. IDC attributed the decline to the Chinese smartphone market reaching a saturation point, as sales fell on a year-over-year basis for the first time in six years.
For industry giants like Apple and Samsung, the IDC report portends the possibility of disruption in one of their biggest business markets.
Kitty Fok, an analyst with IDC, said that smartphone makers need to look at China as a mature market, on par with the U.S., United Kingdom, Australia and Japan, instead of an emerging market, where they can just put out any phones and expect immediate high sales in return.
"China is oftentimes thought of as an emerging market but the reality is that the vast majority of phones sold in China today are smartphones," Fok said.
According to IDC, Apple shipped 14.5 million phones in China during the first quarter, to give it 14.7% of the country's market share, up from 8.7% a year ago. Apple shipments rose 62% from the first quarter of 2014.
When Apple reported its fiscal second-quarter results in late April, the company said revenue from China reached $16.8 billion, a 71% increase from a year ago, which pushed China past Europe to become Apple's second-largest geographic region in terms of sales, behind only the U.S.
Apple hasn't minced any words when it comes to the importance of China on its overall growth efforts.
"I've never seen as many people coming into the middle class as they are in China," Apple CEO Tim Cook said last month, following the earnings release. "And that's where the bulk of our sales are going."
While Apple took the top spot among Chinese smartphone vendors, second place was held by Xiaomi, with 13.5 million shipments and a 13.7% market share. Huawei came in third, shipping 11.2 million units and 11.4% of the market, and Samsung took fourth place with 9.6 million units shipped, good enough for a 9.7% market share. Lenovo rounded out IDC's top five vendors with shipments of 8.2 million units and 8.3% of the Chinese market.
Samsung showed the biggest decline among the leading smartphone makers in China: Its shipments fell by 53% from a year ago, when the company shipped 20.5 million units and held the top spot among the country's smartphone sellers.
At least part of Samsung's decline could be blamed on rapid demand for Apple's new iPhone 6 and iPhone 6 Plus smartphones, which went on sale in China last October. Samsung is banking on the April release of its new Galaxy S6 and Galaxy S6 Edge phone in China to spur renewed interest in its products among Chinese consumers.
Revenue growth won't be easy for any of the leading vendors going forward, as IDC said most of the gains in China's market will come from phones that cost $150 or less as consumers switch to lower-cost smartphones that still offer features of more-expensive models.
"Convincing existing users as well as feature phone users to upgrade to new smartphones will now be the key to further growth in the China market," Fok said.
This article is commentary by an independent contributor. At the time of publication, the author held no positions in the stocks mentioned.