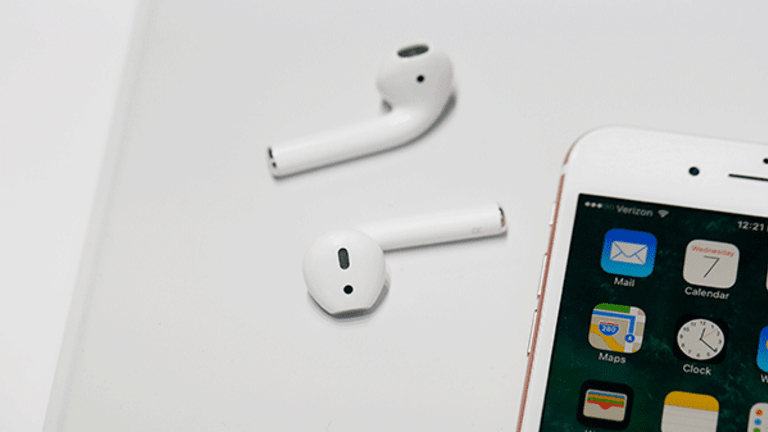 Apple's Solution for Lost AirPods -- Tech Roundup
Apple's "Find My Phone" app will have a new feature to help customers find lost AirPods.
Of course, with Apple (AAPL) - Get Free Report deciding it no longer needed to include headphone jacks on its iPhone devices, it only made sense that the tech giant also introduced wireless earbuds for its customers too. 
Known as AirPods, the devices certainly aren't cheap, coming in at $159 a pair. The case recharges them and it allows customers to not only eliminate the headphone jack, but also get rid of that pesky cord. 
Undoubtedly though, keeping track of wired headphones can be difficult, let alone trying to locate a singular, unwired earbud. The cost to replace one that you left at the gym or dropped at the mall (or had fall between the couch cushion and was never found) isn't cheap either, at $69. 
However, Apple appears to have a fix on the way. Or at least a solution that will make life for an AirPod user a little easier (and less expensive). 
When the company issues its next software update, it will include a new feature that allows customers to use the "Find my iPhone" app to locate their lost AirPod. If in range of Bluetooth, the app will show you where to look. The device can also have the earbud play a sound in order to locate that way as well. 
Shares of Apple closed at $121.85 Wednesday, up 1.6%. 
Who says tech isn't making a big enough stand to fake news? 'Alphabet (GOOGL) - Get Free Report has apparently "kicked 200 publishers off one of its ad networks in the fourth quarter, partly in response to the proliferation of fake news sites," according to ReCode. 
The company has removed a number of publishers from its Google AdSense network. Due to the strong wave of fake news that has recently been plaguing social media companies and other sites on the Internet, Google had to update its  policy to prohibit publishers that "mislead users with their content." 
One big issue? Many publishers were acting like standard news stations, only to instead be issuing fake news. Of course, the political action leading up to the election, as well as the political news that followed, helped to spur more and more fake stories. 
On a non-related note, Google also published its annual report about ad violations. Last year, the company took down a whopping 1.7 billion ads, compared to "just" 780 million last year. The company said improved ad-detection technology and advertiser behavior drove the increase in ad removals. 
Shares of Alphabet closed at $858.45 Wednesday, up 1%.
Alphabet and Apple are holdings in Jim Cramer's Action Alerts PLUS Charitable Trust Portfolio. Want to be alerted before Cramer buys or sells GOOGL and AAPL? Learn more now.

Although the stock is up about 7% so far this week and a whopping 50% over the past 12 months, Yahoo! (YHOO) has not had an easy ride. 
After rallying higher in 2014 thanks to the IPO of Alibaba (BABA) - Get Free Report , the stock lost about 40% of its value in 2015. Then, the company went through a rather lengthy auctioning process, where for $4.83 billion Verizon (VZ) - Get Free Report  agreed to buy its core business. 
But...
Then the company announced two incredibly large hacking incidents that impacted more than 1 billion accounts. An SEC probe suggested the company may have tried to cover up the hackings, which took place in 2013 and 2014. 
Given the news, it should not be all that surprising that Yahoo, CEO Marissa Mayer and CFO Kennth Goldman are being sued. The man suing the company and executives says he and other shareholders were deceived.
While a lawsuit in this case is not that surprising, it is perhaps a bit interesting that it's from a shareholder. After all, Yahoo! hit a new 52-week high in Wednesday's session at $45, it's highest price in almost two years. 
Shares of Yahoo! closed at $44.94 Wednesday, up 2.4%. 
This article is commentary by an independent contributor. At the time of publication, the author held no positions in the stocks mentioned.