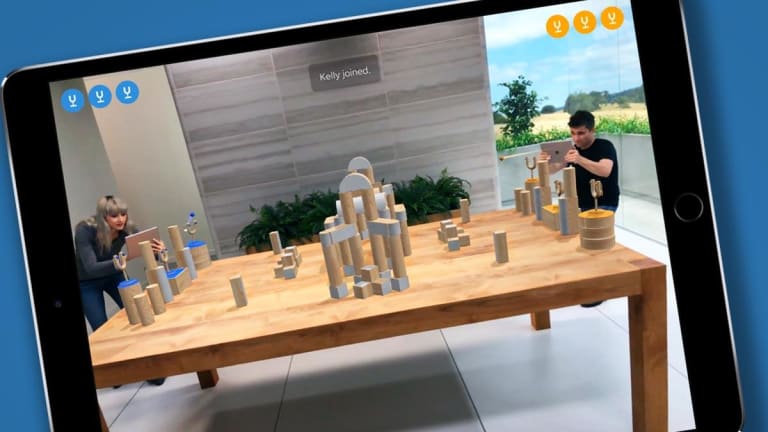 Apple's Road to $2 Trillion Will Be Paved With AR, Apple Cars: Analyst
Augmented reality and Apple Cars are the keys to Apple's $2 trillion frontier, according to one analyst. It may not be as far-fetched as it sounds.
Soon after passing $1 trillion in market capitalization, some Apple investors are already looking ahead to $2 trillion.
According to one Apple (AAPL) analyst, Ming-Chi Kuo of Hong Kong-based TF International Securities, it won't be the iPhone, iWatch or even stock buybacks that will push Apple in that direction.
It will be -- wait for it -- augmented reality and cars, Kuo predicted in a note to clients this week, writing that "Services, AR, and Apple Car will create Apple's next trillion-dollar market cap."
Apple's services segment -- which is its umbrella category for software-based products like iTunes, the App Store, Apple Pay, iCloud and Apple Care, among others -- is often cited as a key to Apple's future growth as iPhone unit sales decelerate. With an estimated margin of 50%, services are more profitable than Apple's core iPhone business, and Apple reported that revenue from the segment grew 31% year over year in the June quarter.
AR is still in its early days for Apple, but if the content of Apple's WWDC conference in June was any indication, Apple executives see it as the next breakthrough technology. At the developer's conference, Apple's VP of software engineering Craig Federighi described AR as a "transformative technology" that will someday be accessible across all of Apple's devices. And it's working on some back-end tools to move that vision forward, such as a new file format, USDZ, that's intended to make rendering smoother for AR developers. It also rolled out a new AR development kit, called ARKit 2.
"We believe AR can enable profound experiences and Apple is uniquely positioned to provide the best AR experience because of the seamless integration of our hardware and software," said CEO Tim Cook in Apple's July earnings report, citing what he called the technology's "limitless potential."
But for anyone searching for an AR 'killer app', what Apple showcased at WWDC probably isn't it: Federighi showed off a couple of tricks including a ruler tool, and the company also showed off a demo of a multiplayer slingshot game called Swift Shot built using its AR kit.
In the note, Kuo argued that "AR is the next-generation revolutionary UI; we therefore think that AR does not need any killer applications given it is a killer application already." Its primary vehicle won't be the phone, he predicted; instead, Apple will launch an AR glasses product in 2020.
Ring a bell? Google Glass, launched by Google (GOOGL) in 2013, became a laughingstock after it failed to catch on with either consumers or developers. Snap's (SNAP) Spectacles rollout was also widely considered a failure -- signaling that consumers just aren't ready to wear computers or cameras on their face. And though analysts like BIS Research estimated the augmented reality market at $3.48 billion in 2017 driven by certain industry use cases, the technology has barely hit the wider market: For example, Magic Leap just made its Magic Leap One headset available for order last week at a whopping $2,295.
Kuo's Apple Car prediction was even more intriguing, given rumors of the project's demise.
Apple had once sought to build its own self-driving cars -- an effort dubbed Project Titan internally -- but has since recalibrated those ambitions. Though Apple hasn't discussed its car plans, a recent partnership with Volkswagen reportedly involves Apple adding software, sensors and other computing accoutrements to Volkswagen T6 passenger vans, to be used as shuttles on Apple's corporate campus.
And a couple of recent moves suggest that Apple's car efforts are far from dead. Apple confirmed last week that Doug Field, a former engineering lead at Tesla, is rejoining Apple after departing Tesla (TSLA) a few weeks ago. (Field previously worked at Apple in hardware engineering and product design for five years, according to his LinkedIn profile.) Apple also poached a top systems engineer, Jaime Waydo, from Alphabet's autonomous car division, Waymo.
Recent patent filings by Apple suggest that its ambitions in AR and in vehicles may be intertwined, with the company filing a patent last week related to augmented-reality experiences through a vehicle's windshield, and another last month described as "personal comfort profiles"in autonomous vehicles.
On Thursday morning, Apple's valuation stood at $1.03 trillion.