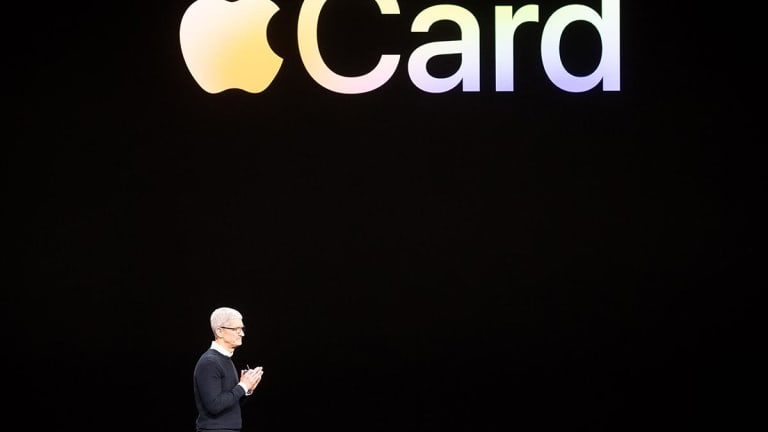 Apple's New Content Services and Credit Card: 6 Key Takeaways
The tech giant has lined up a lot of quality content for its new video, magazine and gaming services. And it's not restricting its video offerings to Apple devices.
Though a lot was known about Apple's (AAPL) - Get Apple Inc. Report services event before it started, the company did manage to pack a few surprises. 
During a Monday event held at the Steve Jobs Theater in Cupertino, CA, Apple unveiled a news and magazine subscription service called News+, a game-subscription service called Arcade and a video subscription service called TV+. News+ is launching immediately, while Arcade and TV+ are launching this fall.
The company also showed off a revamped Apple TV app that will launch in May and support both TV+ and (through a service called Apple TV Channels) third-party video subscription services, as well as the Apple Card, an Apple-branded credit card that launches this summer in the U.S. and integrates with Apple Pay and the Wallet app.
The new offerings aim to strengthen a Services reporting segment that's now on a $40 billion-plus annual revenue run rate, and which was disclosed in January to have a gross margin above 60%. In various ways, they also aim to keep Apple customers loyal to its broader hardware, software and services ecosystem. From a financial perspective, they stand to benefit from the negotiating leverage that Apple's giant installed base provides it with when dealing with content providers and others.
Apple's shares, which were up 21% on the year going into this week, fell 1.2% on Monday but were up 1.4% to $191.43 in pre-market trading on Tuesday. Here are some key takeaways from the services event.
1. Apple Put a Lot of Effort into Lining Up Good Content
Apple News+, which is launching today, supports over 300 magazines, including well-known names such as Sports Illustrated, National Geographic, People, ESPN, Time, Rolling Stone and Car and Driver. It also features some content from The Wall Street Journal, the LA Times and the Toronto Star, along with premium content from a handful of online publications.
Apple Arcade will provide access to 100-plus paid games (there will be no ads or in-game purchases) from dozens of developers, including Sega, Konami and Disney (DIS) - Get The Walt Disney Company Report ; the titles are promised to be available on no other mobile platform or subscription service. The new Apple TV app will let users subscribe to video services from the likes of HBO, Starz, Showtime and Epix, and access them using a common login. The app also provides access to content from Amazon.com's (AMZN) - Get Amazon.com Inc. Report Prime Video and a number of pay-TV services.
And as indicated by previous reports and announcements, Apple has lined up a decent amount of A-list talent for TV+. Notable names include Steven Spielberg, Oprah, J.J. Abrams, Reese Witherspoon and M. Night Shyamalan.
Apple, Amazon.com and Disney are holdings in Jim Cramer's Action Alerts PLUS member club. Want to be alerted before Jim Cramer buys or sells AAPL, AMZN or DIS? Learn more now.
2. Pricing Details Are Limited (And There Might Be a Reason for it)
Apple announced that News+ will (as expected) cost $9.99 per month in the U.S. (the company will reportedly take 50% of the revenue, and share the other half with publishers). However, Apple didn't share pricing info for TV+ and Arcade, nor did it (amid reports that the company is negotiating the right to make such offers) announce any discounts or bundles for Apple TV Channels, for which it's reportedly getting a 30% revenue cut.
Given that TV+ and Arcade are launching in the fall, one possible reason for not sharing pricing for the time being is that Apple might (as some have called for the company to do) plan to launch bundles featuring services and hardware upgrades later this year -- the company's September iPhone event would be a logical time to do it -- and doesn't want consumers focusing on standalone pricing before those bundles are revealed.
3. The Apple Card Has Some Unique Features
Via Apple Pay, consumers can begin using the Apple Card the day that they're approved for one. The Card leverages Mastercard's (MA) - Get Mastercard Incorporated Report payment network and immediately provides 2% cash back on purchases made using Apple Pay, 1% back on purchases made using a physical card, and 3% back on purchases made directly from Apple.
Apple uses machine learning to translate hard-to-decipher transaction records into something easier to understand, lets users quickly calculate how long it would take to pay off a bill based on different rates of payment and lets them track and manage their Card activity through the Wallet app. And there are no late fees, annual fees or international fees.
The branded credit card space is pretty competitive -- retailers such as Amazon, Walmart (WMT) - Get Walmart Inc. Report and Costco (COST) - Get Costco Wholesale Corporation Report have popular offerings, as do major airlines and others. But between its attempts to differentiate Apple Card and its ability to promote the Card to its large iPhone installed base in the U.S. (and perhaps in time, elsewhere), the Card is likely to see some success.
4. Apple Wants its New Video Services on as Many Devices as Possible
In January, Apple raised eyebrows by announcing consumers will be able to access iTunes content on Samsung smart TVs through a new app, and that Apple hardware owners will be able to stream content to smart TVs from LG, Sony and Vizio via the company's AirPlay 2 protocol. There have also been reports that Roku  (ROKU) - Get Roku Inc. Report devices will be getting AirPlay 2 support.
On Monday, Apple took things a step farther by announcing that the new TV app will be available not only on Apple's hardware, but also on smart TVs and Roku and Amazon's streaming platforms.
As is the case with Apple Music, which can be accessed through an Android app and Amazon's Echo smart speakers, Apple has concluded that it's better off having its video services support rival platforms, in order to put them on better footing against rival services that support a variety of platforms as well as provide it with more chances to drive subscription sign-ups.
5. Other New Services Will Be Restricted to Apple Hardware
Apple News+ will only be accessible through the Apple News app, which in turn is only available on iOS and macOS devices. Arcade will only support games running on iPhones, iPads, Macs and Apple TV set-tops. And since iPhones are the only smartphones that Apple Pay and the Wallet app runs on, the addressable market for the Apple Card is largely restricted to iPhone owners.
6. A Few Interesting Stats Were Shared
Tim Cook disclosed that Apple Pay is on track to handle more than 10 billion transactions in 2019, that 70% of U.S. merchants now accept it and that 80% or more accept it in countries such as the U.K., Russia and Australia. He added Apple Pay is expected to be available in more than 40 countries by year's end.
Also disclosed by Apple: More than 500 million people now visit the App Store each week, and more than 1 billion people have downloaded a game through the App Store.
The disclosures come a couple months after Apple announced it saw over 1.8 billion Apple Pay transactions during its December quarter, and that the total number of paid subscriptions that Apple either directly provides or takes a cut on rose by 30 million sequentially to over 360 million. The company also forecast its paid subscription count will top 500 million next year.
TheStreet's Eric Jhonsa, Annie Gaus and Nelson Wang previously covered Apple's services event through a
.