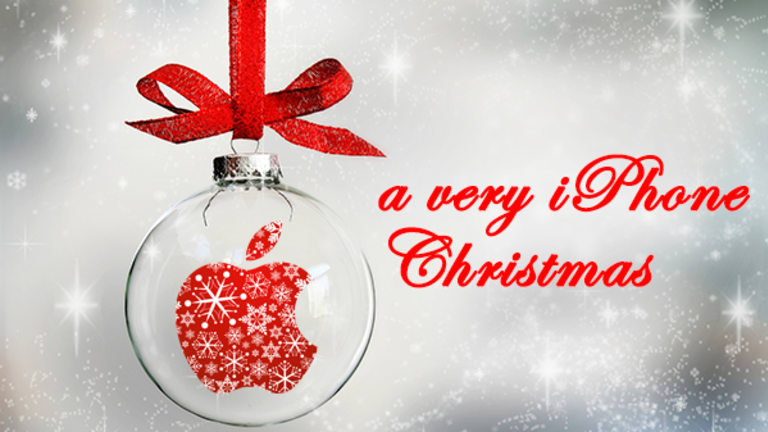 Publish date:
Apple's Hoping for a Very iPhone Christmas -- What Wall Street's Saying
Apple keeps setting record after record, selling more iPhones than is sometimes fathomable. For investors, however, more is always better, with all eyes turning toward the holiday season.
Apple keeps setting record after record, selling more iPhones than is sometimes fathomable. For investors, however, more is always better, with all eyes turning toward the holiday season.
Updated from Oct. 26 to include comments from S&P Capital IQ analyst.
Apple (AAPL) - Get Report continues to set record after record, selling more iPhones than is sometimes fathomable. For investors, however, more is always better, with all eyes turning toward the holiday season.
Investors likely will overlook Apple's fourth-quarter results, due after the close of trading on Tuesday, as they begin to see ahead to Apple's fiscal first quarter, which includes the holiday shopping season.
The iPhone 6 and 6 Plus helped drive Apple's iPhone-heavy results into overdrive in the December 2014 quarter, as the company sold 74.5 million iPhones, a record. Apple has been so confident that the iPhone 6s and 6s Plus will continue to excite its legions of loyal customers, it's reportedly ordered between 85 million and 90 million units for the holiday season, according to a report in The Wall Street Journal.
Even though the iPhone is the driver for the company, generating approximately two-thirds of revenue, investors will be looking for details on the company's other initiatives.
CEO Timothy D. Cook recently said more than 6 million people were paying for Apple Music, the company's streaming music service. Investors will be keen to get any clues on how the Apple Watch is doing, though Apple has said publicly it will not release any sales results to keep them from the prying eyes of its competition.
Investors will also be looking for any updates on how consumers are reacting toward the new Apple TV, which Apple has positioned as being part of the future of television as apps become more prevalent than channels.
When Apple reported third-quarter earnings in July, it forecast it would generate between $49 billion and $51 billion in fiscal fourth-quarter sales. It said it expected margins between 38.5% and 39.5%, and operating expenses between $5.85 billion and $5.95 billion, with a 26.3% tax rate. Analysts surveyed by
Thomson Reuters
expect Apple to earn $1.88 a share on $51.12 billion in revenue for the fiscal fourth quarter.
Here's what analysts are saying ahead of the results:
Drexel Hamilton analyst Brian White (Buy, $200 price target)
"Given the strength in the Apple supply chain during our recent China-Taiwan Tech Tour and the strong performance from our Apple Monitor in the September quarter, we believe Apple will beat our 4Q:FY15 revenue estimate of $52.4 billion (Street is at $51.1 billion) and exceed our EPS projection of $1.88 (Street is at $1.88). Recall, Apple's 4Q:FY15 outlook called for revenue of $49 billion to $51 billion with implied EPS of $1.80 at the mid-point of this revenue range."
Goldman Sachs analyst Simona Jankowski (Buy, $163 PT)
"We believe Apple's December quarter guidance could serve as a catalyst for the stock and drive upward revisions of FY16 iPhone Street expectations. Consensus expectations for the iPhone 6s product cycle are low, with the Street modeling flat iPhone revenues in FY16 after 51% growth in FY15.
"In contrast, we model 6% iPhone revenue growth (+7% units and -1% ASPs) in FY16, as our replacement cycle model shows that units can grow just on the strength of upgrades in the installed base, even with declining gross adds. We model the current iPhone installed base at 457mn, up 32% yoy, and we find a 90%+ correlation between growth in the installed base and growth in upgrades with a one year lag. We also see flattish ASPs, as the mix shift to higher-capacity SKUs (to hold live photos) and higher-priced older models (the iPhone 6/6s vs. the iPhone 5c/s) offsets FX headwinds."
Canaccord Genuity analyst T. Michael Walkley (Buy, $160 price target)
"Based on our survey work and analysis, we believe Apple is maintaining strong share of the premium tier smartphone market. While we believe the iPhone 6S products should enable Apple to continue to post strong sales and highend smartphone market share gains, we anticipate the rate of share gains will slow given our survey work indicates ongoing slower growth trends for the global smartphone market.
"We believe the new Apple installment plan programs combined with similar to more aggressively priced installment programs from leading carriers will improve the rate of iPhone upgrade sales to the growing installed base of iPhone users. In fact, with only 27% of the iPhone installed base having upgraded to the iPhone 6/6 Plus devices by the end of Q3/F'15, we anticipate continued strong replacement sales through C2016 and beyond. Further, we anticipate continued high-end smartphone market share gains for the larger screen iPhone 6 devices as our surveys indicate a greater mix of Android smartphone consumers are switching to the iPhone 6 smartphones than during iPhone 5 series launches, but we anticipate the rate of market share gains to slow versus the strong iPhone 6 share gains.
"We believe these trends should grow the iPhone installed base to over 500M exiting C2015, and this base should drive strong future iPhone replacement sales, earnings, as well as cash flow generation to fund strong long-term capital returns programs. We reiterate our BUY rating and $160 price target."
Sterne Agee analyst Rob Cihra (Buy, $150 price target)
"With an installed base starved for larger screens, iPhone 6 drove a massive upgrade cycle that reaccelerated units +36%Y/Y over the past 4 qtrs, which we readily admit is unsustainable and makes for tough comps. But we nevertheless continue to estimate iPhones +3%Y/Y to 77mil in the Dec-qtr and +5%Y/Y in FY16E vs. investor fears of outright declines. Bottom line, we model >50% of the iPhone's nearly 500mil installed base will not yet have upgraded to >4" screens exiting CY15, leaving runway to go, as we believe the move to larger screen-size represents a structural 2-3yr upgrade cycle, unlikely to roll negative less than halfway done."
BGC Partners analyst Colin Gillis (Hold, $115 price target)
"Shares of Apple have been stuck in a range since reaching a 52-week of $134.54 on April 28, 2015. Shares are back to the level of early December 2014 as investors are concerned about iPhone unit growth slowing. We broadly view that the reason Apple trades at an earnings valuation that is a sharp discount the broader S&P 500 (18.2x earnings for the S&P 500 index versus 13.3x for AAPL) is the dependency on iPhone hardware unit sales, which ultimately is both a consumer technology and brand fashion choice.
"We see two opposing market dynamics happening, which is that while the broader smartphone market is slowing, Apple is increasing its share of the high end. The industry dynamic of subsidized smartphone purchases by carriers is also breaking down, with Verizon indicating on its most recent earnings call that 58% of new phone activations were done on an installment plan, with the expectation that 7 in 10 customers purchase smartphone on an installment plan in the December quarter. While we are positive on Apple's attempts to build their own leasing program, and accelerate the upgrade cycle to an annual basis, we suspect that ultimately the smartphone upgrade cycle is going to lengthen.
"Apple reports Tuesday October 27 postmarket, the end of its fiscal year. We look forward to see a stronger recurring revenue stream with a monthly component coming from streaming music and movie, payments and advertising. The company is positioning for these markets, and it remains to be seen if Apple can build up a robust service layer to replace revenue if the smartphone product cycle elongates."
S&P Capital analyst Angelo Zino (Strong Buy, $150 price target)
"Our 12-month target price is $150, on P/E of 15.4X our FY 16 EPS estimate (12.7X ex. net cash), near the S&P 500 Technology sector. We up our FY 16 (Sep.) EPS estimate to $9.76 from $9.69 and adjust FY 17's to $10.67 from $10.94. AAPL is set to report Sep-Q results after 10/27 close and we see sales/EPS of $50.9M/$1.87. We see iPhone units of 47M/76M in the Sep-Q/Dec-Q and expect AAPL to benefit from new leasing plans/share gain. We think margins stay elevated, aided by favorable selling prices. We see momentum for the Apple Watch this holiday season and iPad sales stabilizing."