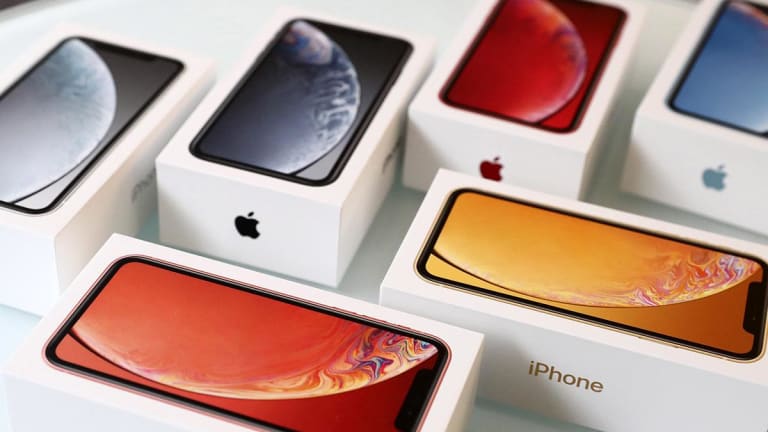 Apple's Disclosure Plans Make More Sense After Looking at Industry Stats
As the smartphone and tablet markets contend with declining sales, Apple seems eager to signal that its growth strategy is no longer tied to unit shipments.
The latest sales estimates for the smartphone and tablet markets provide some context for Apple's (AAPL) - Get Free Report surprising decision to stop breaking out iPhone, iPad and Mac unit sales data going forward.
Following the release of Apple's September quarter report on Thursday afternoon, research firm IDC estimated global smartphone shipments fell 6% annually in Q3 to 355.2 million units. That's worse than Q2's estimated 1.8% decline, and is blamed in part on soft Chinese smartphone demand.
IDC has also released Q3 tablet estimates following Apple's report: The firm thinks global tablet shipments dropped 8.6% to 36.4 million units. That's better than the 13.5% drop estimated for Q2, but clearly nothing to write home about.
The PC market is faring relatively better right now. A few weeks ago, IDC estimated PC shipments fell a modest 0.9% last quarter to 67.4 million units. Peer Gartner, whose definition of what qualifies as a PC is slightly different, estimated shipments rose fractionally to 67.2 million. Intel (INTC) - Get Free Report , for its part, believes the PC market is seeing slight growth.
IDC's smartphone and tablet estimates, it should be noted, imply that Apple gained unit share in both markets last quarter even though its iPhone units were nearly flat annually at 46.9 million, and its iPad units fell 6% to 9.7 million. With the qualifier that its revenue share in both markets is a lot higher, IDC respectively assigns Apple smartphone and tablet unit shares of 13.2% and 26.6%, up from 12.4% and 25.9% a year ago.

IDC believes Apple gained smartphone unit share in Q3, in spite of minimal shipment growth.
Regardless of whether Apple is gaining or losing a bit of unit share in a particular quarter, IDC's shipment estimates show why it makes little sense for a high-end player as large and established as Apple to pursue a revenue and profit growth strategy that revolves around smartphone, tablet and for that matter PC unit growth.
And if Apple -- as signaled both by its recent earnings reports and its recent product launches -- is pursuing a revenue and profit growth strategy in which increasing smartphone, tablet and PC unit sales at best plays a secondary role, then it might follow that the company would want investors to pay less attention to its quarterly unit figures.
Apple's plans to stop sharing iPhone, iPad and Mac unit figures -- but not, from the looks of things, revenue figures -- has fueled speculation that the company is changing its disclosure practices because it expects iPhone units to drop in future quarters. While I won't presume to know whether or not Apple execs were thinking along such lines when they made their decision, it's worth keeping in mind that Apple has reported iPad unit pressures for a while, and at times has also reported iPhone unit declines, without being bothered by it.
In fiscal 2016 (ended in Sep. 2016), Apple's iPhone unit sales fell by 19 million to 212 million, after having soared in fiscal 2015 due to strong iPhone 6 demand. And while units have grown since then, they've only done so by about 3%; shipments totaled 217 million in fiscal 2017, and 218 million in fiscal 2018.
However, in spite of the modest unit growth, large average selling price (ASP) increases led Apple's iPhone revenue to rise 22% over the last two fiscal years to $166.7 billion. iPhone ASP rose by $7 in fiscal 2017 to $652, and -- thanks in large part to the iPhone X launch -- by $114 in fiscal 2018 to $766. In the September quarter, ASP grew by $175 annually to $793.
iPhone ASP increases should moderate from this point on, since Apple is lapping the 1-year anniversary of the iPhone X launch. But as the launch of the iPhone XS Max ($1,099 starting price) and the discontinuing of the iPhone SE ($349 starting price) make clear, Apple is wagering it can drive some measure of additional ASP growth with the help of its high customer satisfaction and sticky software/services ecosystem.
And as its just-announced iPad/Mac refresh demonstrates, the iPhone is by no means the only product line for which Apple is pursuing an ASP growth strategy. Apple's latest iPad Pros, MacBook Air and Mac Mini all feature meaningfully higher starting prices than their predecessors. Even the company's latest Apple Pencil stylus (it's magnetic and supports wireless charging and gesture controls) comes with a price bump.
Meanwhile, as Apple's iPhone revenue grew 22% over the last two fiscal years, its Services segment revenue grew 53% to $37.2 billion. The fact that the iPhone installed base has been (in spite of limited unit sales growth) growing at a double-digit clip has helped, and so has the momentum for services revenue streams such as the App Store, Apple Music, Apple Pay and iCloud Storage, as well as ad revenue-sharing payments from Alphabet/Google (GOOGL) - Get Free Report .
Apple's "Other Products" segment, which covers a slew of products for which unit sales haven't been shared, has also been doing well. Its revenue has risen 57% over the last two fiscal years to $17.4 billion, thanks in large part to Apple Watch and AirPods demand.
For all of these reasons, there's some truth to CFO Luca Maestri's assertion (made on Apple's Thursday earnings call) that the company's quarterly unit sales numbers don't necessarily reflect the underlying strength of Apple's business. And the divergence could be even greater in the future, should Services and Other Products revenue keep growing strongly. Or if -- as some speculate the company will eventually do -- Apple rolls out subscription services that bundle scheduled hardware upgrades with services such as Apple Music, iCloud storage and AppleCare support.
One can still disagree with Apple's decision to stop sharing unit figures for its three biggest hardware franchises. Greater transparency is generally a good thing for investors, and there's still some value in knowing how unit sales are trending -- especially since this data is needed to calculate ASPs.
At the same time, given how Apple's growth strategy has evolved over the last few years, how it has been willing to report negative unit growth in the past and what industry-wide smartphone, tablet and PC sales look like, the company's motivation for changing its disclosure policy might not have much to do with hiding bad news.
Alphabet and Apple are holdings in Jim Cramer's Action Alerts PLUS member club. Want to be alerted before Jim Cramer buys or sells GOOGL or AAPL? Learn more now.