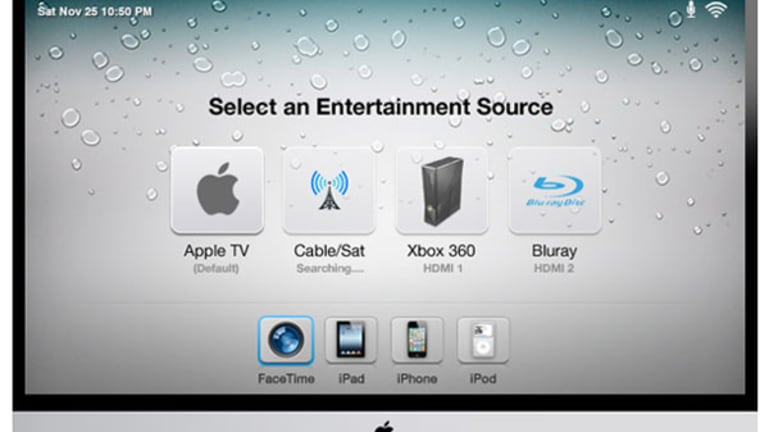 Apple Rumored to Launch Ultra HD
Much has been made about the oft-rumored Apple television. New rumors suggest it could be Ultra HD.
NEW YORK (
) -- It's another day, and with it comes another rumor about the supposed
Apple
(AAPL) - Get Free Report
television. This time, it isn't just any old rumor, it's an "ultra" rumor.
Tech Web site
DigiTimes
, which has a spotty record of predicting all-things Apple-related, carried a
, citing sources, that Apple's oft-rumored television will support Ultra HD, the new picture technology for television sets. Along with Ultra HD, the set would feature voice and motion control, as well as Internet connectivity.
Also see: Trends in Luxury Spending
Ultra HD offers significantly more pixels and higher resolution than standard high-definition televisions, though the prices of the Ultra HD sets are still extraordinarily high. At the Consumer Electronics Show,
Broadcom
undefined
co-founder Henry Samueli showed off a set using a Broadcom chip, but the price tag was $22,000. Given the cost of the television, that makes me skeptical that Apple will announce a product with Ultra HD unless it knows it can reach a segment of the market that is large enough to matter to Apple's top line.
The Apple television
have been around for some time and were refueled at the end of last year when CEO Tim Cook sat down with
NBC's
Brian Williams to
his first full year as CEO after taking over for Steve Jobs.
Also see: Cramer Greets the 21st Century: Lango
"When I go into my living room and turn on the TV, I feel like I have gone backwards in time by 20 to 30 years," Cook told Williams at the end of the interview. "It's an area of intense interest. I can't say more than that."
It was Jobs himself who started the speculation, after a passage in his biography mentioned him "finally cracking" the code to making TV simpler and easier to use.
"I'd like to create an integrated television set that is completely easy to use," Jobs told his biographer, Walter Isaacson. "It would be seamlessly synced with all of your devices and with iCloud." No longer would users have to fiddle with complex remotes for DVD players and cable channels. "It will have the simplest user interface you could imagine. I finally cracked it."
If Apple does indeed launch a television set (I'm increasingly skeptical because of content distribution rights), it could answer the questions investors have had in recent months about innovation going out the window with Jobs' passing.
Piper Jaffray analyst Gene Munster continues to believe that Apple will announce a television as early as the December quarter this year. He believes a TV could add as much as 5% to 2014 revenue, but the innovation concerns would be withdrawn.
Also see: Tax Audit Horror Stories: What To Do When The Unthinkable Strikes
"We believe investors have wondered if Apple can put out new and innovating products without Steve Jobs," Munster wrote in his note. "We believe that ultimately, if Apple is viewed as a company that can innovate, the multiple will improve."
Apple shares were lower in early Wednesday trade, off 1.35% to $454.89.
--
Written by Chris Ciaccia in New York
>Contact by
.
Follow @Commodity_Bull