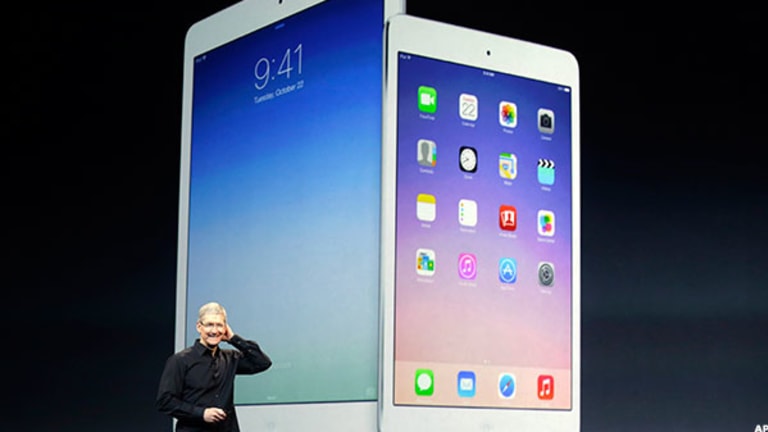 Apple Rides iPad Profits for 2014 (Update 1)
Though tablets are expected to be largely Android-based in sales, Apple dominates in one area: profit.
Updated from 9:06 a.m. to include comments from CEO Cook in sixth paragraph.
NEW YORK (TheStreet) -- Despite the growing number of tablets using Google's (GOOG) Android operating system due to hit retail in 2014, Apple (AAPL) is poised to dominate where it matters most to investors: usage and profits.
Research firm Canalys predicts that in 2014 almost half of all PC shipments will be tablets, a total projected to reach 285 million. The total PC market grew 18% year-over-year in the third-quarter, a figure that includes tablets. Tablets accounted for 40% of the volume last quarter, so it's clear the trend for the market is growing, and fast.
While Apple will continue to lose market share due simply to the nature of Android being free combined with original equipment manufacturers (OEMs) also using the software, Apple will keep the lion's share of the profits as it seeks to do battle with Samsung for the top spot in both industry profits and market share.
"Apple's decline in PC market share is unavoidable when considering its business model. Samsung narrowly took the lead in EMEA this quarter and Apple will lose its position to competitors in more markets in the future," said Canalys Senior Analyst Tim Coulling in a press release. "However, Apple is one of the few companies making money from the tablet boom. Premium products attract high value consumers; for Apple, remaining highly profitable and driving revenue from its entire ecosystem is of greater importance than market share statistics."
In the third-quarter, Apple unveiled the iPad Air and the iPad mini with Retina Display, so it'll likely keep its position in the fourth-quarter, and most likely, strengthen it. The PC business for Apple continues to be stable, though the PC market, ex-tablets is weak. Apple sold 14.1 million iPads and 4.6 million Macs in the quarter, generating $11.81 billion in revenue, accounting for more than 31% of Apple's total quarterly revenue.
Apple is increasingly emphasizing the iPad in its marketing campaigns, having featured it in its Black Friday advertisement. Apple CEO Timothy D. Cook is clearly betting on the iPad outshining competitor products this holiday season, and Canalys expects that emphasis to carry over to 2014. "I think it's going to be an iPad Christmas, but we will see," Cook said on Apple's fiscal fourth-quarter earnings call. "We will report the numbers back to you in January how we did, but we are pretty confident."
Canalys forecasting 285 million units to ship in 2014, growing to 396 million units in 2017. Apple and Samsung are expected keep ahead of their competitors in the medium term, but there could be challenges for both vendors as competition in the tablet market continues to heat up.
While Samsung is expected to be the dominant Android-based tablet in 2014, with 27% of all Android tablets, Android will likely continue to be the dominant operating system in 2014. Canalys expects Android to take 65% of the tablet market, accounting for 185 million units. There will be other Android-based tablets that continue to see traction, as tablets become the dominant form factor.
Acer, Asus, Lenovo, and even HP (HPQ) will continue to sell well, but small and micro brands will continue to eat up market share, as a price war at the bottom begins to put tablets into the sub-$150 price point. "Vendors such as Nextbook in the United States, and Onda and Teclast in the People's Republic of China ship more units than some of the major international top tier vendors in their home countries. The rise of small-to-micro brand vendors has proved that there is a demand in for entry-level Android tablets in every country and in every region," commented Shanghai-based Analyst James Wang. "Vendors such as Acer, Asus, HP, and Lenovo have all entered the price war, with entry-level products at sub-U$150 price points."
Outside of the dominant positions from Apple and Samsung, Microsoft (MSFT) is poised to continue capturing shares, albeit slowly. Canalys predicts the Redmond, WA.-based giant will take 5% of the tablet PC market in 2014, up from just 2% in 2012. Microsoft is working on becoming a more integrated company, similar to Apple, as it seeks to increase sales of the Surface tablet, couple with its Windows operating system, and Office software. That's part of the reason why Microsoft announced its intention to buy Nokia's devices and services division earlier this year.
"As a vendor Microsoft needs to prove to channel partners and consumers that it is in this market for the long haul," said Canalys Research Analyst Pin Chen Tang in the release.
"Balancing the competition with its vendor partners and embracing a challenger rather than an incumbent mentality is essential. To improve its position it must drive app development and better utilize other relevant parts of its business to round out its mobile device ecosystem."
We've already seen the likes of BlackBerryundefined and Barnes & Noble (BKS) struggle in the tablet market, and rethink their strategies, as Android becomes the dominant operating system. That's likely to continue, as companies below Apple and Samsung continue to fight for the scraps left by the two tech titans.
--Written by Chris Ciaccia in New York
>Contact by Email.