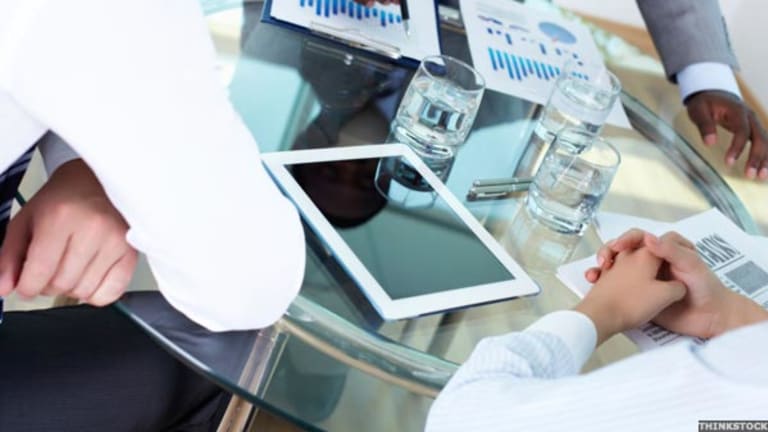 Apple Retail: Going for the Money
Apple's process of selecting locations for its stores is similar to high-end brands like Hermes and Louis Vuitton, say real estate experts.
NEW YORK (
) -- Brooklyn Borough President Marty Markowitz caused a stir recently by making a public plea for an
Apple
(AAPL) - Get Report
store to be built in Brooklyn as part of a downtown revitalization effort. He was shut down repeatedly.
How could Brooklyn -- a cultural hub filled with musicians, artists and entrepreneurs -- not be a good match for Apple, whose products are used widely and prized by creative types, Markowitz wondered.
The answer lies within Apple's core retail strategy: capitalize on already well-trafficked, well-to-do areas that don't need help gentrifying. In other words, go where the money's at.
"For Apple it has to be the right place, the right time and the right corner," said Faith Hope Consolo, chairman of retail leasing and sales division at Prudential Douglas Elliman, who has consulted for Apple in the past. "Unlike other retailers they aren't swayed by emotion ... it's all very well thought out."
Even as its stores have become somewhat ubiquitous -- the company is preparing to add
this year to bring its total tally to 360 -- Apple, which could not be reached for comment for this story, is still expected to continue its practice of meticulously evaluating its real estate properties.
While most of Apple's success comes from demand for its products, its stores have become a key part of its branding strategy, and also give the company tighter control around how its electronics are perceived and sold.
More than 73.7 million customers visited Apple retail outlets during the quarter, an increase of 22%. On average, Apple stores generate sales of $5,626 per square foot, more than any other U.S. retailer -- including jewelry brand
Tiffany & Co.
(TIF) - Get Report
($2,974) and luxury accessories company
Coach
(COH)
($1,820), according to research firm RetailSales.
"Apple has created a retail system that is unbeatable," said Jay Elliot, a former senior vice president at Apple who now runs software company
Nuvel
. "I don't see any of the other
consumer electronics companies like
HP
(HPQ) - Get Report
,
Dell
(DELL) - Get Report
and
Microsoft
(MSFT) - Get Report
competing."
Lessons in What Not to Do
When Apple retail chief Ron Johnson joined the company in 2000, Apple's competition wasn't exactly making a killing via the retail scene. Cheap real estate seemed to trump analysis of traffic and location; computer makers like
Gateway
tended to place their stores in out-of-the way areas that weren't easily discoverable by potential customers.
Gateway also didn't stock its stores with products, a minus for nurturing a lasting in-store experience. After consulting with salespeople, customers merely ordered their computer, paid for shipping and waited a week or so for delivery.
This strategy ultimately failed as consumers instead chose to shop at big-box stores like
OfficeMax
(OMX)
or
Best Buy
(BBY) - Get Report
, where they could also purchase a wider range of electronics and take them home right away.
Apple, in turn, focused on placing its stores in highly dense retail corridors where shoppers were already present, including its first in Tyson's Corner, Va. in 2001.
"Apple put its stores next to a
Victoria's Secret
or an
Abercrombie & Fitch
(ANF) - Get Report
," said Gary Allen, a blogger who runs
ifoAppleStore,
a Web site that tracks Apple's store openings. "They were willing to spend the money to locate where people were already walking ... instead of driving five miles they'd walk 10 additional feet to get to the Apple store."
After the success of its initial mall stores, Apple began to shift its focus on building so-called flagship stores in high-profile locations, finding spots teeming with people willing to spend money. Apple opened its first in New York's SoHo neighborhood in 2002 and quickly followed up with stores in Los Angeles' trendy The Grove complex and on Chicago's posh Michigan Avenue.
Apple is also
working on a store in New York City's Grand Central Terminal
, placing its products in the direct route of more than 750,000 commuters -- many of them affluent -- passing through one of the city's largest tourist spots.
Hermes, Louis Vuitton, Apple
Apple's stores are the embodiment of its brand: simple. Full of light and glass and free of pushy salespeople and cluttery ads,
the stores highlight the products
and the lifestyle they help foster.
They're "part marketing spend and part retail operation," said Allen. "They're a real brand search light that shine out and say 'this is Apple.'"
Apple is one of the most highly sought brands by landlords and shopping centers, said Elliman's Consolo. "They're the equivalent of
Hermes
or
Louis Vuitton
in the fashion world -- they're a must-have," she said.
While Apple may have not have initially set out for its stores to become retail "destinations," analysts say they have turned into just that.
"Years ago when someone was building a shopping center you'd bring in
Bloomingdales
or
Saks Fifth Avenue
, which would draw in all the other tenants," said Jeffrey Roseman, executive vice president at Newmark Knight Frank Retail. "But Apple has really become the new anchor tenant."
Tenants in close proximity to Apple reportedly generate 30% to 50% more revenue because of the additional traffic driven to the area, said Roseman.
Not surprisingly, Apple is far less price sensitive about real estate when compared to big-box names that also sell Apple products, noted John Fleming, a former executive at
Wal-Mart
(WMT) - Get Report
and
Target
(TGT) - Get Report
.
"The big box approach is just pure math -- it's just how many customers are in proximity," he said. "They're not looking at demographics nearly as closely and don't care as much about positioning because they want to pay less ... Apple is taking a more high-end approach.
China: The New Frontier
Like many other luxury brands, Apple is looking overseas for expansion. The company first started going global in 2003 with the launch of a store in Tokyo's Ginza shopping district. Locations in London, Sydney, Montreal and Zurich followed.
Boosted by sales of the iPhone, the number of international stores now represents 28% of Apple outlets, with the percentage expected to increase to 32% by the end of the fiscal year, according to investment bank Needham & Co.
One country that Apple has just started to penetrate: China, where revenue during the third quarter increased six-fold year-over-year to $3.8 billion. Apple's four stores there -- two each in Beijing and Shanghai -- see more than 40,000 visitors per day. That's over four times the foot traffic of any U.S. location.
Company executives have said they've just scratched the surface in China. Apple has plans to open 25 more stores in the region over the next three years, including a flagship in Hong Kong.
"The big kahuna is China," said Charles Wolf, an analyst with Needham. "Apple can't just open stores there fast enough."
Apple Retail Uncertainty
Despite the recent loss of two key executives -- retail chief Johnson, who said he is leaving to helm
J.C. Penney
(JCP) - Get Report
, and
-- analysts say it's unlikely that the
departures will impact the company's growing network of stores.
Apple's retail strategy is already well-established and there's little chance for disruption, Goldman Sachs analyst Bill Shope wrote in a recent note.
--Written by Olivia Oran in New York.
Readers Also Like:
10 Bank Stocks for Bottom-Fishing Investors