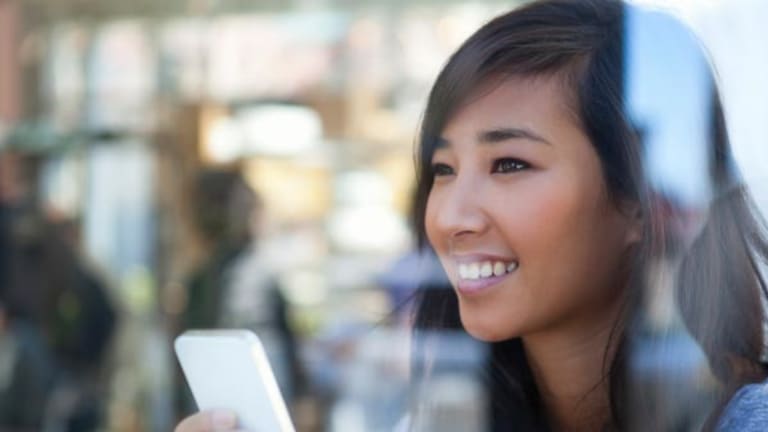 (TheStreet would like to hear from entrepreneurs what made their small businesses successful -- newfangled strategy, clever products or services, tried-and-true management techniques. To do so, please click on this link and follow the directions. TheStreet's readers may soon be hearing about your business.)
BOSTON (
) -- For cell-phone users who worry their devices may be slowly causing brain tumors, there's an app for that -- but not on
Apple's
(AAPL) - Get Apple Inc. (AAPL) Report
iPhone.
Israeli company
sells an eponymous software application that estimates how much radiation a user's phone is emitting and triggers an alert when the radiation exceeds a defined threshold.
The app is available for several models of
Research in Motion's
(RIMM)
BlackBerry and due for the
Google
(GOOG) - Get Alphabet Inc. Class C Report
Android later this summer. But it's not available for the iPhone, because Apple has so far declined to allow the software into its App Store or even enable the necessary modifications to create an iPhone Tawkon app, according to Tawkon executives who said they met with Apple management in the spring. Apple didn't respond to a request for comment on the app.
"It doesn't use Flash, and it's not porn, so why the ban?" says Scott Piro, a spokesman for Tawkon. Apple Chief Executive Officer Steve Jobs has had an open feud with
Adobe
(ADBE) - Get Adobe Inc. Report
, the maker of Flash software.
The wireless industry is still debating if there's a radiation problem, but Tawkon isn't the only startup company already selling a solution. Among its peers is
, a Los Angeles company that sells a silicon case for the iPhone and BlackBerry Storm with the assurance it redirects radio waves away from users' brains.
All handsets sold in the U.S. must pass radiation regulations with the Federal Communications Commission, which sets the legal limit at a specific absorption rate of 1.6 watts per kilogram. But an increasing number of cell-phone users argue that FCC approval isn't enough to put their potentially radiated minds at ease; they want to know the SAR levels of their individual phones.
To that end, San Francisco earlier this month
passed a law
requiring local cell-phone retailers to post information on the amount of radiation each device emits. And U.S. Rep. Dennis Kucinich (D-Ohio), has
to make such information nationally mandated.
So there's potential demand for an app such as Tawkon, which uses GPS, motion detection, Bluetooth and a bevy of other inherent smartphone capabilities to estimate radiation levels. To that end, Tawkon has augmented its argument for an iPhone app with a petition to Apple and the following video.
-- Reported by Carmen Nobel in Boston.
Readers Also Like:
>>10 CEOs Earning a Year's Salary in an Hour
Follow TheStreet.com on
and become a fan on